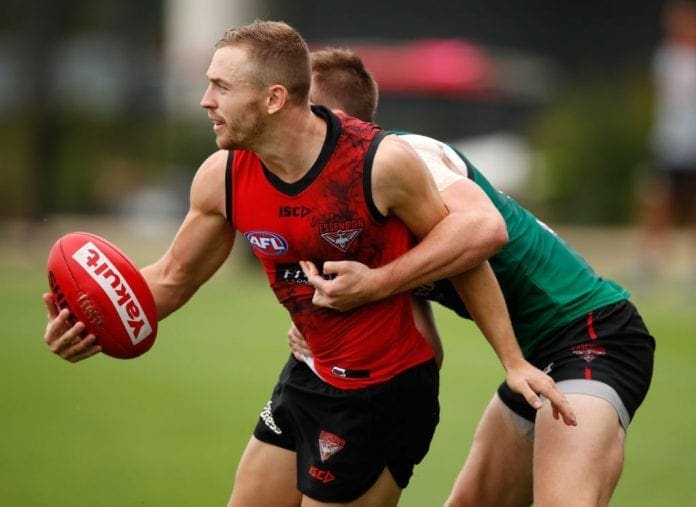 Former Essendon and GWS midfielder Devon Smith has his eyes on a potential professional golfing career following his retirement from the AFL.
Smith called time on his 182-game career in August last year amid an ongoing battle with injuries, deciding to hang up the boots after 11 seasons in the top flight.
The Lara product was a member of the Giants' inaugural side in 2012, playing 73 games for the New South Wales club before returning to Victoria after six years in the orange and charcoal.
He would claim the Crichton Medal in his first year with Essendon before injuries hampered his final seasons at Tullamarine.
Smith, who has returned to Lara as a player-coach for 2023, is set to split his time post-career between local football and golf, with one eye on going pro.
Set to work through the playing component of his PGA course, having undergone the theory block last year, the former AFL player revealed to News Corp that the door is ajar on a potential career in golf.
"I'm still playing footy down at Lara this year as a player-coach," Smith said.
"In between that, playing golf and it's a wait and see. It's not like I have ambitions to go and play anywhere but I am not saying the door is fully shut on that.
"People think if you're a scratch golfer and you should be on tour. There is a massive difference there.
"People don't realise how good they are and what it takes to get to a +5 handicap and then actually go play and do qualifying school and get on tour and all that stuff."
Plying his trade with the Lara Football Club in 2023, Smith will be a key recruit for the Cats this year as they look to improve on their two-win campaign from last year.
Should Smith be named to play in the club's Round 1 fixture, he'll lace up the boots for Lara's season opener against Leopold on April 15.