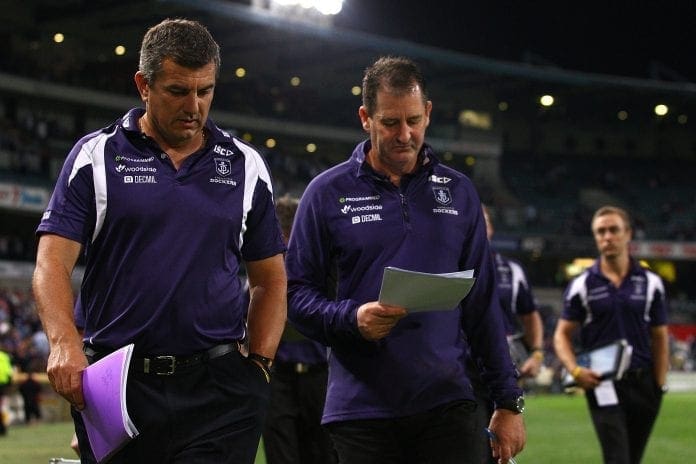 Fremantle may be looking towards Peter Sumich as Ross Lyon's potential replacement as the Dockers' head coach, SEN reports.
Lyon's future with the Fremantle Football Club seems unsettling as it has been reported the Dockers have referred another complaint to the AFL's integrity unit. A seperate incident to the first, this time it's about an alleged altercation involving Lyon at a Fremantle bar.
This comes only weeks after the incident involving a former junior staff member who alleges Lyon harassed her at a cub function years ago.
Clearly, the number of off-field incidents is an issue for the Fremantle Football Club and speculation about Lyon's potential replacement are already underway; and Western Australian football Legend Peter Sumich is the one who seems to be leading the way.
"Ross Lyon is in a fair bit of hot water and under a fair bit of pressure," SEN newsman Sam Edmund told SEN breakfast.
"We are hearing that such is the pressure on Ross Lyon, the club is lining up Peter Sumich as a potential replacement.
"Ironically, Sumich quit the club in 2016 saying he was changing as a person and Ross was hard, they had their blow-ups. They had a really heated blow-up actually, that a lot of witnesses at the time thought might become physical."
Sumich spent five years as the Dockers' assistant coach (2011-2016), and he revealed to The Western Australian last year that working in that position was putting his love for the game at risk.
Sumich told the newspaper how he felt about working under Lyon. "Ross was very good, but it was tough and he was hard." Sumich is currently the coach of the Western Australian U18 team.
Not only is the Ross Lyon situation affecting his position within the club, but also Fremantle's commercial partners.
"We have major sponsors Woodside and Programmed both asking the Dockers to publicly explain their practices and culture within the organisation and show some transparency," Edmund said.
The future of the Fremantle Football club remains uncertain, but it's without question that Ross Lyon needs to clean up his act if he wants to keep his position within the club.