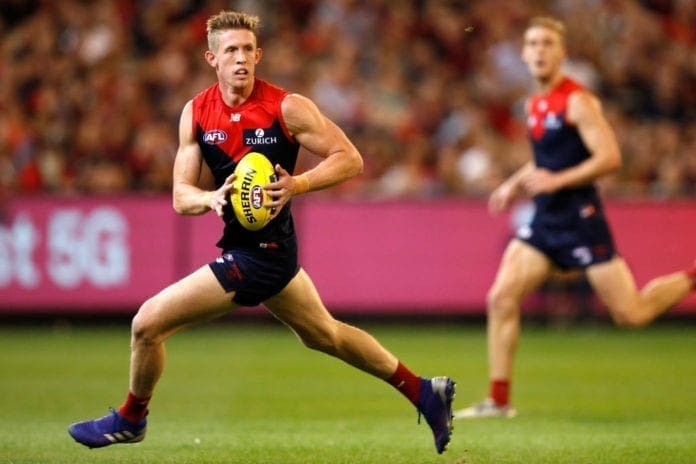 Out-of-contract Mebourne defender Sam Frost is drawing interest from a number of rival clubs as he awaits a contract offer from the Demons.
Speaking on Thursday morning, the 26-year old confirmed that he had not yet been offered a new deal yet.
"Not that I'm aware of at this stage," he said on SEN Breakfast.
"I'm waiting to hear from Melbourne. These things are never easy and never straightforward, so it's an interesting time for everyone."
Forst hinted that North Melbourne had made enquires about him and confirmed that the Hawks were interested.
"Other than maybe contacting my manager, there's nothing I'm aware of to be honest," he said of the interest from the Kangaroos.
"They (Hawthorn) have, yes.
"There's one other club that definitely have and I'm sure there are others that have inquired.
"With the year I've had and my age, I imagine there would have been a few phone calls. But I don't know how serious those calls are or aren't, I just leave that to Anthony."
The running defender admitted that the rival interest was flattering, but was keen to remain a Demon.
"I'm not going to lie, it does feel good," Frost said of the interest.
"It does give you a little bit of (confidence) in where you are at in terms of value.
"The longer it goes on, waiting on Melbourne is the difficult part of it.
"There's no deadline or anything. They've got things they're working through.
"Time is getting thin so the sooner the better I suppose.
"I try and steer clear of a lot of it but as far as I'm told through my management they're having good conversations with Melbourne.
"That's where I'd like to be. I don't know the nitty-gritty of it all, I just stay out of it."
Frost has played a total of 91 AFL games after crossing from GWS at the end of the 2014 season.