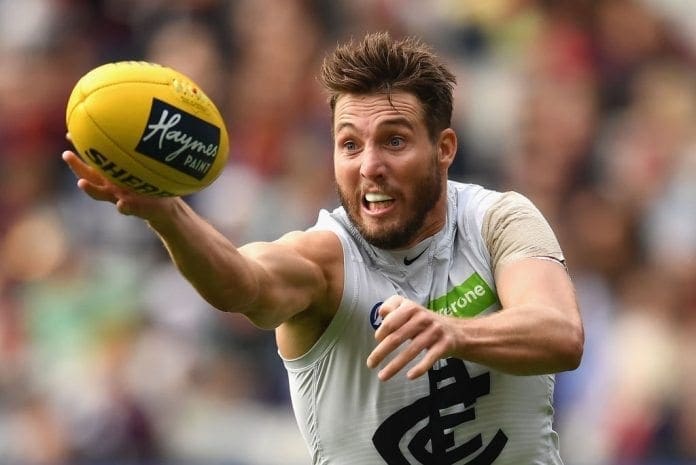 Dale Thomas is expected to announce his retirement at a press conference on Friday, according to a report by The Herald Sun.
Thomas was told he would not be offered a contract by the Blues in 2020, according to a report by Seven News, and is now set to hang up the boots at season's end.
The 32 year-old will play his 100th game for Carlton on Saturday against the Saints and will see out the rest of the season.
The ex-Collingwood premiership player has been a bright spot for the Blues this year, showing leadership in what at times has been a difficult season.
Thomas has also had some of his best performances for the club in recent weeks.
However, with co-captain Sam Docherty coming back into the Blues defence next season, Thomas may have had limited opportunities as a part of Carlton's young list.
Thomas joined Carlton from Collingwood in 2013 via free agency on a deal worth reportedly $700,000 a season.
While battling ankle problems, Thomas became an often maligned figure during Mick Malthouse's short time at the club.
In recent years, Thomas tore up the final year of his large contract and has found form while playing on a series of smaller, one year deals.
Thomas will also be remembered his 157 games for Collingwood, including his performance in both 2010 Grand Finals.
In both the draw and the replay, Thomas polled third in North Smith medal voting.
Although unlikely, it is unclear as of yet whether another club may look toward Thomas for a short term deal given his leadership off half-back, similar to Luke Hodge's role with the Lions.