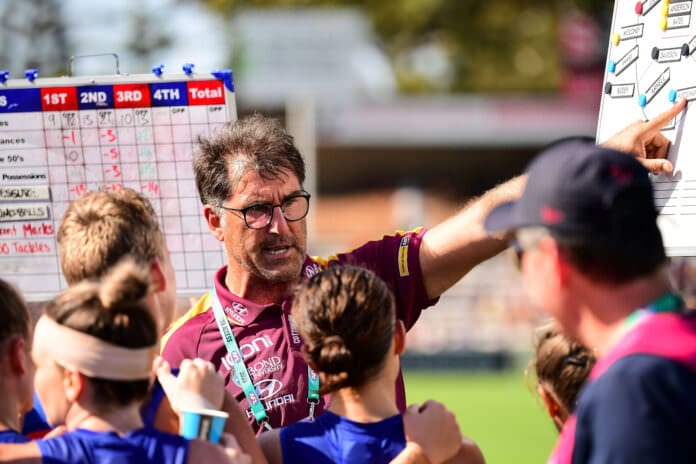 Brisbane Lions AFLW coach Craig Starcevich has admitted that the league's expansion from 14 to 18 teams ahead of season seven is "frustrating" as clubs try to contend with the new reality of player poaching.
Starcevich, who coached the Lions to their maiden premiership win in 2021, spoke openly with SEN's The Run Home about the addition of four extra teams - Essendon, Hawthorn, Sydney and Port Adelaide - and the impact it will have on existing teams.
"The bit that sort of frustrates me the most is the four clubs that are coming in late now all had opportunities six years ago to put their hands up and declined two and three years in a row not to join the competition," Starcevich said.
"Now that they're in, they're asking the league to come up with all sorts of concessions to allow them to get their hands on players.
"We've been here from the foundation and a player (for example) like Emily Bates who has been with us since year one, the last thing I want right now is for an expansion club to come in, a club that didn't want to be in the comp for a few years, and say, 'We'll just cherry-pick now and take a handful of the best players off Carlton and a handful off Brisbane or Collingwood or Melbourne or whoever else'.
"That bit is really, really frustrating.
"In terms of growing the comp, yeah, you've got to have some sort of mechanism to do that, but from my perspective as a coach it absolutely drives me bananas."
The league is yet to confirm what, if any, compensation will be awarded to clubs should they lose players to expansion teams.
"All I know is when the boys started with the Suns and the Giants it was draft picks starting with young players and having two or three years of grief and slowly building your list up to be competitive," Starcevich added.
"That's what they did for the men's competition and it's a little bit different in the women's competition where they're sort of just shuffling talent around and sharing talent around rather than asking the new players to build from the ground up."
The AFLW is expected to have an earlier start date next season, with an August start date all but confirmed. The AFLW signing period will take place in late April, following the AFLW grand final between Adelaide and Melbourne.