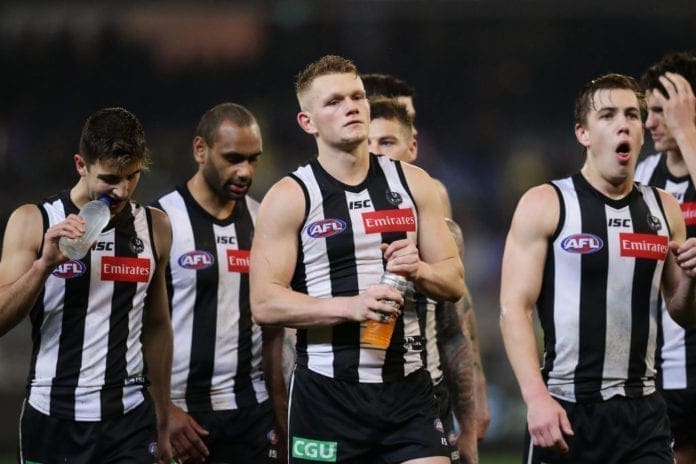 Australian netball star Kim Ravaillion has has spoken on her partner, Adam Treloar's exit from Collingwood, claiming the club made up "sh***y lies" as a reason to force the midfielder out the door.
Treloar moved to the Western Bulldogs in the final moments of last year's trade window after heavy speculation of a rift between the 28-year-old and members of the Magpies, including coach Nathan Buckley.
Collingwood traded Treloar to Whitten Oval in exchange for a handful of draft selections while the former Giants and Magpies onballer was still contracted to the club for a further five years.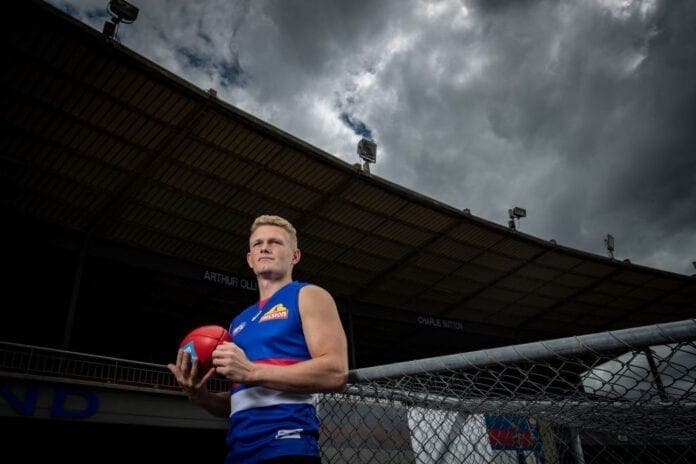 Reports had suggested that the Magpies had pushed to move Treloar to the exit following Ravaillion's switch from the Magpies' netball side to the Queensland Firebirds.
It is understood that many members from Collingwood feared Treloar would struggle with the adjustment of living interstate from Ravaillion and that the club were doing him a service by assessing his options away from the Magpies, with the Gold Coast Suns seen as an initial suitor.
RELATED: Personal vs. professional: Buckley contrasts reactions of Treloar and Phillips following trade period
A move north failed to transpire and Treloar eventually remained in Victoria, swapping the black and white stripes for a Bulldogs jumper.
Now, Ravaillion has slammed the Magpies for claiming the impacts of their family were a leading concern and reason in order to move Treloar on.
"All those sh***y lies were not the reason they got rid of him, there was another reason," Ravaillion told The Courier-Mail.
"They (Collingwood) started to say to Adam, 'it's bad for your mental health', 'you won't be able to handle the move' and Adam said, 'that's up to me, it's not up to you to decide.
SEN's Sam Edmund reports that new Bulldog Adam Treloar WILL PLAY against his old side in a Round 1 grudge match against Collingwood.

MORE: https://t.co/zuwv6ddz3B #AFL #AFL2021 #MightyWest #gopies pic.twitter.com/k4eWUMec5i

— Zero Hanger (@zerohanger) March 12, 2021
"Then they started to blame it on me. They were making excuses for why he's going when in actual fact they just wanted him gone. You feel like you trust someone (the club) and then it all goes."
Ravaillion also spoke to The Herald Sun shortly after the trade, stating the prior weeks had led to a "super tough" month.
"I think it could have been handled a lot better," Ravaillion told The Herald Sun.
"Ads absolutely loved playing for Collingwood and he loves all his teammates and he had nothing bad to say about them.
"I wish he was a bit more well respected in what he gave to the club and him as a person, I think he was treated pretty poorly.
"But in saying that, he's now at a club that will now treat him with that respect.
"He didn't want to leave. He loved Collingwood, he loved the fans, he loved everything about the boys. They have all reached out to him and they are all shocked.
Adam Treloar is also understood to have told teammates he must leave the club 🙁 #AFL https://t.co/e14XD8FucR

— Zero Hanger (@zerohanger) November 7, 2020
"It wasn't his choice, but in the end it got to a point where he just didn't want to go back to a club that treated him like that.
"We got to this point where we are now and we couldn't be more relieved."
Treloar is set to face his old side on Friday as the Bulldogs and Magpies get their season's underway at the MCG.