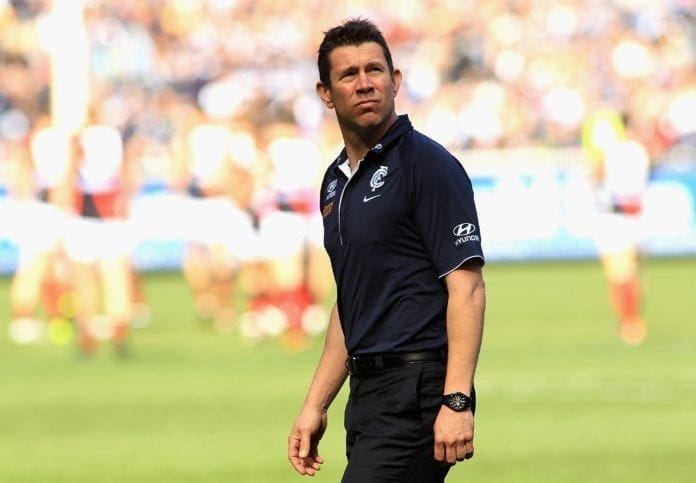 Brett Ratten is returning to senior coaching from the first time since 2012 after Alan Richardson was sacked by St Kilda.
The 48-year old is seeing the next six weeks as an audition for a potential coaching role, not only for St Kilda, but Carlton too.
Ratten first spoke to the media after Richardson's departure, where he clearly stated his interest in becoming an AFL coach again, but this time with more experience and knowledge under his belt.
It should be noted that the way Ratten become a senior coach was not the way he wanted it to be - with 'Richo' being shown the door - but would try his best to make most of his opportunity at the struggling Saints.
"It probably is (an audition), yeah,'' Ratten said on Thursday.
"I have been out of the game in the senior coaching ranks for now seven years.
"So I didn't want to get back in it this way, but the club came to me and I spoke to 'Richo' about it and he was pleased for me so I thought I would take it on.
"I get six weeks to get back in the saddle and see what happens, but it's one thing that I have done for a long time and I enjoy coaching and this playing group I have really enjoyed being around whether I am the senior coach or an assistant coach they are a god bunch of kids and men and they are easy to coach."
Although there has been a number of names raised as contenders for the Carlton job, Ratten admitted he was open to returning to his old club.
"I'd consider it," Ratten said.
"But that hasn't happened and I'm just worrying about what I can do at the St Kilda footy club.
"I've been very fortunate that they came to me last year with Richo and offered me a spot here and I've really enjoyed my time here. My focus is on what we can do here at the Saints and try and get some wins on the board."