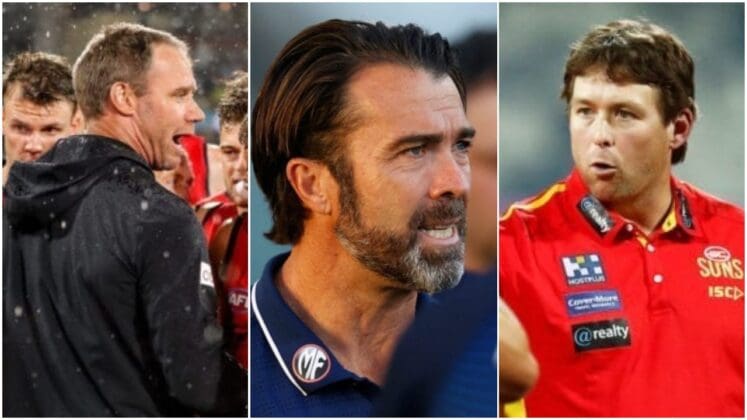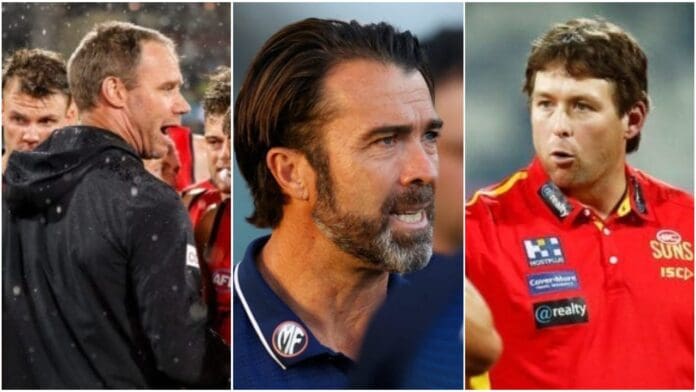 With 2022 on the horizon, the new year offers each club a fresh start as the race towards next September begins.
This doesn't discount the variety of expectations placed upon each team however, especially those who failed to live up to their potential in 2021.
While the players are the ones on the field, they often escape the blame associated with harsh criticism from fans and media alike, to a certain degree of course, with the majority of shortcomings being attributed to the senior coach and their inability to create and implement an effective game-plan that propels their side into the stratosphere.
The coaches typically under the most pressure are either the ones who fail to get an uber-talented side over the hump or fail to improve their side over a considerable stretch.
Everyone else is seemingly in the middle until presented with either of the two mentioned scenarios, eventually being let go by their club for ultimately failing to capture (or recapture) the grandest prize in the game.
With this in mind, let's take a look at the coaches that are under the most pressure heading into 2022, ranked from 1-18.
1. Stuart Dew
Since taking over the Gold Coast Suns in 2018, Dew has a record of 19 wins, 63 losses, and one draw.
Given the state of the club at his arrival, Dew has done a respectable job to date, which is the reason why he sits atop of this list. The expectations were fairly high for 2021 after an optimistically successful 2020, and Dew couldn't deliver on the hype.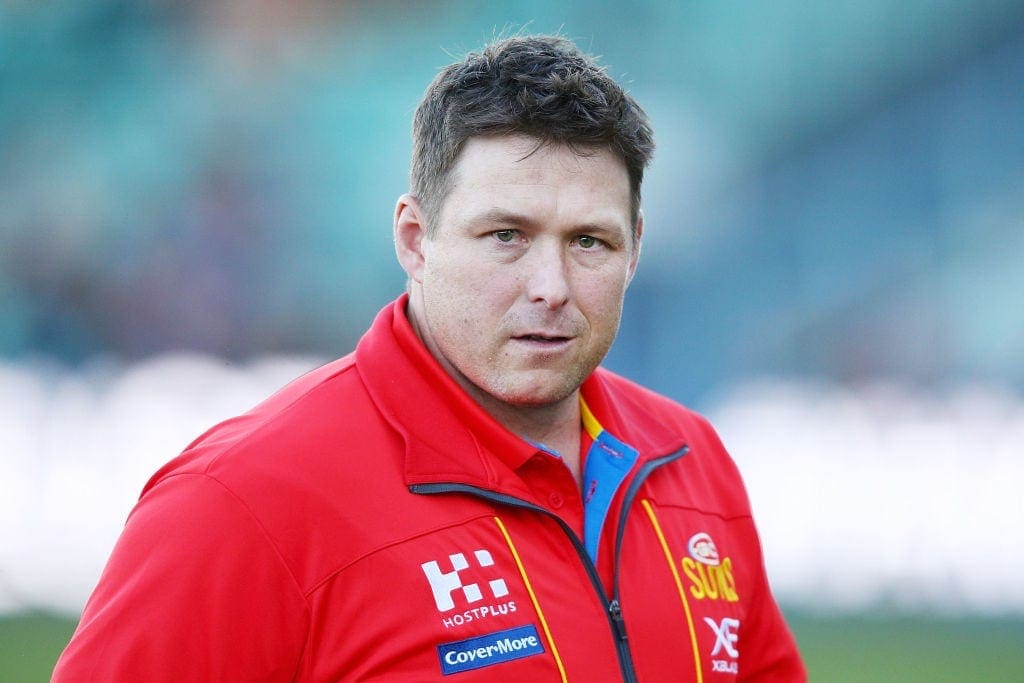 He's often been incapable of making in-game adjustments and relies too heavily on high-risk counter-attacks through the centre, which often leaves his back-six vulnerable if they turn the ball over.
While it's clear that the Suns are poorly managed, evident in the Hugh Greenwood debacle, it's up to Dew to turn the fortunes of the laughing stock of the league around before it's too late, otherwise available key figures like Alastair Clarkson are primed to swoop in on his job.
2. Brett Ratten
Saints fans were graced with a sliver of optimism once 'Rats' took over the helm as head coach.
After a successful 2020 campaign, where St Kilda finished sixth, the Saints were destined to cause some trouble come finals in 2021. Unfortunately, they drastically underperformed, despite their off-season spending over the past few years, ending their campaign in 10th.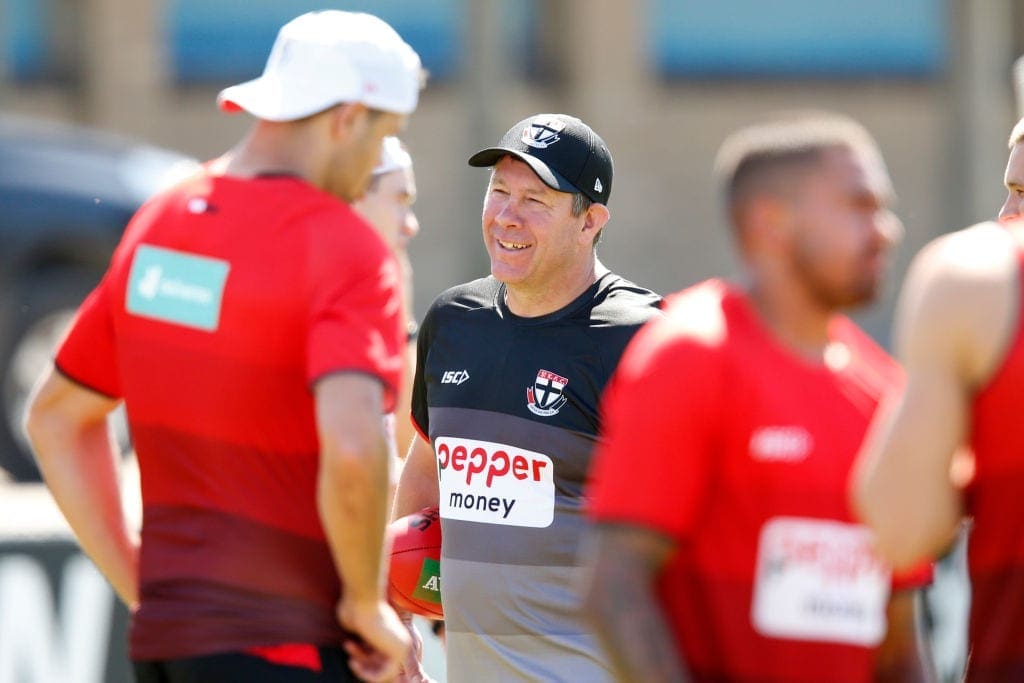 This past season, St Kilda appeared disinterested and nonchalant when attacking the footy, which left them the subjects of a few beltings throughout the year. However, when they played well they appeared unstoppable as their ball movement was second to none in certain instances, unfortunately, this was often few and far between.
Ratten has a team ready to play finals but seemingly lacks the ability to get the most out of his men when they're challenged early in games.
3. Chris Scott
The grace given to Scott for a premiership victory 10 years ago has all but dwindled away, especially after blowing a respectable lead to the Tigers in the 2020 grand final.
Geelong has seen consistent success under Scott, but with an ageing list and his insistence on maintaining a win-now approach, pressure is mounting for another premiership to land at Kardinia Park if he wants to keep his job.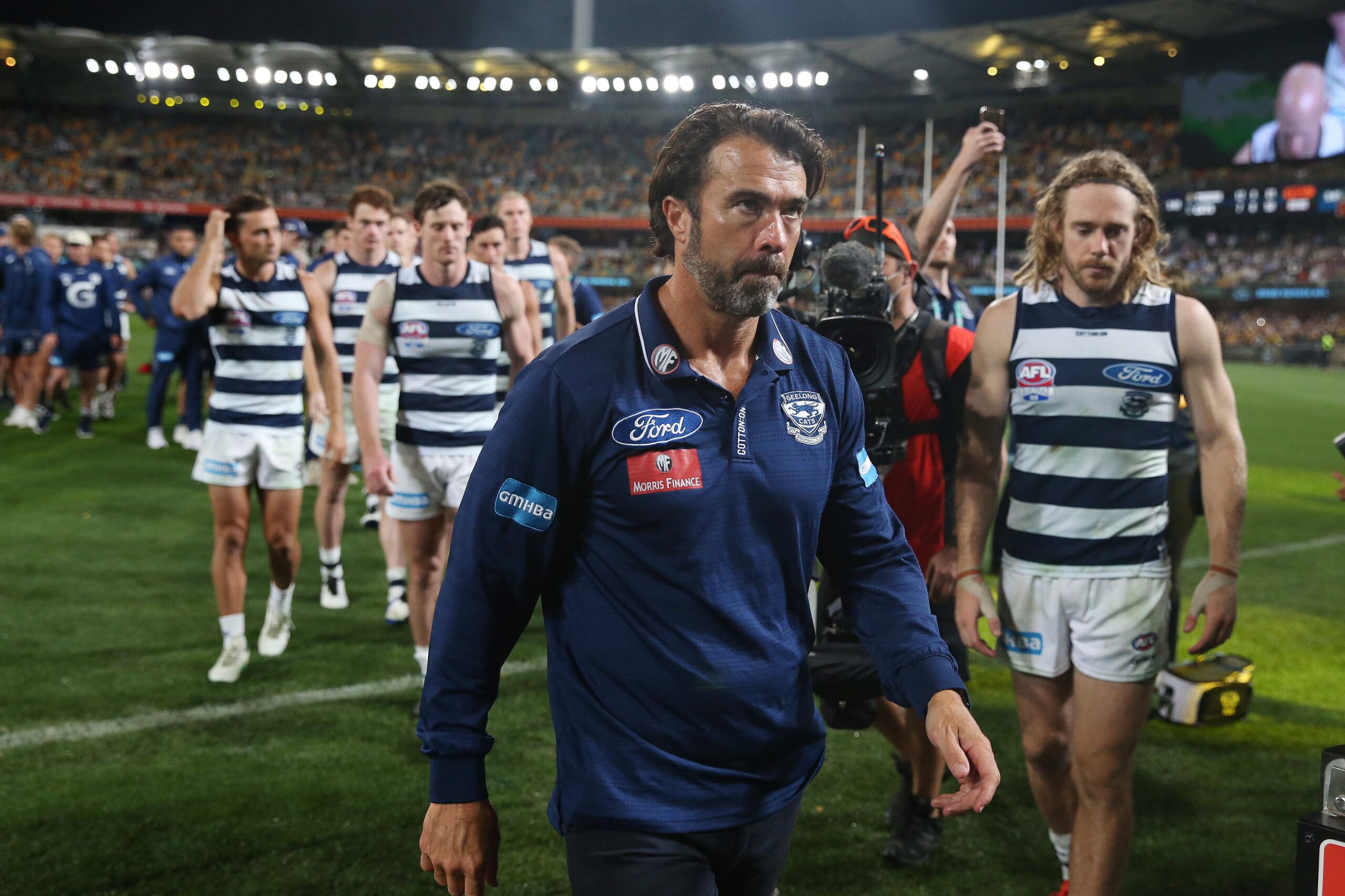 This by no means is a direct criticism of his coaching ability, but instead a critique of his current mentality.
4. Ken Hinkley
Two consecutive preliminary final exits cranks the heat up on Hinkley's lengthy tenure.
Port Adelaide clearly has the list to win a premiership right now and has a strong balance between young up-and-coming talent and established veterans.
However, Hinkley has historically struggled to get his side to consistently perform against other top eight teams. Close but not close enough is the reasoning behind Power fans' frustrations, which is why Hinkley finds himself so high on this list.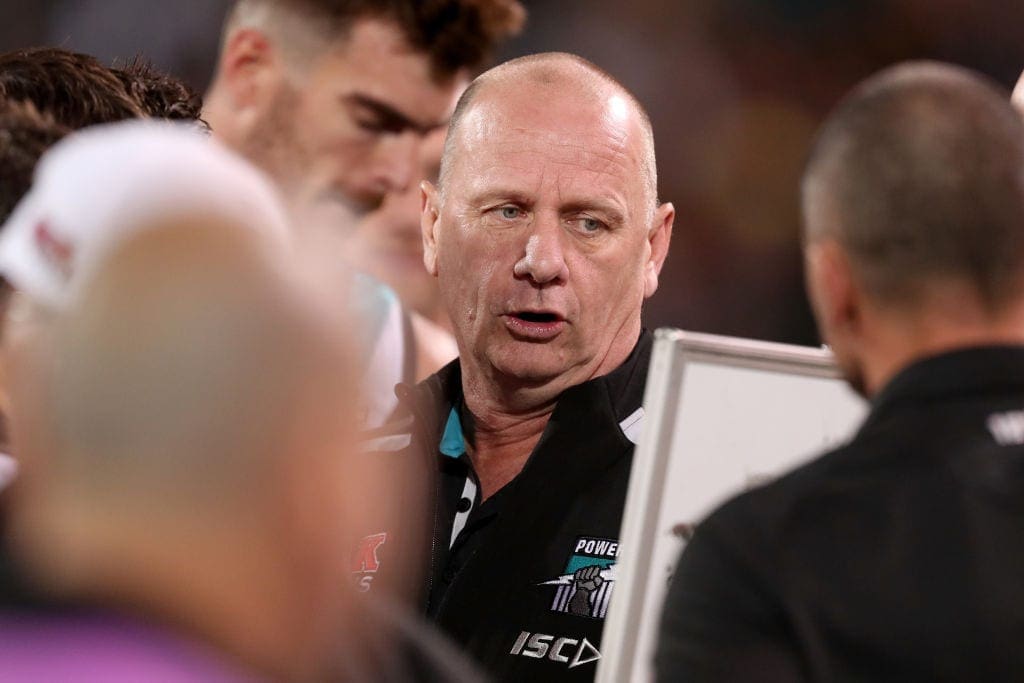 If he fails to construct effective in-game adjustments around the team's defensive vulnerabilities on the counter-attack, their largest deficiency when they can't win the ball from stoppages, he will likely find himself on the outside looking in.
5. Adam Simpson
Since capturing the 2018 Premiership, Simpson has failed to rekindle the spirit that ignited West Coast's inspiring come-from-behind victory.
Despite making two grand final's in eight seasons, and finals in six seasons, Simpson finds himself under pressure largely because of how uninspired the Eagles' efforts were given the amount of talent on their list, despite injuries.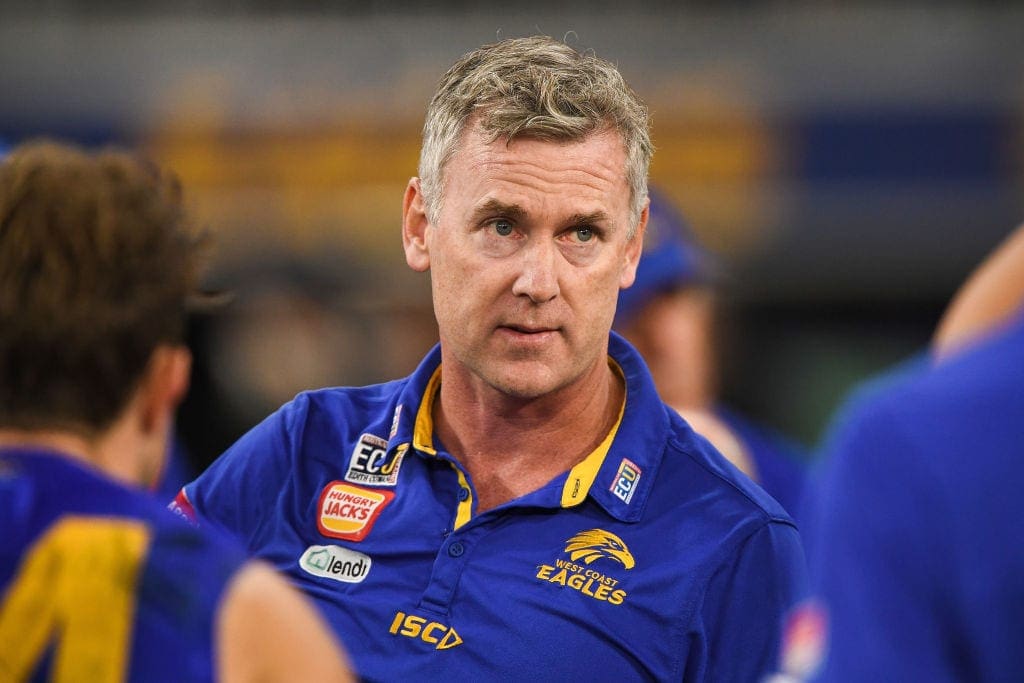 The prospect of Simpson losing his position at West Coast after an uncharacteristically poor season is blasphemous, yet a repeat of last season, with a healthy side, would indicate trouble for his future job security.
6. Leon Cameron
Cameron managed to salvage what appeared to be a write-off season merely weeks into 2021.
He showed that he was able to adapt his philosophy to the players he had available, but like usual, his team did have a propensity to rely on their individual talent when the game plan lacked, instead of making relevant adjustments.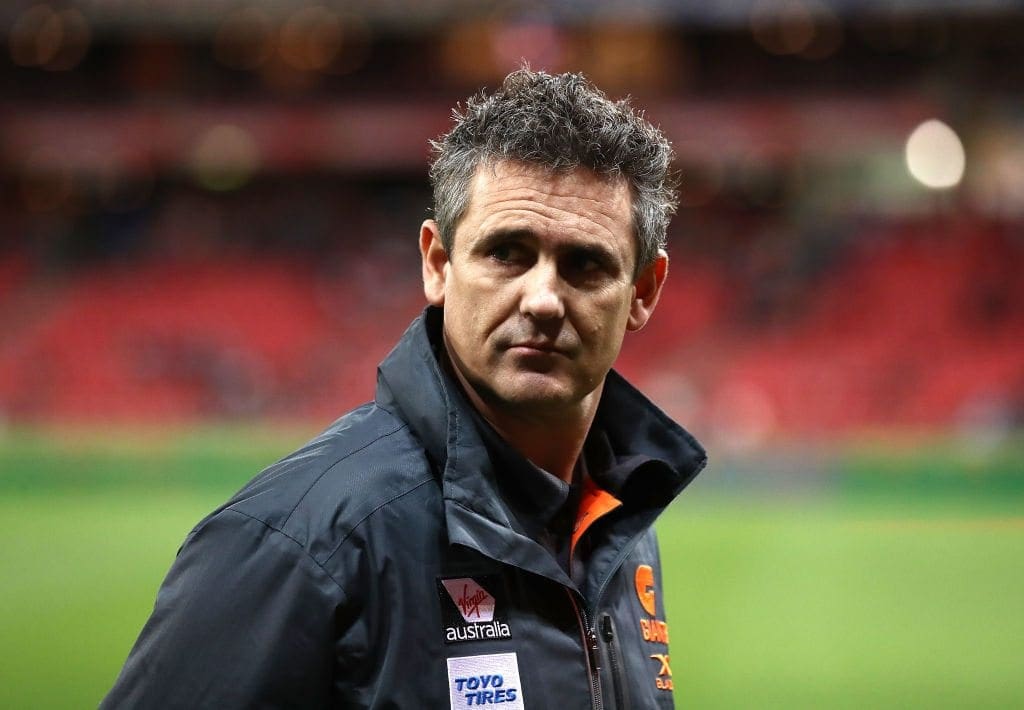 Making finals with a severely injury-hampered team has bought Cameron some time, although 2022 brings an assortment of high expectations, especially given the amount of young talent on their list and that the Giants are only two years removed from their inaugural grand final appearance.
7. Chris Fagan
'Fages' has built enough equity at the Lions over the past three years to not fall out of favour anytime soon, especially given the shambles the club was in prior to his arrival in 2017.
However, he is under the pump to lead his Lions to the promised land, and soon, especially given that the younger talent on his list has matured and is starting to reach their prime.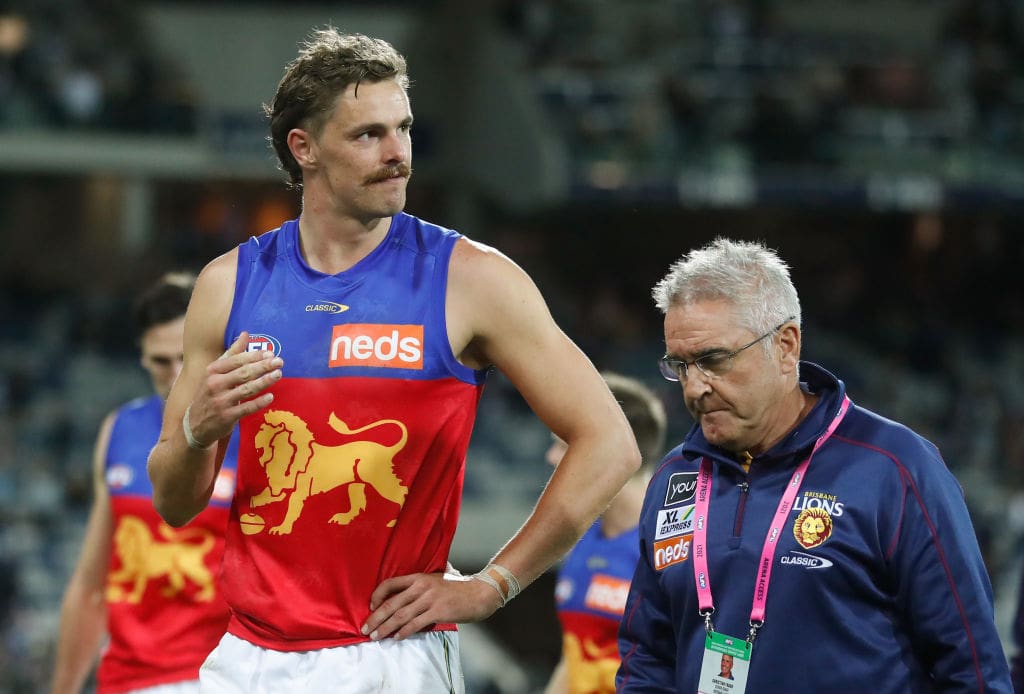 With their string of finals heartbreak in recent years, it's up to Fagan to reinvent his side in order to reach their full potential. Otherwise, he may be forced out before reaping the rewards of the excellent turnaround he's orchestrated.
8. Matthew Nicks
Adelaide is a very young side who has taken strides in improving under Nicks' guidance, having gone from three wins in 2020 to seven in 2021.
Nicks is victimised due to a number of factors outside his control, like a demanding fan base, wounded club culture, and a largely inexperienced list.
Given how bad the Crows were when Nicks took over, whether unfairly or not, his coaching ability has been heavily criticised and appeared too complicated for the type of players on his list.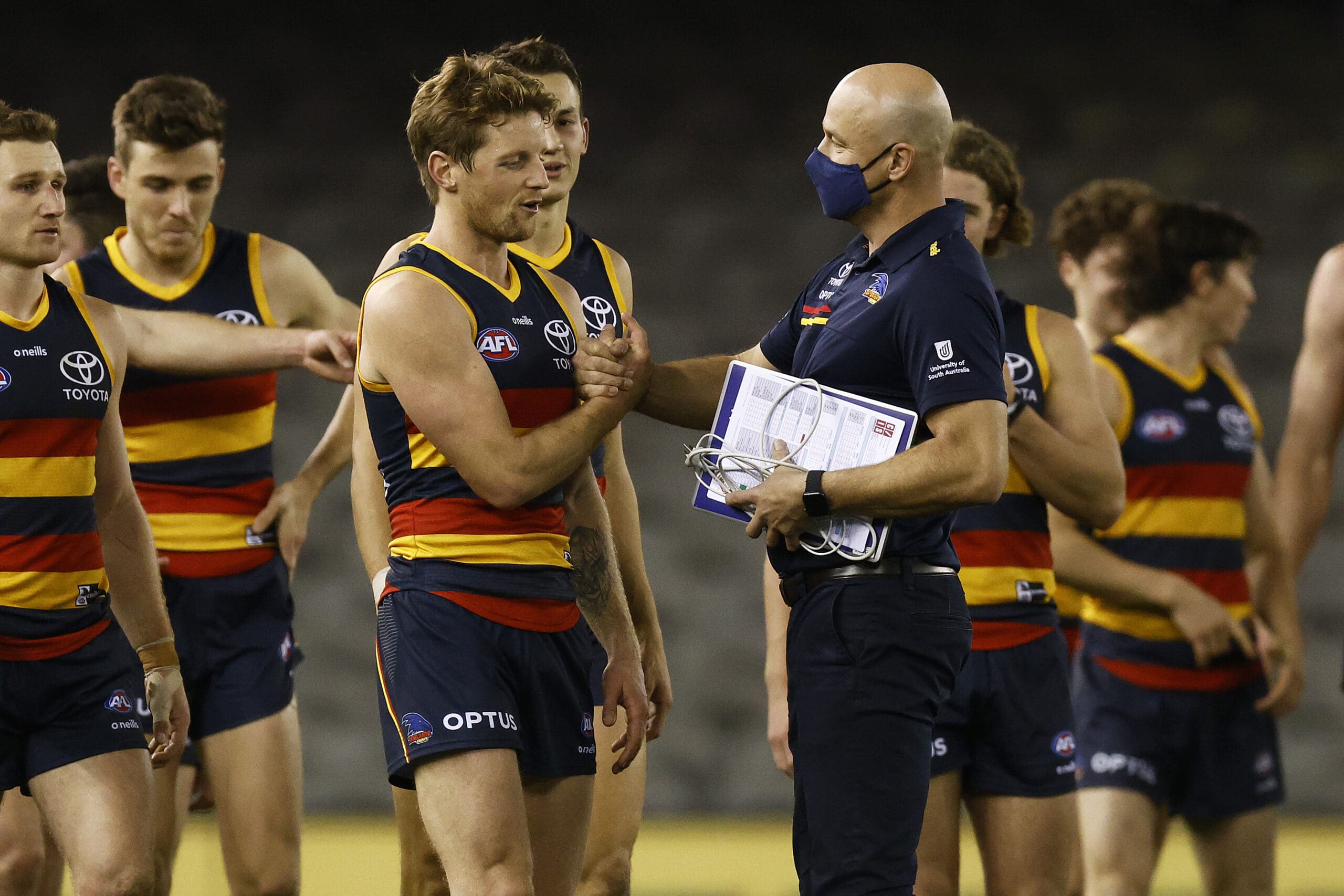 With the 2017 grand final loss still lingering at West Lakes, Nicks finds his position as the senior coach in limbo mostly due to poor timing than his outright ability, although this will be more definitive in the near future.
9. Michael Voss
When your club president comes out declaring a finals birth in your first year as the senior coach, no matter who you are (sorry Vossy), the pressure placed on yourself has instantaneously increased exponentially.
No coach deserves such pressure, especially Michael Voss, who after some initial success at Brisbane was incapable of developing a list during his first go-around as a head coach.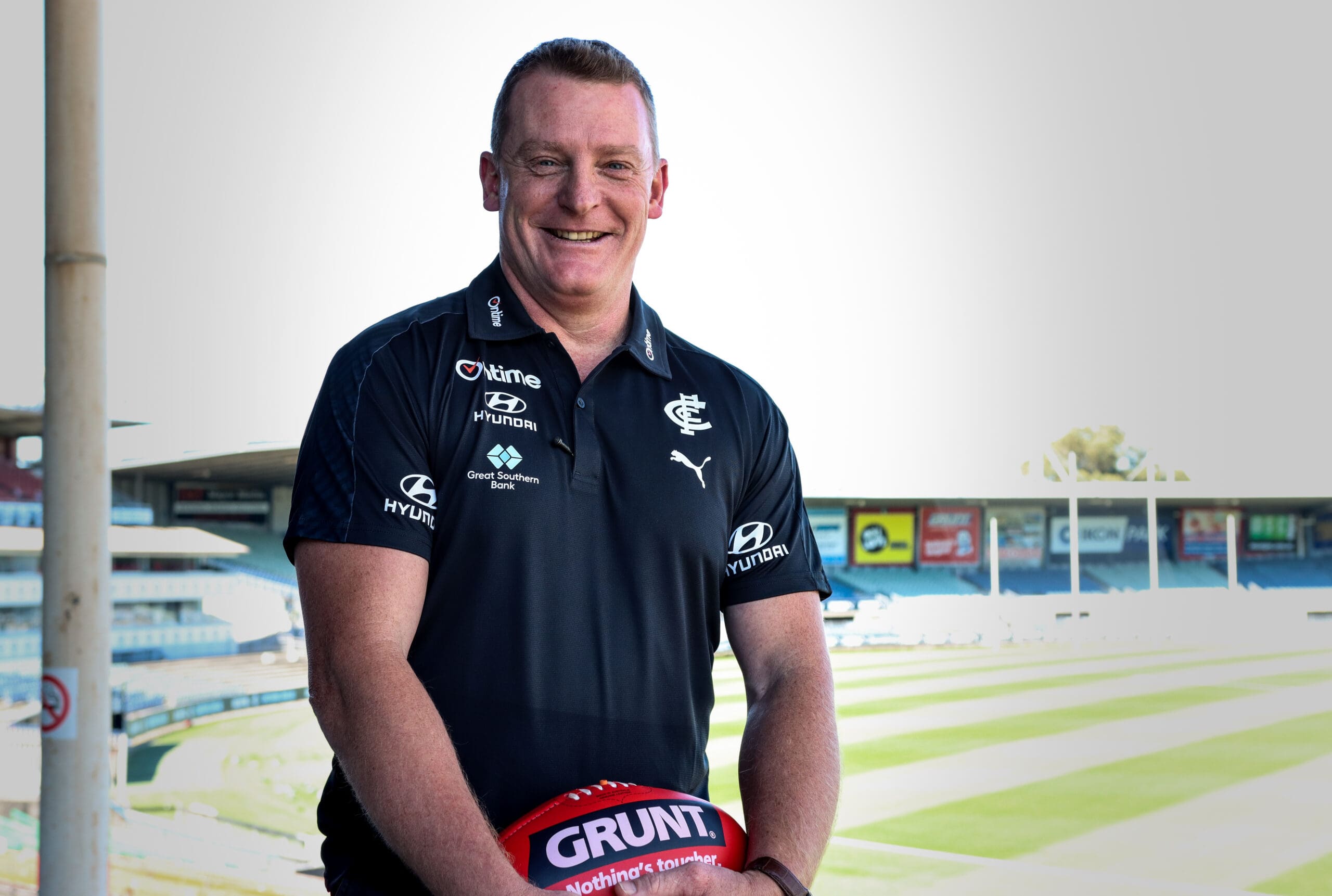 He's done a lot of work in recent years with Port Adelaide to correct this narrative, but given Carlton's deficiencies, he still has a lot of work to do in order to guide this talent-ladened Blues side to a top-eight finish.
In short, Voss is under the pump when he should be focused on incremental improvements.
10. Luke Beveridge
Beveridge shouldn't be under much pressure but finds himself quite high on this list, relative to his 2021 success, because the expectations for the Dogs will be insanely high for next season.
With two grand final appearances, including a 2016 victory, Beveridge is a proven coach at the AFL level but unfairly has questions asked of his ability. These questions are routinely asked despite him remaining successful with whatever players he has at his disposal, look at how different the 2016 Dogs were compared to 2021.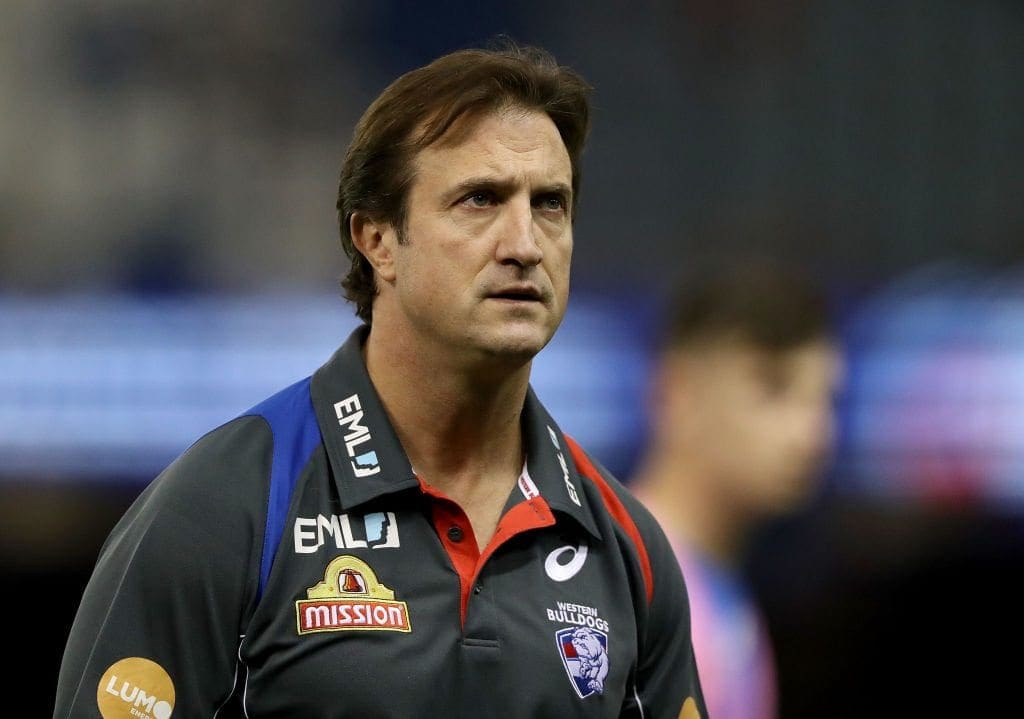 Beveridge appears doomed by his own success as the Bulldogs' expectations will remain exponentially high as long as he remains the senior coach.
11. Damien Hardwick
Who would think that the man who guided his team to three premierships in four years would be subject to any sort of employment pressure?
It sounds absolutely ludicrous, especially when considering the assortment of injuries present at Tigerland last season, although the reality is that 'Dimma' is likely the subject of the growing pains that follow a list rehaul.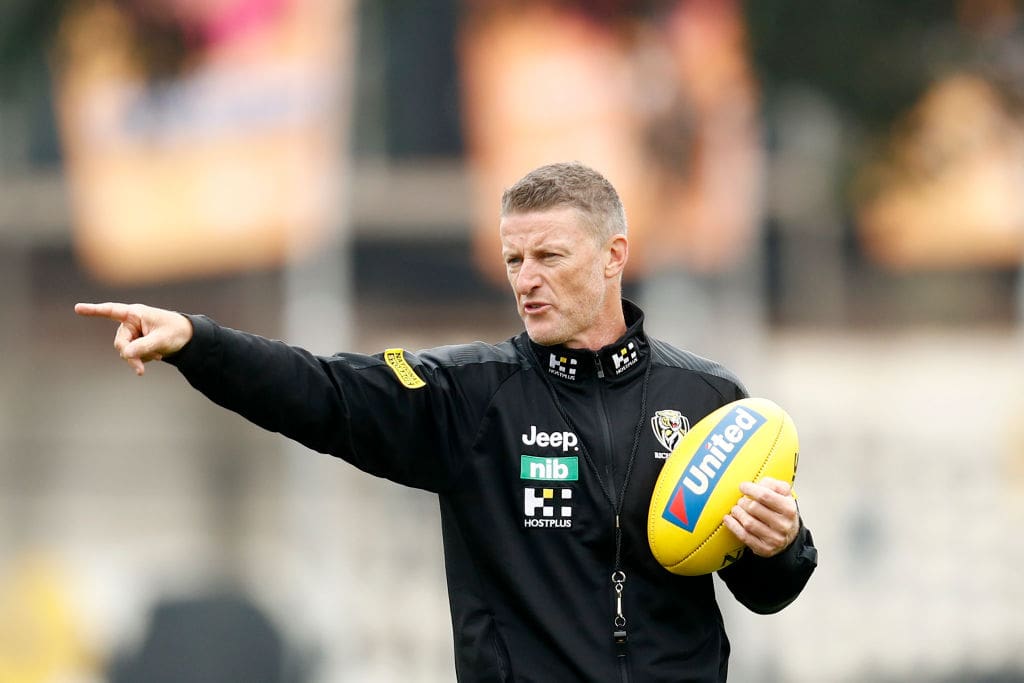 Unless something drastically horrendous occurs in 2022, Hardwick will realistically have a Clarkson-esque reign at Richmond.
12. Ben Rutten
It feels like Rutten has been the senior coach for some time despite 2021 being his inaugural season at the head of the helm, in which Essendon made the finals.
Rutten's methodology has been quite successful in today's game, especially as 2021 progressed, with his ultra-attacking style meshing well with the defensive pedigree he's instilled into his side thus far.
2022 will be a big test for Rutten as he now has the Bomber faithful's expectations set sky-high, with a degree of pressure mounting to build on his immediate success.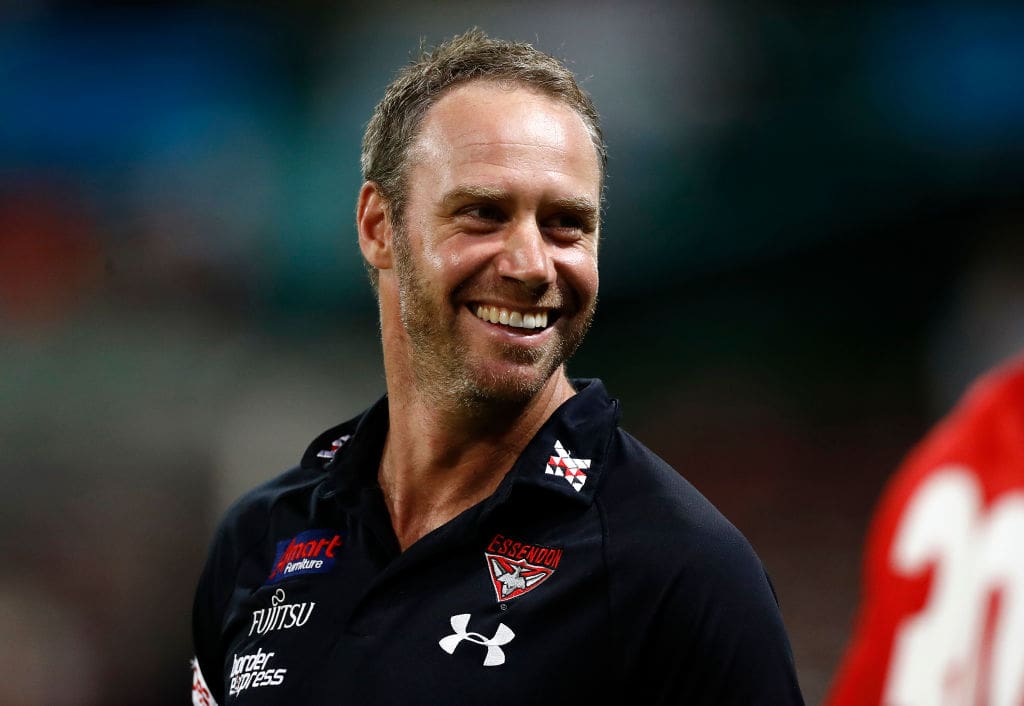 His biggest challenge will be ensuring that his side is mentally prepared early on in the season while instilling a seasoned maturity into his relatively young and developing group of players.
13. John Longmire
'Horse' burst onto the scene in 2012 with a premiership and remained on fire for some time after, which is what three grand final appearances in five years will do.
Since then his side has fluctuated and even struggled mightily until he guided a young Sydney side to yet another finals birth in 2021. Longmire isn't expected to win a premiership next season, although one would imagine that the Swans will build on their unexpectedly successful season.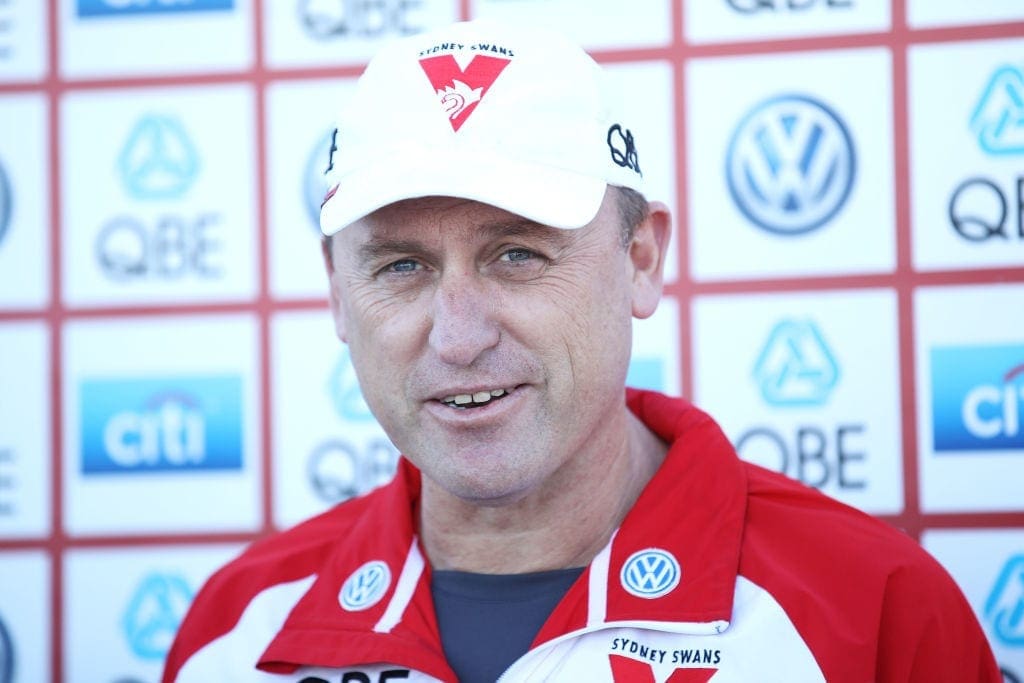 If the Swans were to take a colossal step back in 2021, which is unlikely given Longmire's track record, cue the alarm bells for Horse.
14.

Justin Longmuir
Longmuir has consistently improved the Dockers in each of his first two seasons at the club, finishing a game (and percentage) shy of finals in 2021.
He has constructed the team from back to front, establishing a solid back-six, a formidable engine room in the guts, and now has an assortment of pieces up forward for him to construct a dangerous and consistent attack for 2022 and beyond.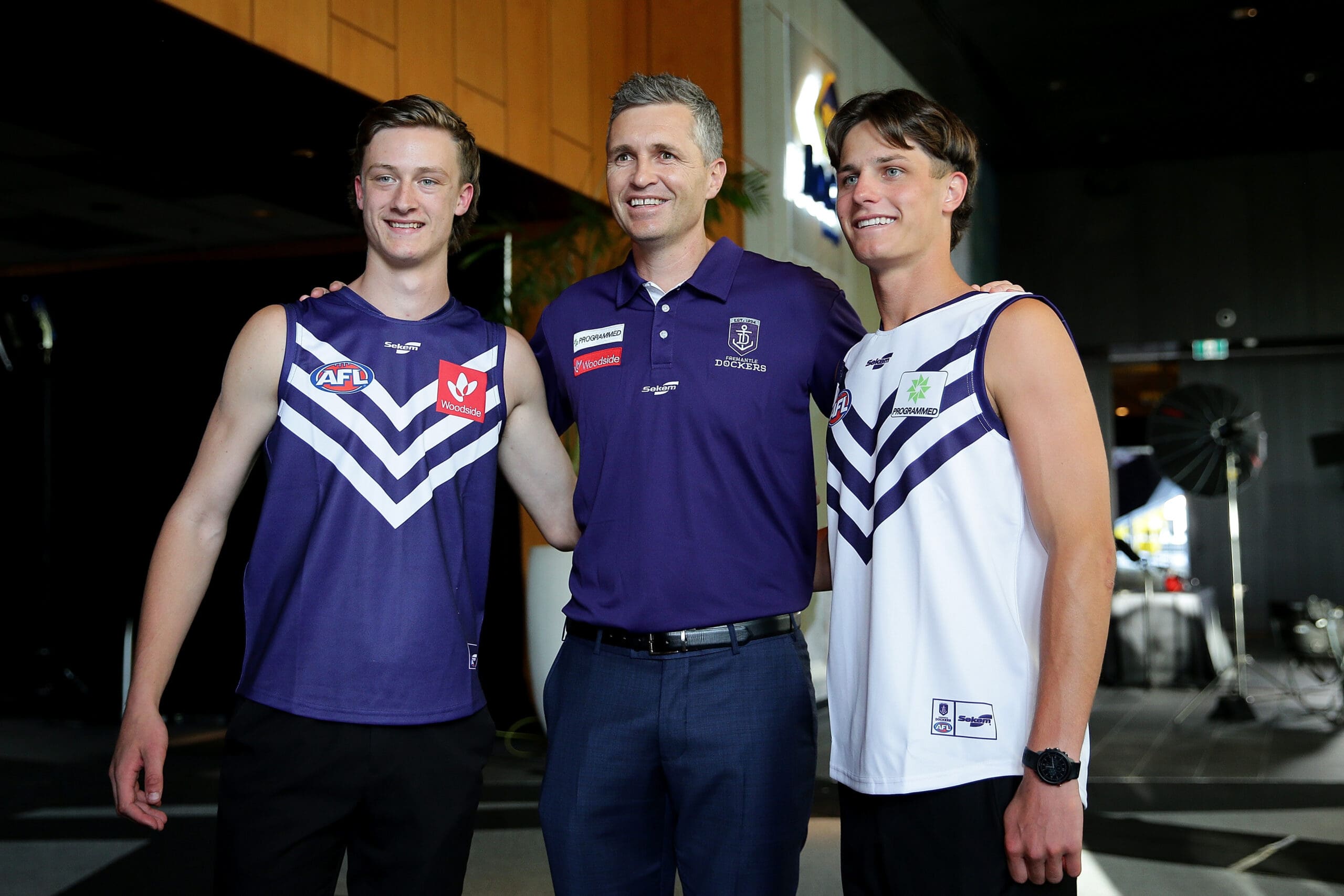 Longmuir has earned this spot, so low on the list, but he will inevitably feel pressure if/when the Dockers stop improving and fail to take their next leap forwards.
15. Sam Mitchell
Mitchell could arguably be a few rungs higher on this list following the messy handover and boots he now must fill in taking over from Alastair Clarkson.
But, given the lack of talent on the Hawks' roster, Mitchell can't realistically be under the same duress as others above him.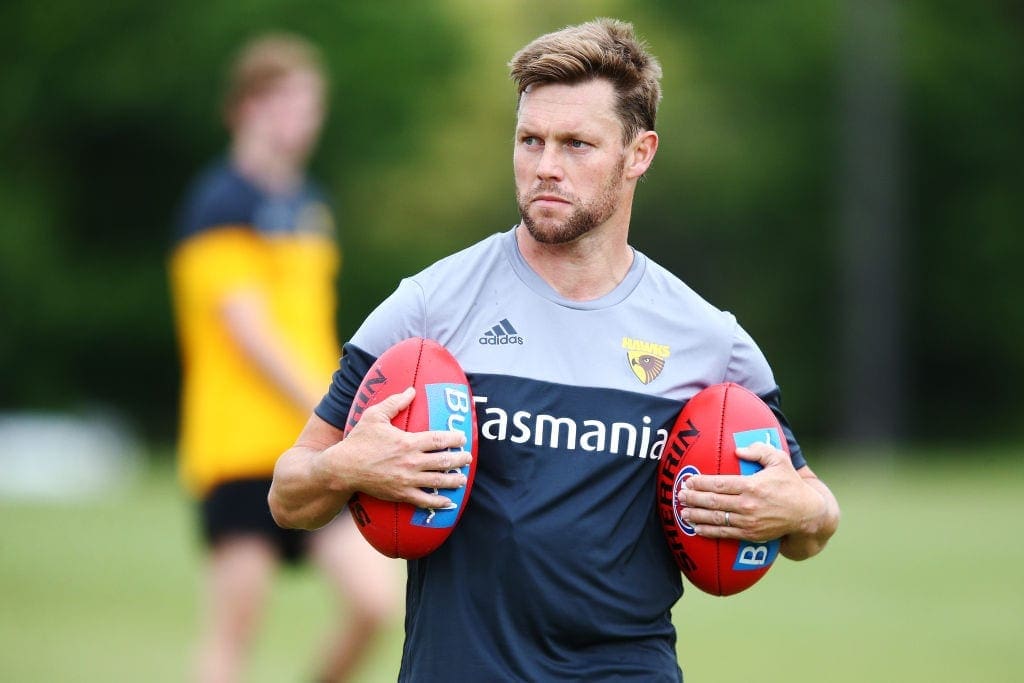 Mitchell is a first-year senior coach, meaning that as long as the Hawks show signs of improvement, his job security will remain relatively high for the foreseeable future.
16. David Noble
The fact that Noble got led an unattractive North Melbourne team to four wins and a draw in his first season is a remarkable feat in and of itself.
Yet, Noble also managed to make North appear more impressive with each passing week, which was particularly true after their belting by the Bulldogs by 128 points in Round 3.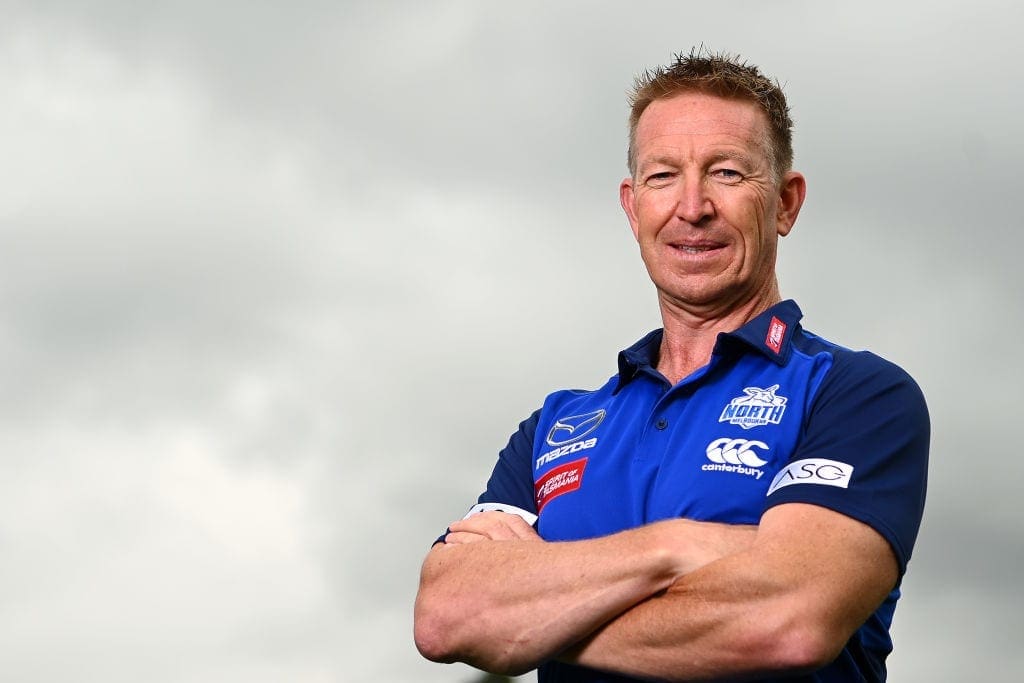 Not many coaches can generate such a large turnaround in season, which is why Noble sits so low, in addition to the shambles that the Kangaroos found themselves in prior to his arrival.
17. Craig McRae
'Fly' has done and said all the right things to date, coming across as a true leader with a calm and collected persona.
His track record to date sub-communicates his ability to improve and develop young talent, which is exactly what Collingwood needs at the moment.
With seemingly the full backing of the club, McRae seems to have a long runway ahead as he's not only tasked with rehauling a game-style that's been ingrained in the club for a decade, but also developing almost an entire list of first to fourth-year players.
McRae may feel uncomfortable when experiencing the growing pains that go with a senior coach in his position, but pressure, probably not.
18. Simon Goodwin
Goodwin was under all sorts of attention heading into 2021, with a disgruntled fanbase chomping at the bit for his head.
Well, how the tides have turned, with years of tremendous drafting coupled with his system finally coming together, delivering Melbourne their first premiership since 1964.
Not only did his side take home the largest prize in footy, but they also did so in such a convincing manner.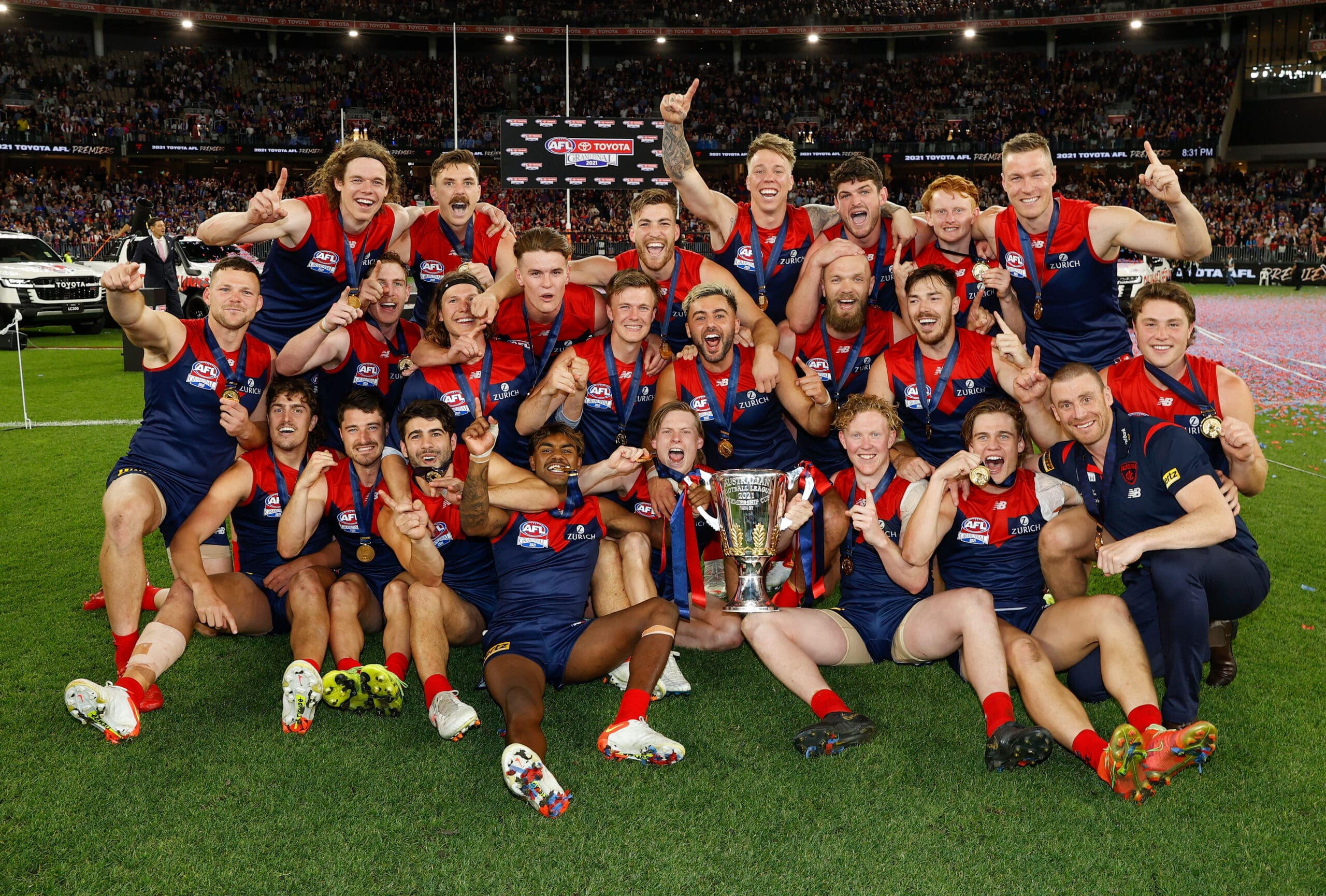 There is pressure to repeat with such a strong list no doubt, although Goodwin has everything established with reinforcements in the wings. He's earned the right to be dead last on this list.