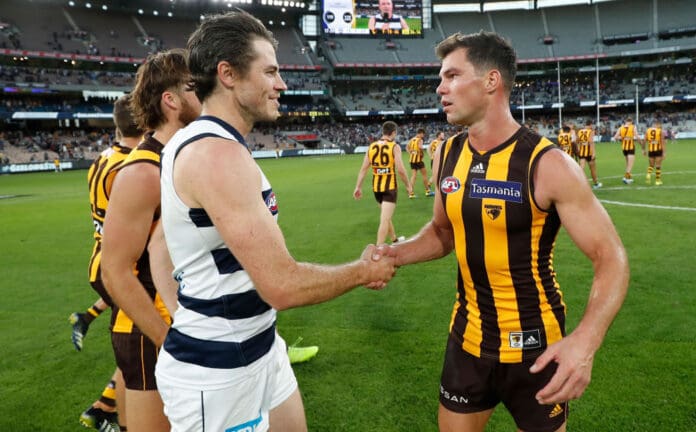 Social media was divided on Easter Monday as Geelong running machine Isaac Smith was booed throughout his side's clash with Hawthorn.
Smith played 210 games and won three premierships with the Hawks after being drafted with pick 19 in the 2010 National Draft, before he moved to Geelong at the end of 2020 as a free agent.
While the simple conclusion to draw from the move would be that Smith lacked loyalty when joining his club's biggest rival, it would be both unfair and incorrect.
Smith was already in his 30s and in the twilight of his career at the time of the move, and it's worth noting how ruthless the Hawks had been with club legends in the years preceeding Smith's move.
Premiership captains Sam Mitchell and Luke Hodge, as well as four-time premiership player Jordan Lewis, finished their careers at different clubs after glitttering careers at Hawthorn.
While each circumstance was unique, Mitchell, Hodge and Lewis were essentially offered better terms at other clubs - West Coast, Brisbane and Melbourne respectively - because Hawthorn decided they needed to prepare for life without them.
While it is the club's right - and some would say duty - to be so ruthless with list management decisions, it is only fair that players are equally as ruthless with their own career decisions.
So if Hawthorn can so easily part with the 876 games, 12 premierships, seven All-Australians, eight club best and fairests, two Norm Smith Medals and Brownlow Medal that Mitchell, Hodge and Lewis combined for, then Smith was well within his right to look elsewhere given how quickly he could be replaced.
In the lead-up to Monday's blockbuster, Smith told the Herald Sun the changing landscape of player-club loyalty contributed to his decision.
"Once you get into certain positions, once you have been in a leadership position at Hawthorn there aren't too many places to go when you don't hold them," he said.
"It was time for a change, time for the younger collective to come through and impact the footy club.
"How would it look if I didn't leave and then the year after I would be done in football? Loyalty has been a great thing and a huge value of mine but the industry has changed."
Smith's defection to the Hawks' arch nemisis does nothing to diminish his Hawthorn legacy.
He was an outstanding player at the club - a crucial member of the back-to-back-to-back premierships from 2013 - 2015, a member of the leadership group and someone who gave everything he had for a decade.
Hawks fans loved Smith for his ability to break the lines, to work up and down the ground and penetrate through the opposition defence with his raking left foot.
Fans - and teammates - also loved him for his enthusiasm and energy, which never came at the expense of his competitiveness and his fierce will to win.
That said, this doesn't make Smith a protected species throughout the remainder of his career.
For all that Smith did for Hawthorn, and for all the love and goodwill he shares with Hawks fans, the reality is that for two hours on the weekend he was playing for their biggest rivals.
And, during that two-hour period, fans have every right to boo a past player lining up against them.
Booing itself has been a contentious issue in the Australian sporting landscape in recent times, and there are clearly occasions when booing, and its root cause, have no place in the sporting arena - or in society.
But let's park that and save it for another conversation because that is very different to what was directed at Smith on Monday.
When done for pure sporting reasons, booing is not malicious - it is a tool for passionate fans to express themselves in a light-hearted, victimless manner.
The idea that AFL players cannot be booed for pure sporting reasons is borderline lunacy. It happens in sports across the world, and it simply adds to the drama and narrative of the spectacle.
People complaining about Isaac Smith being booed is ridiculous. He left a club for their arch rivals. But also, it adds to the game and theatre. We have to have thicker skin. #AFLHawksCats

— Jake Benoiton (@JakeBenoiton) April 18, 2022
To suggest that any sportsperson would be put off their game because of some jeering from the crowd is equally absurd.
It is part of the game and something that highly-talented, not to mention highly-paid, athletes need to deal with in their pursuit of sporting excellence - again, provided that the booing and the reasons for it are purely sporting.
The other suggestion over the weekend was that it was disrespectful by Hawks fans to boo someone who had done so much for their club.
That's hogwash.
Smith being booed does not mean Hawks fans forget all he did for them. It does not mean they are ungrateful. It doesn't even mean that they don't like him.
Realistically, the fact Smith was being booed showed the impact he had on fans in his time in the brown and gold - if he didn't matter to them, he wouldn't be booed.
Ask any Hawthorn fan, player or coach from 2011 - 2020 and they will wax lyrical about Isaac Smith.
He contributed an enormous amount to the club and was vital to the success the club had while he was there.
When he finishes his career, there's no doubt that Smith will go down as a Hawthorn champion.
Indeed, he is one already.
But, at the same time, there's absolutely no reason Smith shouldn't be booed by the brown and gold faithful whenever he plays his former club throughout the remainder of his career.
At the end of the day, it's simply part of the game.