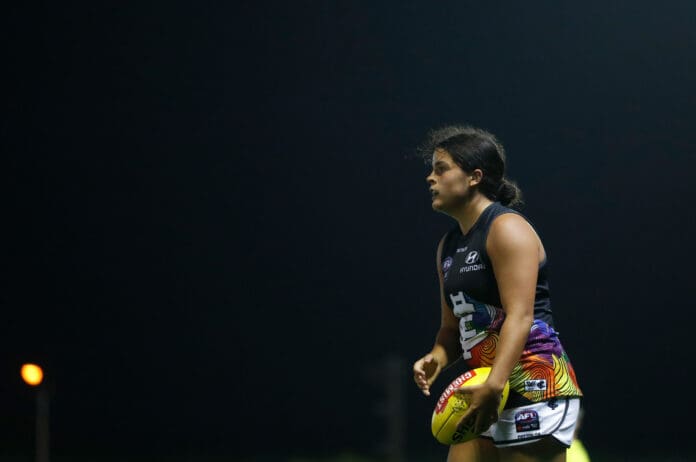 Boom Bombers recruit Madison Prespakis has opened up on her departure from the Blues and initial days at the Bombers, in what has been a tumultuous off-season for those at Ikon Park.
Prespakis, who won the AFLW best and fairest award in 2020, played 34 games for the Blues across four seasons in the game, quickly becoming one of the best players in the league.
Speaking to The Herald Sun, Prespakis detailed her move from Carlton, who finished in eighth position last year, to join the club she supported growing up.
"I initially turned down the idea of expressing interest with other clubs. I thought I was always going to be a Carlton girl," Prespakis said.
"But I really haven't been this happy for a while. This is the happy version of Maddy that I haven't felt in the last 12 months.
"I never want to let people down or hurt people in any way,
"Having to leave a club was probably the hardest thing I've ever had to do.
"Over the last season or two I probably hadn't performed the way I wanted to, and I probably hit a stagnant point after my 2020 season.
"I didn't really know what was next for me. I was only 19, Covid happened … I just didn't know what to do and I didn't feel like I was improving as a player and person.
Prespakis, Gee, Toogood.

What a week. pic.twitter.com/giDQeTsyOg

— Essendon FC (@essendonfc) April 13, 2022
"If I was to stay, it would have been because I loved the girls and the club … but when I dug a bit deeper, I needed to put my head down and improve.
"The decision ended up coming down to what was best for myself."
Prespakis was just one of many big names joining a mass exodus from the Blues after the conclusion of season six, with Georgia Gee, Grace Egan, Charlotte Wilson, Lauren Brazzale and Courtney Jones all heading for the exit doors at Ikon Park.
Prespakis though, has no regrets about making the switch to Tullamarine.
"That's when the decisions had to be made, and I was still weighing it up," she said.
"I rang mum and dad and was a little bit emotional and said 'I don't know what to do – I don't want to let people down'.
"I had a coffee with my manager one morning and I just let it all out and gave her the flood of tears. I just said 'I want to do it – I want to be a part of Essendon'.
"Once that was done and I'd actually said it out in the open, I was like 'wow, that's it'."
Season seven of the AFLW competition is set to get underway at the end of August, with expansion teams Sydney, Port Adelaide and Hawthorn joining the Bombers for an inaugural run at the premiership cup.