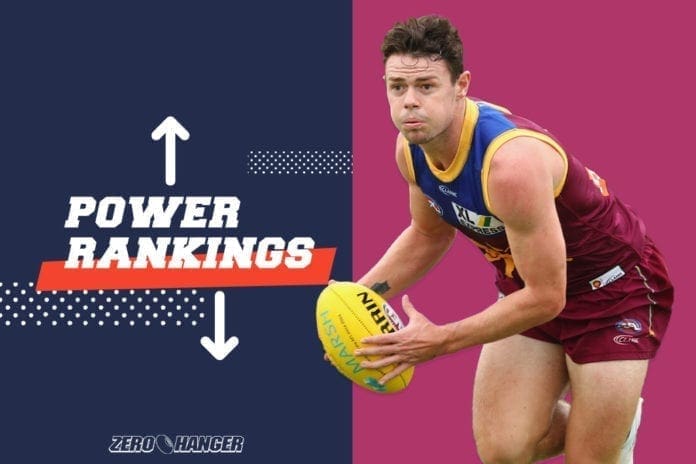 Several free-wheeling sides surge into our top eight this week as other finals fancies slide. Where does your side sit after another rollercoaster of a weekend?
1. Brisbane (+1)
Since their Round 1 loss to the Hawks, it's been the smoothest of sailing for the Lions, banking four straight at the Gabba. This was their best win, too – they blitzed the Power in the second quarter and never looked back. Oh, and Lachie Neale is officially the man to beat in the Brownlow race, if he wasn't already (he was).
2. Port Adelaide (-1)
That was a rude return back to earth. A glove had hardly been laid on the Power all season – that was a pretty impressive haymaker from the Lions. One bad loss doesn't erase all their good work, but they did flunk what many billed as their first real challenge. Golden boy one week, goalless from six touches the next – Charlie Dixon was the Power in a microcosm this week.
3. GWS (+2)
Efficiency, efficiency – it turns out you can win a game, and comfortably, with just 26 inside 50s. The Giants still managed 18 scoring shots in what was an incredibly efficient night for the Giants forward line. On the one hand, that kind of service isn't going to hold up going forward – on the other hand, when your forwards are this clinical with relatively meagre pickings, look out when their midfield is back to its best.
4. Geelong (+2)
Perhaps it had to be a special occasion for the Cats to finally secure two wins in a row for the first time in over a year – and if Gary Ablett's 350th wasn't enough motivation, surely Joel Selwood's 300th was. That was a good win against an in-form Suns, but we'll learn a lot more next week against the high-flying Lions.
5. Western Bulldogs (+6)
That's three on the bounce for the Dogs and they're looking like the team many thought they might be before the season. Hunter returns next week to bolster an already purring midfield. They finally kicked an impressive score, too, thanks in large part to Josh Bruce's bigtime arrival as a Bulldog. He booted six and was involved in several more.
<Embed from Getty Images6. St Kilda (+2)
The Saints are on a rampage and playing free-wheeling footy to boot. They blitzed the Blues in the first half, sealing a strong win. It's a question that's been asked to death but where would the Blues be now if they'd kept hold of Brett Ratten? Regardless, Ratten looks a much more mature coach after serving under Clarko and he could be the signing of last season – player or coach – if he can lead the Saints into the finals.
7. Essendon (+2)
The Bombers steamrolled the Pies after a slow start, laying on eight unanswered goals to all but put Collingwood to the sword. If it wasn't for a Liam Jones header, they could have been the sole undefeated team in the comp. Still, their early wins were gritty at best and uninspiring at worst. We need to see more from the Dons – Friday night was their best win, and they've weathered their COVID scare without too many bumps.
8. Collingwood (-5)
Just as many problems off the field as on for the Pies. The last thing Eddie McGuire and Collingwood wanted was for Jordan De Goey's alleged assault incident to resurface, after Steele Sidebottom's embarrassing suspension earlier in the week, and Heritier Lumumba's racism allegations begin to be investigated.
The second-to-last thing they probably wanted was to head into an interstate hub in the midst of all this chaos, not to mention after losing to bitter rival Essendon on Friday night. A tough, season-defining period ahead for many Pies.
9. Hawthorn (-5)
Looking at certain numbers – and ignoring others – the Hawks didn't do too badly on Sunday evening. They had more inside 50s and clearances than the Giants, and were perhaps hard done by on the free kick count, too. But the eye check showed a Hawks defence at times scarily powerless to stop the marauding Giants, especially Ben McEvoy, who was made to look like – well, a ruckman pretending to be a defender. All in all, after not really impressing for two weeks, the Hawks are due a slide down our Power Rankings.
10. Richmond (+3)
Damien Hardwick will take the much-needed win but not the far from needed injury list. Up to seven Tigers will be missing from his best side as the Tigers embark on their interstate adventure. They were clearly the better team against the Demons but it isn't like they've set the world on fire this season, either. All eyes are on how Richmond weather this injury crisis – memorably, they withstood an injury epidemic early last season and reaped the spoils at season's end.
11. Gold Coast (-4)
The Suns have come a long way, but the Cattery was perhaps a trip too far. They threw more than a few punches after Matt Rowell went down very early, but the Cats ran away with it in the last. Rowell's injury may derail their momentum as much as the loss - otherwise, they still look a much improved side in 2020.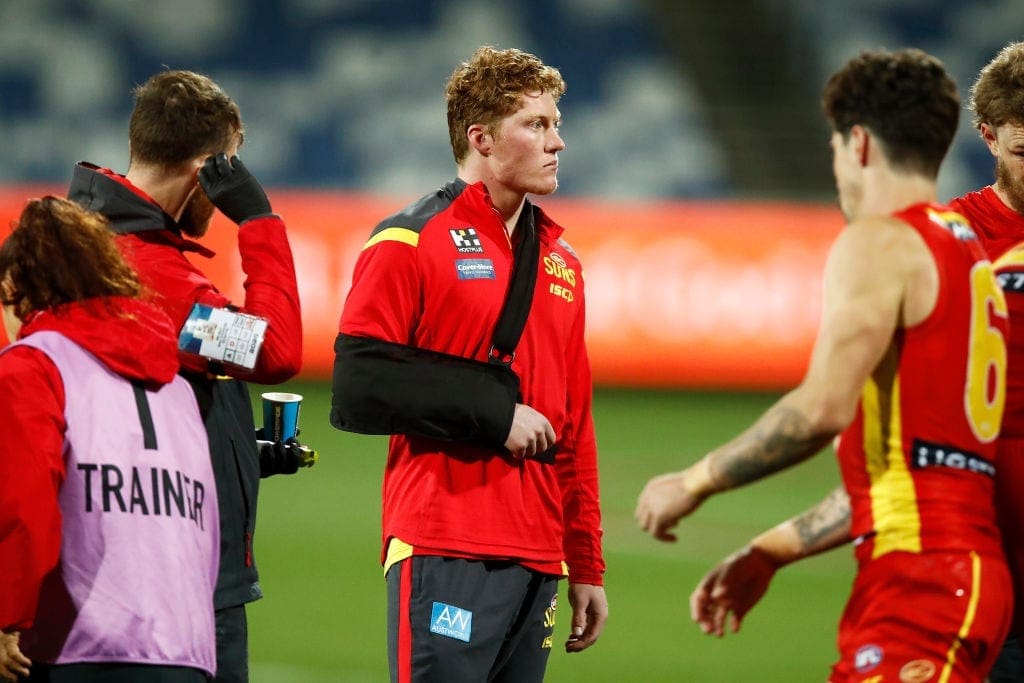 12. West Coast (+3)
All is not quite lost just yet. Early in the game, it looked like curtains for the Eagles – on the game and potentially on their season. But now, on the back of a strong final three quarters, they will head back home to enjoy an enviable home advantage that could very well propel them back into finals – and premiership – contention.
13. North Melbourne (-3)
That's three straight losses now for North, and all of a sudden, they're conforming to pre-season predictions rather than confounding them. On paper, all three games were winnable, but after close losses against the Swans and the Hawks, they were thumped by a Dogs side who were yet to kick more than 10 goals in a game all season (until the weekend). Many need to lift but none more than Ben Brown, who has been anonymous of late – held firmly by Ben McEvoy last week, he went goalless on Saturday night.
14. Carlton (-2)
After a last minute fixture reshuffle, Carlton were moved to the Thursday night slot – which might explain why they only showed up late in the second term, and only after St Kilda had kicked seven of the first eight goals. These opposition blitzes are becoming a dangerous trend for the Blues – they need to find a way to halt momentum when their opposition gets on a run. They've already proven they can ride it when they're rolling.
15. Sydney (-1)
An injury plague has all but drawn a line through this season, unfortunately. They battled hard and looked good early against the Eagles, but without a recognised ruck and an undermanned forward line, they weren't able to stick with West Coast when they started to turn it on in the second time. A season of young growth and honourable performances seems all John Longmire can hope for.
16. Fremantle (+1)
The Dockers were the better team for most of the day – against the Crows. And Adelaide really could have taken it if not for some wayward kicking. True, their youngsters stepped up in the absence of captain Nat Fyfe. But we didn't see enough from Fremantle to consider Sunday afternoon's game as anything more than that played by two cellar dwellers.
17. Melbourne (-1)
It's not the answer Demons – and empathetic footy fans – wanted, but the question of whether Melbourne are more 2018 than 2019 is looking close to being resolved. The Tigers were there for the taking, especially as they started to go down like flies during the game, but Melbourne couldn't capitalise on a superior inside-50 count. There's still glimmers of hope – Christian Petracca is having that breakout year, and Max Gawn continues to dominate, but a two-man act does not a finals contender make.
18. Adelaide (-)
Okay, okay, the Crows might be a bit high here. By now, they really should be about 25th. In what loomed as a wooden spoon playoff, the Crows kicked 4.10, repeatedly shooting themselves in the foot against a Dockers outfit that was there for the taking. To be fair, it wasn't as dismal of a display as previous weeks, but the fact remains they're 0-5 with a percentage of 53.3 – next worse is 78.2.