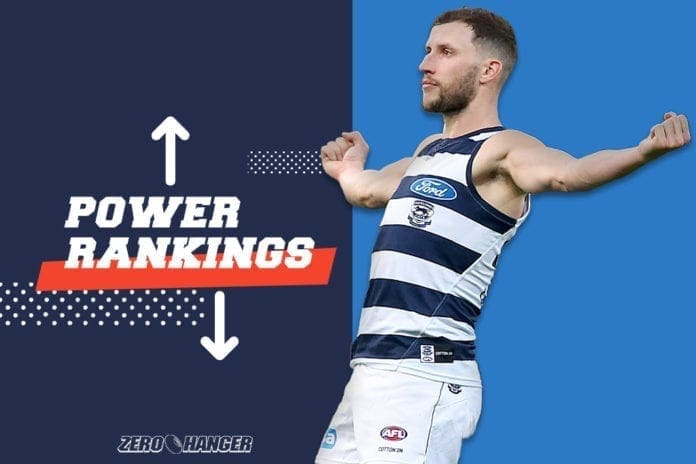 With spring in the air and the contenders separating themselves from the pretenders, that can only mean one thing – finals.
With the footy frenzy keeping everyone on their toes, here are our Power Rankings heading into the final two rounds of the season.
1. Geelong (-)
If there was a spot above first, the Cats would be perched there. Geelong's demolition of Essendon was a victory on two fronts. They not only consolidated second place on the ladder with a handy percentage boost, but also avoided the post bye banana peel that has felled them numerous times in the past. Without doubt the form team in the competition, their stocks look continue to rise with Selwood and Ablett on the verge of selection.
2. Richmond (-)

Not the most convincing of wins, but a job done none the less. Richmond's ability to hold off a precocious Fremantle outfit stood them in good stead heading into the bye. With the almighty Cats ahead of them in Round 17, the Tiger army will be hopeful names like Edwards, Grimes, Prestia and Lambert will be fit and firing.
3. Port Adelaide (+1)

The Power didn't break any records in their Round 16 victory, but when tested, they were still able to turn the turn the lights out on the lowly Kangaroos. Still atop the table, Port will be desperate to flex their muscles in their final two hit outs and dispel any murmurs of a possible fade out.

4. Brisbane (+1)
Sometimes winning ugly is all it takes, especially when it is against a fellow finals contender. The Lions certainly embodied this mantra in their low scoring victory against the Magpies. With Harris Andrews sidelined for the foreseeable future the Lions are now well below their best on paper. But they demonstrated last night against the Suns that their best is as good as any side.
5. West Coast (-2)

The Eagle's scrappy win over the hapless Bombers was cancelled out just five days later when they were beaten by the Bulldogs. Although missing a multitude of stars in the latter of these matches, the loss now means that the odds are stacked against them gaining a double chance. Despite selecting a depleted team, their Round 17 fixture against the Saints is a must win.
6. St. Kilda (+2)

The Saints rise is double pronged. Yes, they got the job done after holding off the fast-starting Hawks, but their ascent in the rankings has more to do with the failures of teams surrounding them. With their finals destiny still well and truly in their hands (win and their in), St. Kilda's final two fixtures against the Eagles and Giants will give the footy public a true indicator of where they're really at.
7. Collingwood (-1)
This seems a harsh slide on the surface, but with a bye and a loss to their name in these back to back rounds, the Pies haven't made any ground. Collingwood's inability to put winning scores on the board will have more than just Eddie and Bucks epidemically weeding. Like the Saints, we'll have a better understanding of the Magpie's credentials to contend after their match against Gold Coast.
8. Western Bulldogs (+1)
The Dogs are playing like a team that knows their lives depend on it. Sunday's win over the Eagles by a 'bee's dick' was the perfect indicator of their desperation. With the seemingly simple task of rolling the Hawks and Dockers to play finals, expect the pups to continue trending up.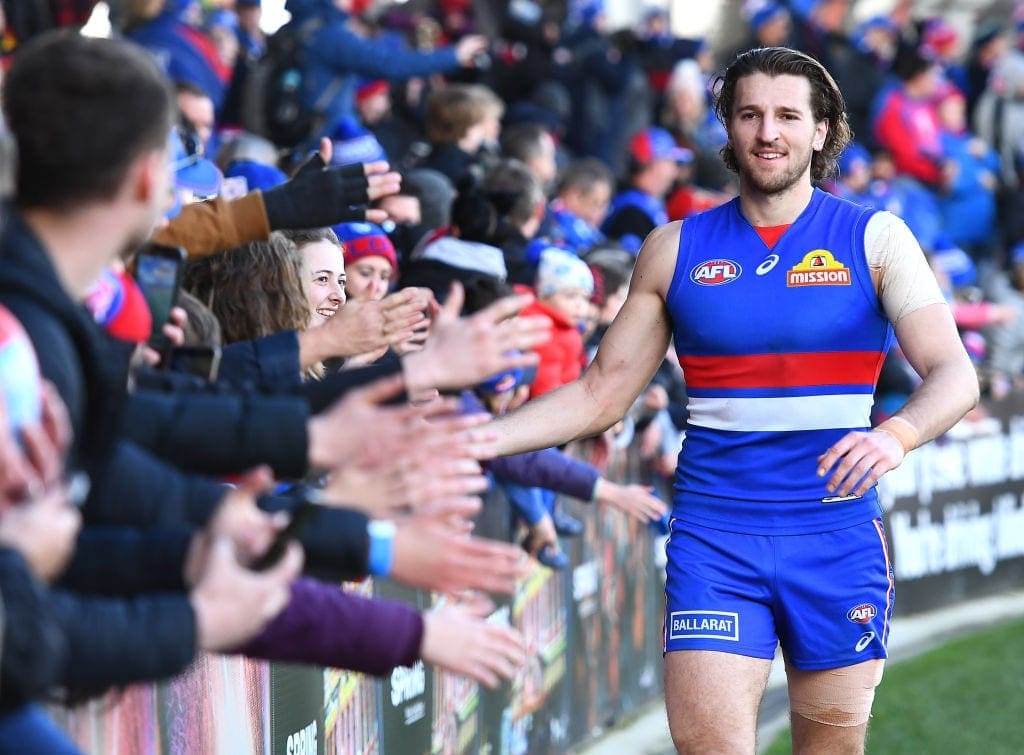 9. Melbourne (-2)
There are three certainties in life – death, taxes and Melbourne letting you down. After their narrow victory against the Saints in Alice Springs, the conceited Demons flew to Cairns with their finals destiny still well in their hands. The pair of cowardly losses at Cazaly's Stadium paint a picture of a club devoid of any intestinal fortitude. If I could have feasibly dropped them lower, I would have.
10. Carlton (+2)
This may seem kind for a team that won only one game during this period, but what a win it was. Down by nearly seven goals at one stage, the neophytes in navy stormed home to win with a late Matthew Cottrell major. These are the types of wins that can springboard a young team to success. Don't sleep on the Blues, their star will continue to rise.
11. Fremantle (+2)
The young Dockers lost no friends with their efforts against a red-hot Richmond. They then won plenty more after detonating the Demon's season. Fremantle's Cairns cruise was produced off the back of not just thew new brigade in Adam Cerra and Taylin Duman, but by the evergreen David Mundy. If the performances of these names continue, expect their rise to follow that of Carlton's
12. GWS (-1)
Another team with enough agency to write their own script, but yet another team crippled by stage fright when it comes time to read it. The Giants may have escaped late against Carlton, thanks to Jake Riccardi and Bobby Hill, but were incarcerated for four quarters by the ravenous Crows. Leon Cameron's decision to play his three tall forward (Cameron, Finlayson and Himmelberg) up the ground well and truly came back to bite him. The only thing more chaotic than a GWS inside fifty are the equations that will see them play finals
13. Essendon (-2)
Essendon haven't just been bashed from pillar to post on the ground, they've also been pasted off it. With so many of the game's talking heads (including former club greats) lining up to take swings at the Bombers, you have to wonder if the pilot has pulled the ejector cord. With the coaching succession plan looking as clear as mud and upcoming matches against teams in finals contention, it looks set to be a long summer at Tullamarine.
15. Sydney (+1)
Oh what could have been. Some will say that a team 39 points up does not deserve to get beaten. Other will say if you're up by nearly seven goals and lose, you don't deserve to win. Depending on whether you cup is half empty or half full, you will have a differing view. Had they beaten the Blues; they would have risen like a Warwick Capper specky. However, after failing to continue on from their upset win over Melbourne, we have them where they started.
14. Gold Coast (-1)
After an impressive first half of the season, the Suns have fallen away badly in recent times. While there is plenty to be bullish about for the future, last night's 45-point loss in the Q-Clash showed just how far off the mark this team is right now.
16. Hawthorn (-)
To the delight of the footballing world, the Hawks were dished up a fecal sundae by the Crows, with the maraschino cherry coming five days later from the Saints. These two rules serve only two purposes – securing a better draft pick and raising Alistair Clarkson's blood pressure.
17. Adelaide (+1)
Look, we could get carried away, but we won't. The Crows may have gone back to back in Rounds 15 and 16, but we can't discount their abhorrent showings in the first 14 rounds. Enjoy it Adelaide, you're off the foot of our table. However, the wooden spoon is still yours where it really counts.
18. North Melbourne (-1)
Poor North. They weren't awful against Port, just not nearly good enough. You probably don't deserve to be sitting rock bottom, but hey, let the Crows have their moment in the sun.