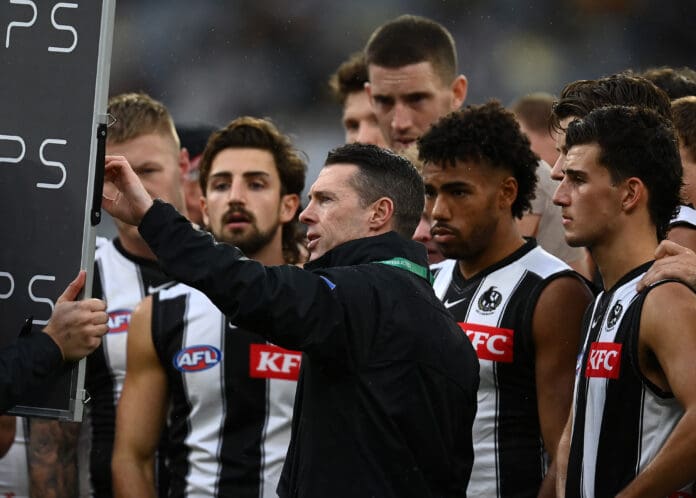 Whether it be through luck or a never say die mentality, Collingwood currently sit within the top four with just four rounds remaining in the season.
The Pies have had an exceptional run in close games, winning eight games by 11 points or less so far in 2022, leaving them with an impressive win-loss record given their 17th-placed finish in 2021, but with a less than impressive percentage heading into the final month of the season.
Sitting with 13 wins in the bank, in fourth spot, but with a percentage of just 106.18% may seem unusual, and historically, it is.
In fact, Collingwood's current percentage is the lowest of any team sitting in the top four (at the conclusion of Round 19) since St Kilda in 1998, who sat in fourth position with a measly percentage of 103.68%.
Perhaps that isn't the stat the Pies want to be known for as we approach finals footy, and much has been made of Collingwood's percentage being their Achilles heel, but trends over the last two decades or so suggest that may not be the case.
Casting our eyes back over the last 25 years, the Saints in 1998 hold the title of lowest percentage top four team (as of Round 19), with five other sides joining them with a percentage of under 110%.
Just to note, these figures come from the same point of each respective season - the conclusion of Round 19.
Interestingly enough, the Swans in 2005 (106.79%) and the Tigers in 2019 (109.42%) both won the premiership in those respective years, sitting in very similar positions to the current-day Pies (those two with twelve wins each, Collingwood with 13).
* indicates a premiership-winning team
** still an ongoing season
North Melbourne (2000) made the preliminary final, eventually losing to Melbourne, while St Kilda (1998) and Sydney (1998) were both defeated in the semi-finals.
While Collingwood are on a nine-game winning streak and are in impressive form, close wins against bottom ten teams such as Essendon, North Melbourne and Adelaide don't fill the average pundit with confidence about their chances against heavyweights come finals.
But as we've seen in the past, in September anything can happen. As long as the Pies make the eight, history suggests their home and away percentage is no obstacle to claiming the flag, and Craig McRae's side has proven time and time again that they can keep finding ways to win.