Port Adelaide veteran Steven Motlop has called time on his AFL career, effective immediately.
The Power confirmed Motlop's decision to end his 217-game stint in the league, spanning across 13 years and two clubs.
Motlop was drafted to Geelong via the 2008 National Draft as the 39th overall selection, joining from NTFL club Wanderers.
He would make his AFL debut in 2010 against Hawthorn, his only game for the year before adding a further four matches the following season in the Cats' premiership season of 2011.
Motlop would play a total of 135 games for the Kardinia Park club before moving to Port Adelaide at the end of the 2017 season.
There he would add another 82 games and 54 goals to his career, playing five seasons at Alberton Oval.
"14 years is a long time in the game, especially in the position I play," Motlop said of his decision.
"It was always a childhood dream to play in the AFL and I'll always be grateful to Geelong and to Port Adelaide for giving me the opportunity to achieve that dream.
"As a kid you just want to play in finals. I played in five preliminary finals and while it would have been nice to have won one, playing in those big games alongside my teammates is something I'll always look back on fondly.
"There's been a rich history of my family playing at Port Adelaide and to be able to get the opportunity come over to Adelaide, where my family was set up was a big part of why I moved across and it means a lot to say I had the chance to play at the club where I have such strong family links."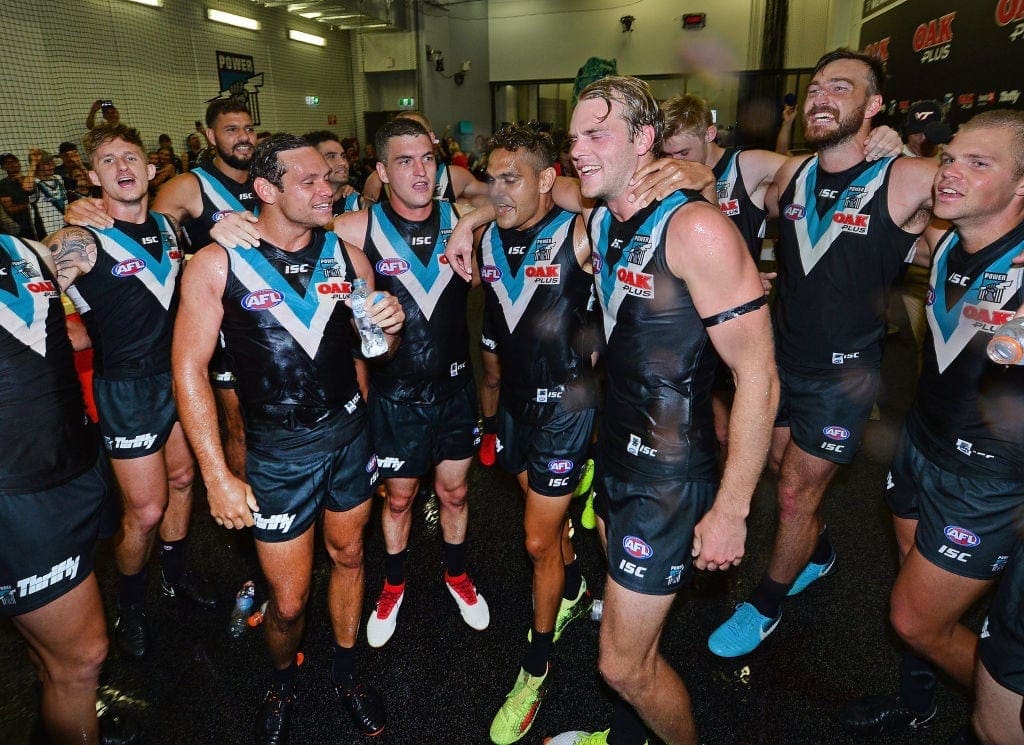 A moment to remember for Motlop was his match-winning goal in Shodown 44, ending Adelaide's five-game winning streak over their rivals with a final-minute goal to win by five points.
Port Adelaide senior coach Ken Hinkley, who worked with Motlop at Geelong previously, acknowledged the 31-year-old's contribution to the club.
"I was with Steven at the start of his AFL journey and also now at the end," Hinkley said.
"He has left us with some extremely fond memories with some telling contributions in key moments but often with Steven his work might have gone unnoticed by many. What I can say is that he has always been a really good teammate and has always done good things for us at Port Adelaide.
"The Motlop name is a strong one at our club. It feels like Steven has been here forever. He has made himself part of the Port Adelaide family, and he always will be."
Motlop played 14 games this season, his most recent coming in Round 16 against Fremantle.