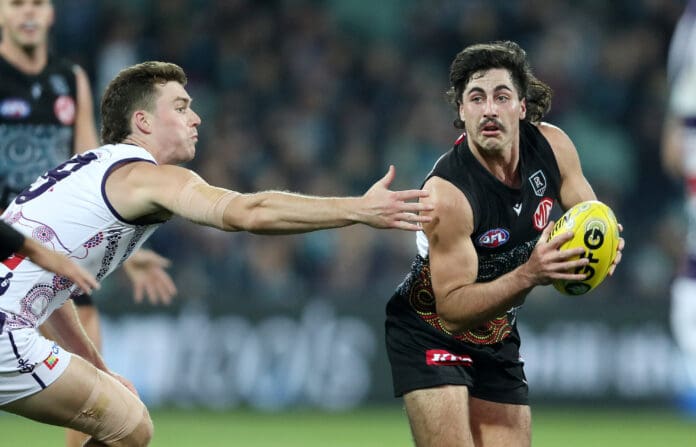 Port Adelaide have been dealt a fresh blow as they continue to fight for a top eight spot, now dealing with a growing injury list on the back of Sunday's eight-point loss to Fremantle.
Lachie Jones is facing a stint on the sidelines after injuring his hamstring during the narrow loss, replaced on field by Steven Motlop. The injury comes amidst an impressive season for the Rising Star nominee, having played 13 games in his second year.
Dan Houston was also a late casualty, copping a knock on the leg during the fourth term, though the club remains optimistic that there is no serious issue.
The Power found themselves on the back foot early, with Xavier Duursma forced out pre-game as he struggles with a quad injury, a preventative measure according to Power coach Ken Hinkley.
The senior coach spoke post game about the trio, confirming that Jones could be missing up to a month of action.
"I imagine he's going to miss three or four weeks," Hinkley said.
"Dan basically got a knock so we'll assess that and see how we go. I'm optimistic about Dan.
"(Duursma) was getting warmed up (and) we took the risk away. Playing on a Sunday night and with a quad on his kicking leg, we just couldn't afford to take the chance."
With the narrow loss relegating the Power to 12th spot on the ladder, now falling out of touch with the top eight, Hinkley remained confident that the club can still pull off a miracle turnaround after starting the first five weeks of the season without a win.
"It's incredibly tough, let's not be silly, but it's incredibly tough from 0-5 and we stuck at it and we haven't lost sight of what we're doing. We won't start that today," Hinkley said.
"The players believe and I believe that next week is the most important week for us. We've just got to keep ticking away. Footy does crazy things at some stages.
"I think we're in pretty reasonable form, but we're starting from a long way back. No reason for us to give up."
The Power next face GWS at home, before a trip to the Northern Territory to take on Melbourne.
Fremantle had their own injury concerns on Sunday evening, with Matt Taberner substituted from the game in the final term with a hamstring injury.