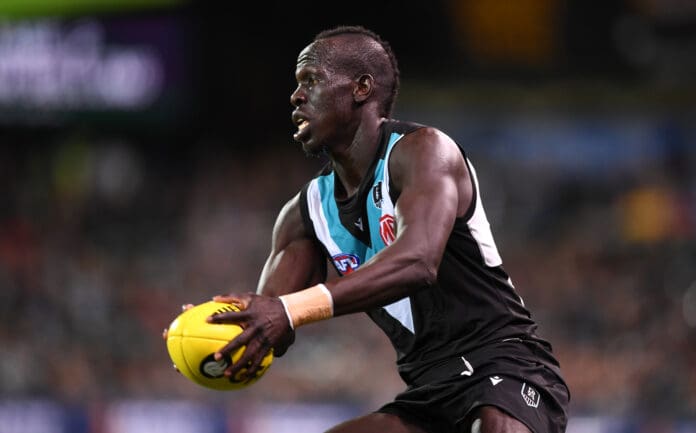 Port Adelaide coach Ken Hinkley supported the decision to have defender Aliir Aliir return to play in Saturday's Showdown loss after a heavy collision with teammate Lachie Jones, while the AFL have addressed the matter.
The second-quarter clash left both players in pain on the deck of Adelaide Oval and soon in need of medical treatment from club trainers.
Eyebrows were soon raised when Aliir was brought back into the game, having not undergone a concussion test following the incident.
Jones was eventually subbed out of the match following a concussion test, however was not reported to have sustained a concussion, instead the young defender was listed to be battling a "migraine".
Huge collision between Power teammates Aliir and Jones.

Thoughts with both players 🙏

📺 Watch #AFLCrowsPower LIVE on ch. 503 or stream on Kayo: https://t.co/hgWKZaYHry
✍️ BLOG https://t.co/8yv36BaPMn
🔢 MATCH CENTRE https://t.co/4E3aryZdA7 pic.twitter.com/UgSh2ZQEhm

— Fox Footy (@FOXFOOTY) July 29, 2023
The concerning outcome for both players and the club's call to not have Aliir undergo a concussion test sparked further concern from across the fence, leading to Hinkley defending club doctor Mark Fisher in his post-game press conference.
Hinkley said Aliir had no issues during his time on the interchange immediately after the incident, while Jones had passed a concussion test but was instead removed from the game with a migraine.
"It was played out through the right hands, and that was the doctor. The doctor made those decisions around both players and he was really, really clear," Hinkley said after the 47-point defeat.
"I sat and spoke to Aliir and Aliir was clear as he could be. The doctor was very, very comfortable that the situation was well and truly OK and that he was able to go back on. He went back on and was able to play out the whole game, so I don't think there were too many problems with Aliir other than he got beaten badly.
"Mark Fisher is an incredibly experienced doctor and he makes the right decisions that he needs to make.
"I can understand from your point of view because as soon as he came off I was absolutely surprised myself how clear he looked and how bright he looked. I don't think Aliir had an issue himself. He was the same Aliir that I was talking to before the game as I was talking to when he was on the bench.
"Lachie didn't fail a concussion test, but he didn't come back on and we subbed him. In fact he was subbed out with a migraine. He'd done the concussion test and he passed the concussion test.
"That's about all I can give you. I don't sit on the concussions test, I don't do them."
The AFL have made contact with Port Adelaide and will continue to assess the matter surrounding both Aliir and Jones, with a final statement in regards to the club's actions to be released in due course.
"The AFL's Acting Executive General Manager of Football Laura Kane and Chief Medical Officer Dr Michael Makdissi have been in contact with the Port Adelaide Football Club following the incident involving Aliir Aliir and Lachie Jones during last night's match," a league statement provided to Fox Footy reads. 
"Aliir and Jones had a heavy collision which resulted in both players undertaking head injury assessments (HIA) and Jones being substituted from the game after a SCAT5 test and Aliir returning to the game after his initial HIA.
"Over the coming days the AFL will continue to have dialogue with the Port Adelaide Football Department and their Club Doctor to closely monitor the management of Aliir and Jones.
"The AFL will provide a further update in due course."
The incident between Aliir and Jones comes a year after Port Adelaide duo Tom Jonas and Zak Butters were involved in a similar collision and did not undergo concussion tests. Hinkley supported the decision of his club doctor.
The AFL later ticked off the club's handling of its concussion protocols for the Jonas-Butters incident, with further questions likely needing to be answered this week after Aliir and Jones were left hampered.
Port Adelaide's only other injury concern came in the form of a knock to defender Trent McKenzie's ribs, however the veteran backman was able to continue in the match.
Adelaide lost key defender Jordon Butts to a foot injury during the first half of the Showdown victory.
Nicks revealed the club feared Butts' season is likely over due to a potential foot fracture.
"We will follow up with Buttsy but we are fearful that may be a fractured foot, but we don't know yet," coach Matthew Nicks said after the game.
"We will have our fingers crossed for him."
On Sunday, Butts' manger Scott Lucan confirmed to SEN that his client had suffered a fracture to his foot during the win.
"The fears are it's a fractured foot." - Tom Morris on Jordan Butts

"Fears confirmed."- Scott Lucas, his manager#CrunchTime

— SEN 1116 (@1116sen) July 30, 2023
Adelaide's finals hopes remain alive thanks to the win, while Port Adelaide sit in second spot and just four points ahead of Brisbane.
The Crows will remain at Adelaide Oval for next weekend's matchup with Gold Coast, while the Power make the trip east to face Geelong at GMHBA Stadium.