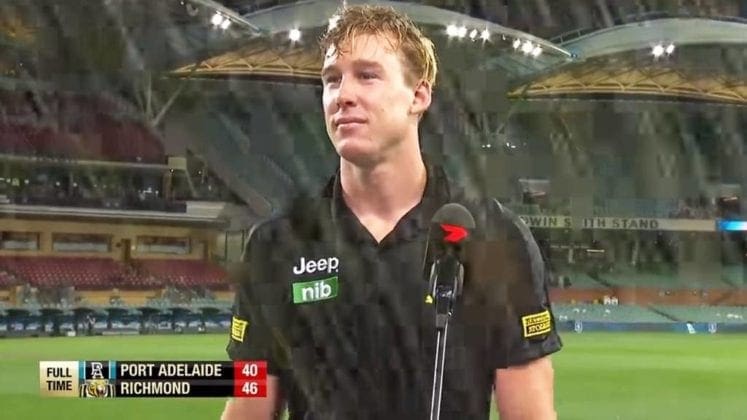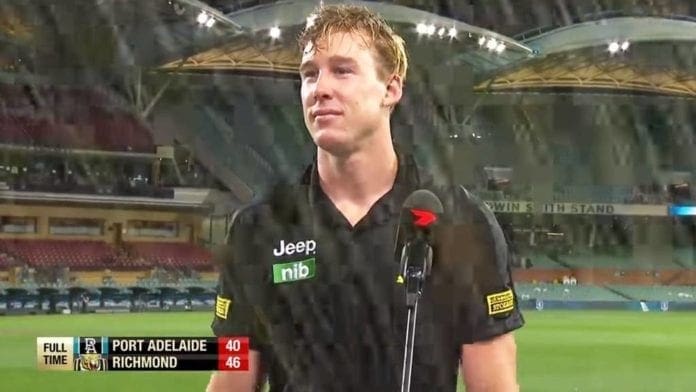 The Port Adelaide fan who threw a cup full of liquid at Tom Lynch has had their membership revoked for two years.
Lynch was doing an interview post-game on Friday night at the Adelaide Oval when the drink was hurled over the star forward.
Port Adelaide has confirmed that the fan was a club member and that further sanctions could apply.
"The Port Adelaide Football Club has revoked for two years the membership of a patron who threw a drink at a Richmond player following Friday night's Preliminary Final," they said in a statement.
"The Club will not tolerate actions that are in breach of the Club's spectator code of behaviour, and endorses the further AFL and Stadium sanctions."
Lynch, who was jeered and taunted by the rowdy Port fans all night, headed over to a young fan who was in tears over his teams heartbreaking finals exit.
The 27-year old spoke to the young boy in a move that has been applauded by many fans.
Tom Lynch cheered up a young Port Adelaide fan crying in the stands after his interview. 🙏 pic.twitter.com/XvqNpcsvtX

— 7AFL (@7AFL) October 16, 2020
The forward ended the game with last laugh as he took a mark with seconds to go.
When speaking to Channel 7 boundary rider Daisy Pearce, Lynch was distracted by the taunts of the crowd.
"Sorry Daisy, I'm copping it here a little bit. Can you please repeat that? I just had a Bundy and Coke on me, but anyway," Lynch told Channel 7.
Lynch was later asked if he was OK to continue the interview despite the best efforts of the Port fans before replying with: "No, they're alright."