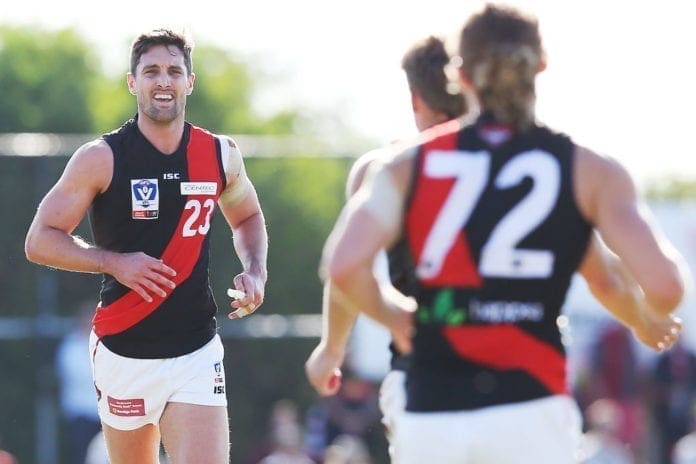 Essendon coach John Worsfold has deemed David Myers is ready again for senior selection, having put himself into the twos earlier this year, as reported AFL.com.au.

The 112-gamer is among a host of Bombers out of contract at the end of the season, including Mark Baguley and Mitch Brown, withe the trio all facing an uncertain future at the club.  

It was revealed that Myers had approached the club after its narrow round eight loss to Sydney, to 'drop' him to the VFL to find some confidence and form.
He was also willing to give the younger players an opportunity such as Darcy Parish, who has reveled in the midfield and is playing some career-best footy.
Since putting himself in the twos, Myers has played consistently at a high level, making him available for a senior call up the past few weeks.
"I talk to 'Myersy' regularly about what the team needs and where he's at and we weigh all that up then we make a call on whether he's likely to come in or not," Worsfold said on Wednesday.
"Basically, Myersy is available for selection as the team requires. That's been pretty much the same case for the last month or so, I would say."
The 30-year-old comes out of contract at the end of the season and there has been no talk as to whether he will sign on for more.
"I haven't spoken to him about next year in any great detail. We're getting towards that time where, in terms of list management, [where] we'll get a feel for what players are thinking about. We'll have those conversations I'd say in early August," he said.
Myers' decision to step back from the AFL side was praised by his coach, who said that leading the VFL team had given him plenty of enjoyment.
"I think it's a brave and selfless decision that he made around how he felt ... in his personal best interests, but which was going to definitely be in the team's best interests," the coach said.
"It's an interesting thing to juggle – what the team needs and what he needs personally and what we can work together.
"I've been really pleased with the way the whole group has handled that, match committee, coaches, players and David."