Carlton defender Sam Petrevski-Seton called out racist comments on social media as Australia's Indigenous community came under attack from cowardly trolls.
The countless racist comments that have riddled the AFL's social networking landscape continue to play a significant role in staining our great game.
There is a well-documented history of racism in football, dating back to 1927 when Doug Nicholls was rejected by the Blues due to the colour of his skin.
From Nicky Winmar to Michael Long to Adam Goodes, Indigenous players have voiced their pride and honour at representing their communities.
With the emergence of social media, the battle against racism has faced another cowardly and persistent challenge in the public domain - but the fight remains stronger than ever.
AFL players and athletes worldwide have come together to stamp out the vile, racist comments that derive from social media platforms.
In recent time, Neville Jetta, Eddie Betts, Nic Naitanui, Heritier Lumumba and Liam Ryan have become victims of racial abuse, and unfortunately we can't rule out the possibility of more players facing a similar fate in the near future.
Brisbane's Mitch Robinson highlighted the vile comments on twitter, and while players, teammates, fans, coaches and clubs unite in the fight against racism, as a society we still have a way to go.
Absolute fucking cowards. pic.twitter.com/S7Jxgy91f7

— Mitch Robinson (@MitchRobinson05) March 23, 2021
This is racism.

This needs to stop.

We, as a collective, need to hold online trolls + social media platforms accountable. pic.twitter.com/IR56XrKeeC

— Melbourne Demons (@melbournefc) June 26, 2020
This is what a lot of people have to deal with daily. Racism to their face and on social media. This is what happens when you report a racist comment. Social media platforms need a better process dealing with and idetifying these people. Cowards hiding behind a fake profile. pic.twitter.com/jFMPEh1OpN

— chad wingard (@chadwingard20) June 26, 2020
Naitanui revealed the extent of continued racial abuse he receives on a weekly basis earlier this year as a guest on the Ordineroli Speaking podcast.
"We play 20 times a year, I'd get it 20 times a year," he said.
"Sometimes you think you get to the point where you think you're bigger than that but you're not.
"It's abhorrent behaviour. We want to stamp this rubbish out. We can't reiterate enough how disappointing these sorts of comments are."

Club CEO Trevor Nisbett spoke out against the racist comments made about forward Liam Ryan.

Statement: https://t.co/Xnc59b3aOc pic.twitter.com/mJ1ixC75d6

— West Coast Eagles (@WestCoastEagles) March 25, 2019
"Especially during the season, especially if you push someone over or you do something to someone's team that they support, there's always someone with an anonymous account."
Naitanui's teammate Liam Ryan was racially vilified by a Richmond member in 2019, with the Tigers suspending the membership of the fan and the Eagles launching an anti-racism campaign.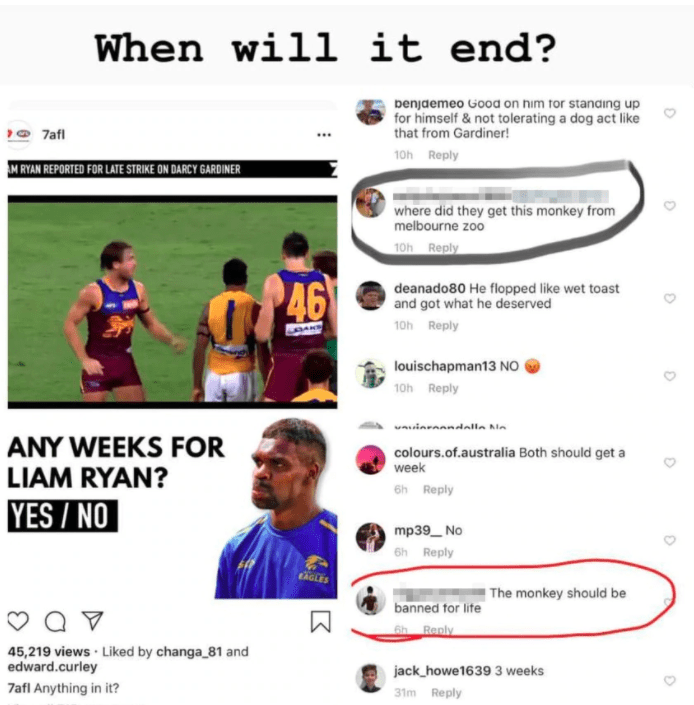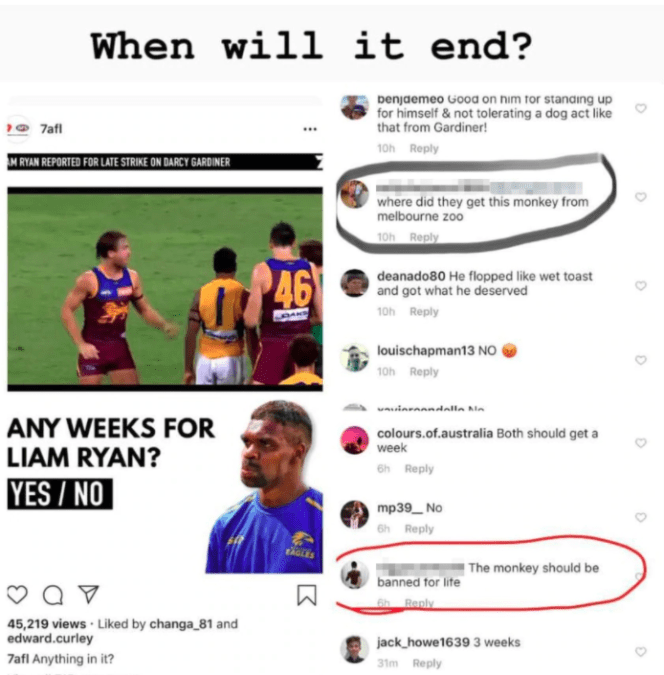 Jetta and Betts have been on the end of numerous attacks from anonymous online trolls, and while many have called for change, the cowardly attacks continue to haunt the AFL.
The constant online harassment and unnerving racism towards our indigenous stars is a bitter and sad reality of our community.
Respecting people of all cultures should be the nature of all, as is the reasonable expectation that we can all do better by playing our part in stamping out racism.
Racism existed long before social media, but together we can make sure it doesn't outlive it.