At the conclusion of the three bye rounds we can now set our focus on the remaining nine weeks of the 2022 AFL home and away season.
81 matches will take place across the coming months and will decide who makes the cut for September and who will head back to the drawing board in the first month of Spring.
As things currently stand, Brisbane have their necks narrowly out in front of the finals pack, separating themselves by a matter of percentage over fellow premiership contenders Melbourne and Fremantle.
And while spots at the top of the ladder may also be in high demand - with Geelong, Sydney and Carlton circling - there is a logjam for clubs on the periphery of the finals frame that are looking to squeeze themselves into the calculations.
Ahead of Round 15, in what shapes to be a weekend that may decide the seasons for several clubs, we predict how the remaining round mat play out, predicting each club's final record and spot on the ladder some the cessation of Round 23.
1. Brisbane
Current Record: 10-3
Run Home: MELB, WB, ESS, GWS, GCS, RICH, CARL, STK, MELB
Predicted Record: 18-4
Estimated Percentage: 129.0%
The Lions will face six clubs currently placed inside the top eight in their run home, which includes a pair of encounters with fellow premiership contenders Melbourne.
The two matchups with the Demons sit at either end of the upcoming nine matches, with both clashes set to play an integral role in how the top of the ladder takes shape at season's end.
Wins in both matches are likely to see the Lions hold their place atop the mantle, but contests against the Bulldogs, Blues, Tigers and Saints will be no easy feats either.
A Round 19 QClash against the Suns could be a danger game for Chris Fagan's men, with Gold Coast on the periphery of the top eight and in need of several upsets to book their spot in September.
2. Melbourne
Current Record: 10-3
Run Home: BRIS, ADEL, GEEL, PORT, WB, FRE, COLL, CARL, BRIS
Predicted Record: 17-5
Estimated Percentage: 127.2%
Having set the standard the year prior, the Demons have been tasked with an arduus fixture in 2022, with arguably their toughest period yet to come.
Eight of their final nine matches include clubs currently competing for a finals spot, including two bouts with Brisbane and trips to Kardinia Park and Perth to face the Cats and Dockers respectively.
We've got the Demons amassing seven wins from their nine matches, seeing them fall short of securing successive minor premierships.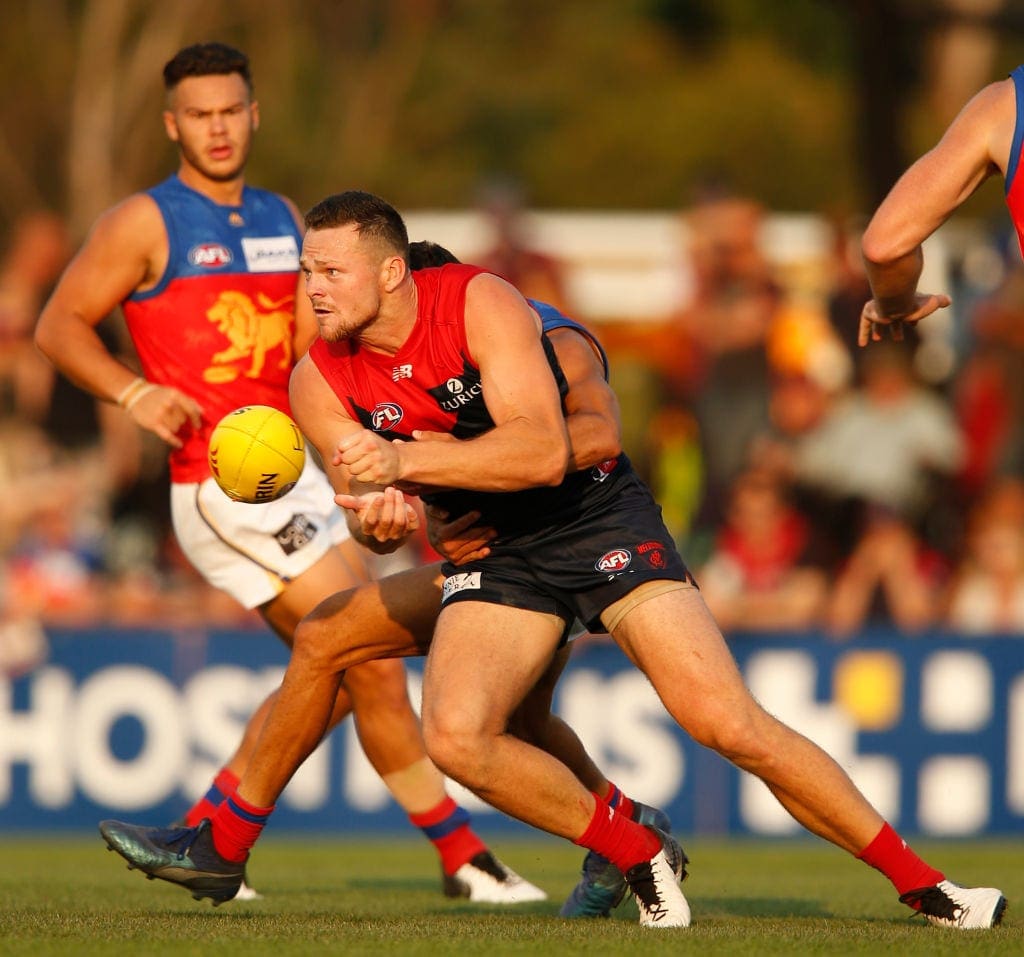 Should they notch up a perfect four from four in the above-mentioned fixtures, they'll be well-placed to go top.
3. Geelong
Current Record: 9-4
Run Home: RICH, NM, MELB, CARL, PORT, WB, STK, GCS, WCE
Predicted Record: 17-5
Estimated Percentage: 126.7%
The Cats have one of the easier runs home among the sides sitting in the top third of the competition, facing five sides currently on the bottom half of the ladder.
Matchups with the Eagles and Roos are seen as certain victories at the Cattery, while the Cats will also benefit from three further matches at GMHBA Stadium against the Demons, Bulldogs and Saints.
Eight wins from nine may only see Chris Scott's side finish as high as fourth, with our predictor having Geelong fall short of the Demons in second due to percentage.
4. Fremantle
Current Record: 10-3
Run Home: CARL, PORT, STK, SYD, RICH, MELB, WB, WCE, GWS
Predicted Record: 17-5
Estimated Percentage: 122.1%
Before reaching an easier final fortnight of the home and away season, the Dockers will be needing to secure some sizeable scalps in their coming next two months.
Fremantle will host the Western Derby in the penultimate round of the season before venturing to Canberra to face the Giants and conclude their camping before finals.
Prior to their clash with the Eagles, Justin Longmuir will be hopeful of collecting at least 20 of a possible 28 premiership points on offer, with key clashes against Carlton, Richmond, St Kilda and the Bulldogs all at Marvel.
They will be buoyed by welcoming the Demons and Swans to Optus Stadium as opposed to travelling against the two finals hopefuls, while a Round 16 clash with Port Adelaide will also take place in Perth.
Like the Cats, the Dockers will be needing to make the most of every margin, as we tip the purple haze to fall short on percentage.
5. Sydney
Current Record: 8-5
Run Home: STK, ESS, WB, FRE, ADEL, GWS, NM, COLL, STK
Predicted Record: 16-6
Estimated Percentage: 117.3%
With a majority of their remaining matches to be held at the SCG, the Swans are among those with the advantage from here onwards.
Their away trips include contests against lowly-placed clubs in North Melbourne and Essendon, while a tough venture west to face Fremantle is sure to be a large catalyst in how their season shapes.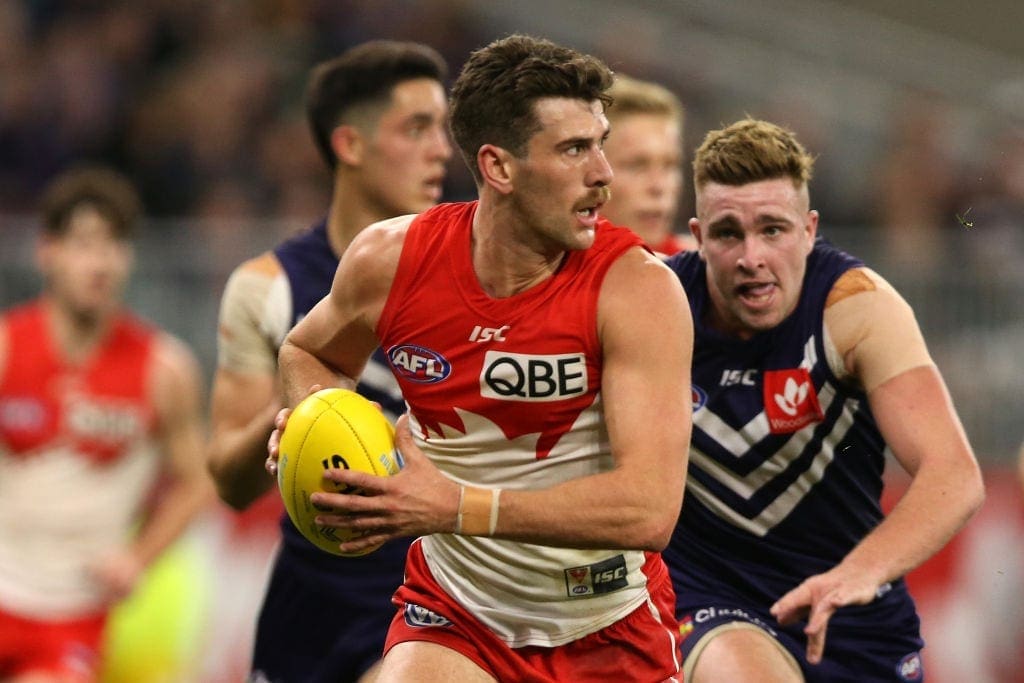 St Kilda at Marvel Stadium will conclude their season, with the Swans falling one place short of a second chance in September despite winning eight of their upcoming nine matches.
The strong finish will see them host an elimination final in the opening round of the post-season however, with Collingwood framing as their most likely opponent.
6. Carlton
Current Record: 9-4
Run Home: FRE, STK, WCE, GEE, GWS, ADEL, BRIS, MELB, COLL
Predicted Record: 15-7
Estimated Percentage: 112.4%
A 6-3 record would see Carlton fall one spot come the end of the season, moving from fifth to sixth and still holding onto a home final in their September return.
However, there is no mean feat to get there...
A run home that includes Fremantle, Geelong and St Kilda in the next month alone is sure to test Carlton's credentials, with the trio of Melbourne matches surrounding a trip to Perth to face the bottom-placed Eagles.
From there Michael Voss' side still face clashes with the top two sides in the competition, Brisbane and Melbourne, before concluding their home and away campaign against arch-rivals Collingwood.
The Blues will have winnable fixtures against the Giants and Crows in Rounds 19 and 20 respectively, and can't afford to slip up in either encounter.
7. Richmond
Current Record: 8-5
Run Home: GEEL, WCE, GCS, NM, FRE, BRIS, PORT, HAW, ESS
Predicted Final Record: 14-8
Estimated Percentage: 116.1
With the Blues placed one spot above Richmond at sixth in our predictor, the two Victorian behemoths will clash heads in what would be a mouth-watering elimination final within this hypothetical.
To get there, the Tigers will pull in six wins and three losses, with matchups against the Cats, Dockers and Lions set as the biggest hills Damien Hardwick will need to climb.
Favoured to claim wins against the Power, Hawks and Bombers in the final three rounds may see the Tigers pounce up a spot or two on our ladder across the last few weeks of the season, booking themselves a place against Carlton at the MCG in September.
A win there would see them face the loser of Geelong and Melbourne, another contest at their heartland home ground.
8. Collingwood
Current Record: 8-5
Run Home: GWS, GCS, NM, ADEL, ESS, PORT, MELB, SYD, CARL
Predicted Record: 14-8
Estimated Percentage: 108.8%
Currently on the outer of the finals frame, Collingwood are looking to break into the top eight and secure themselves a September seat after falling to 17th last year.
Their run home consists of six clubs currently on the bottom half of the ladder in the next size weeks, before facing contenders Melbourne, Sydney and Carlton to end their season.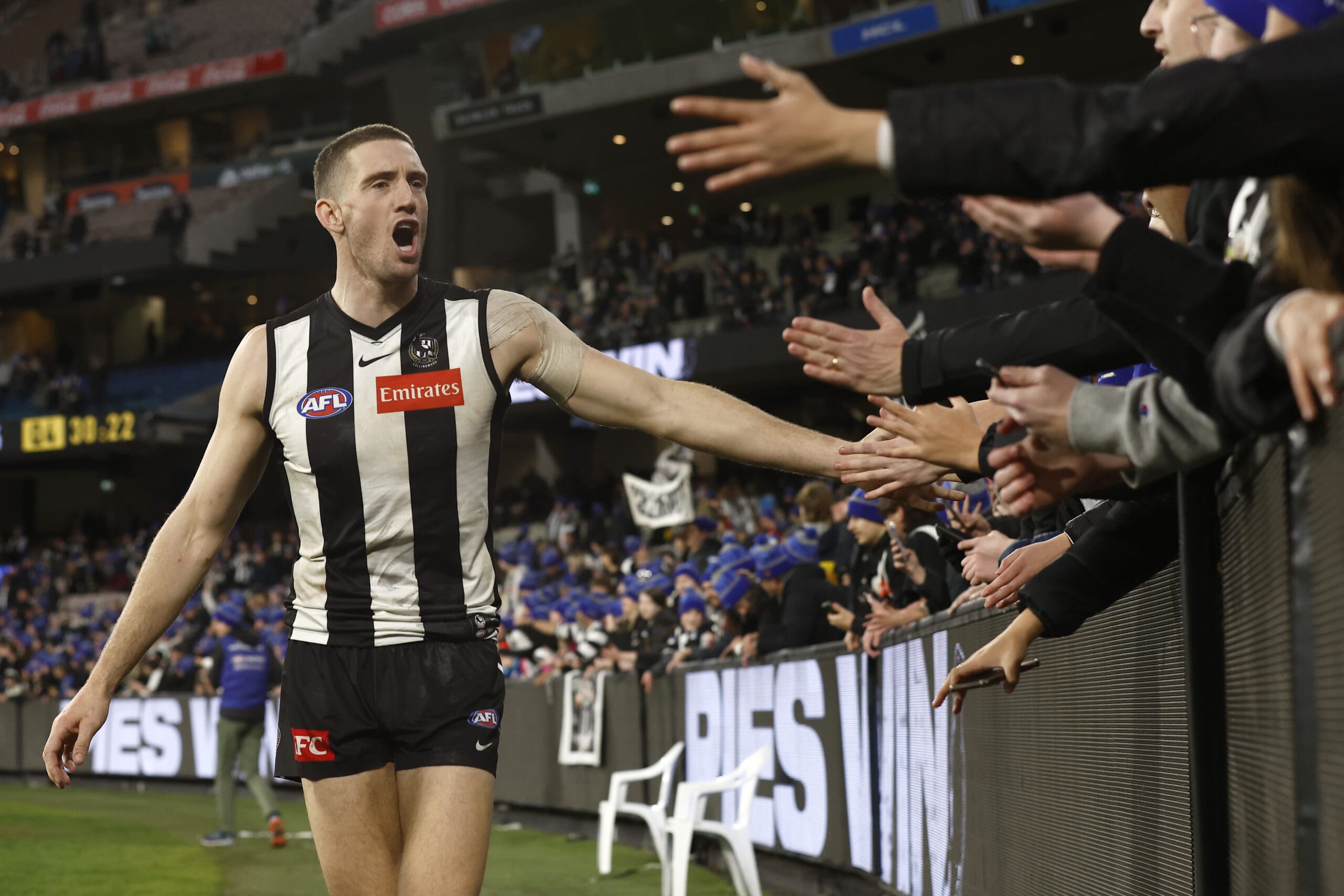 The Magpies have already proved too good for both the Demons and Blues this year, while their trip to face Sydney in Round 22 will be their first against the Swans this year.
Should they follow the scene we've set them, the Pies will secure the last finals spot by two wins over the competition below them.
They'll then head back to New South Wales to face the Swans in the opening week of finals.
9. St Kilda 
Current Record: 8-5
Run Home: SYD, CARL, FRE, WB, WCE, HAW, GEEL, BRIS, SYD
Predicted Final Record: 12-10
Estimated Percentage: 108.2%
The Saints are the unlucky side to fall from a current finals spot, but it is likely warranted given the hill Brett Ratten will have to climb to retain a place in the post-season.
From their nine remaining matches, St Kilda face six sides currently above them and will face further 'danger games' against Hawthorn and the Western Bulldogs, while the Moorabbin club should be able to bank on a win against the Eagles in Round 19.
Two clashes with fellow finals contenders Sydney frame as the key pillars in the Saints' run home, while a three-week stint at Marvel Stadium against the Blues, Dockers and Dogs between Rounds 16-18 may have Ratten's season decided.
A trip to Kardinia Park awaits the Saints in Round 21, before facing Brisbane and then concluding their campaign against the Swans.
While it will be no easy feat, the Saints will be assisted by the fact six of their remaining matches do come at Docklands.
10. Gold Coast
Current Record: 7-6
Run Home: PORT, COLL, RICH, ESS, BRIS, WCE, HAW, GEEL, NM
Predicted Record: 12-10
Estimated Percentage: 107.8%
The surprise packet of this season, the Suns find themselves well within the window to play in their first-ever finals series.
After perpetual disappointment and ongoing setbacks, Gold Coast could break the top eight barrier and announce themselves as a September selection in 2022.
To do so, however, they'll be required to upset several sides that are also pushing for a top eight finish, with Port Adelaide the first team needing to be scorched by Stuart Dew's crew.
This weekend's clash with the Power could decide the seasons for either club, as they both currently sit several spots back from the eight-placed Saints.
From there, the Suns will wrestle with Collingwood, Richmond and Brisbane in the following month.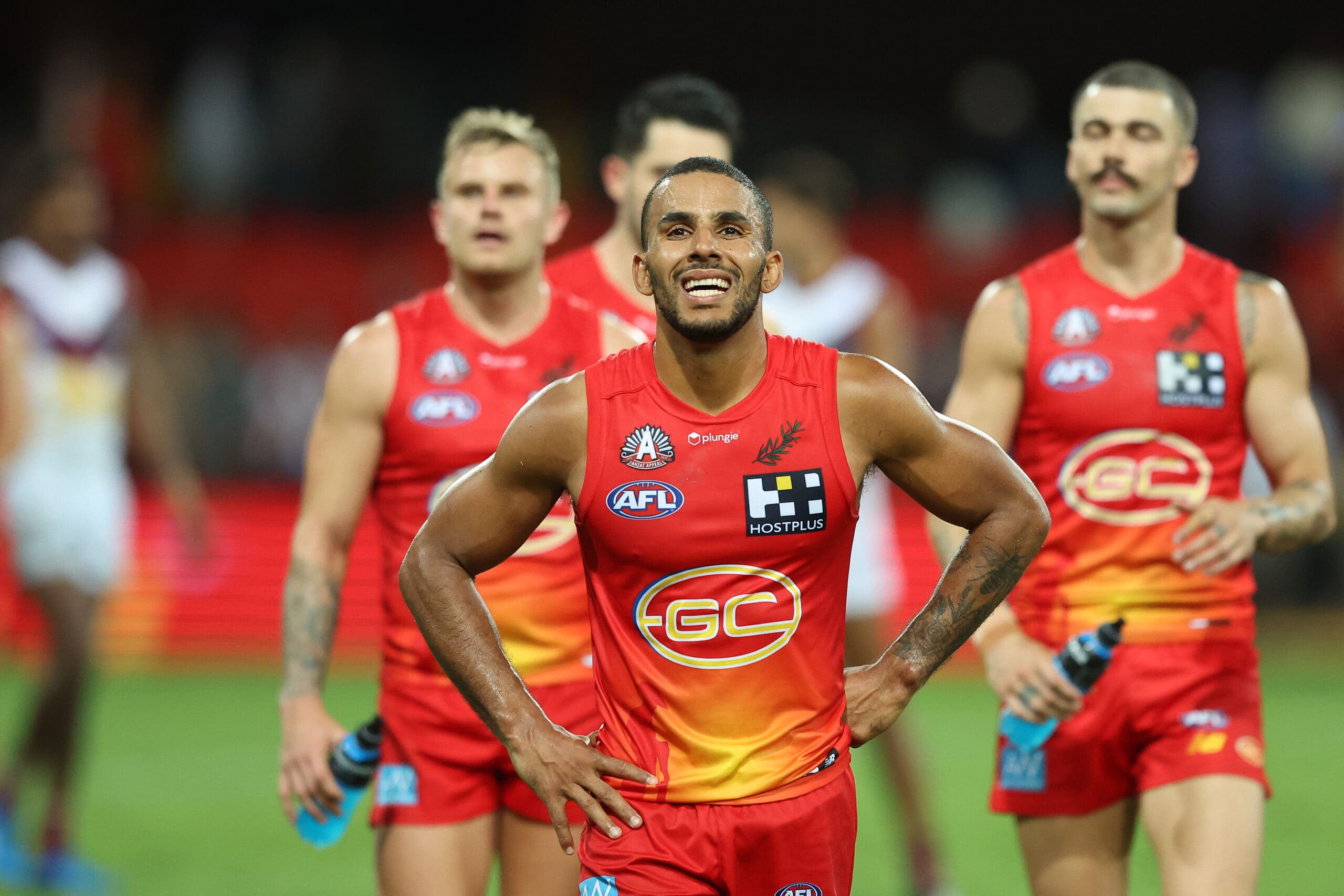 The Eagles at home should be chalked up as a win, as well as a season-ending trip to Marvel Stadium to face the Roos.
Essendon in Round 18 and the Hawks in Tassie in Round 21 should also see the Suns start as favourites, but are no guarantee to collect four points.
A QClash against local rivals Brisbane and a bout with Geelong three weeks after will be the toughest tests for the Suns from here on out.
11. Western Bulldogs
Current Record: 7-6
Run Home: HAW, BRIS, SYD, STK, MELB, GEEL, FRE, GWS, HAW
Predicted Record: 10-12
Estimated Percentage: 107.2%
Predicting the Dogs to win just three of their last nine matches isn't easy reading for their fans, but Luke Beveridge's side will likely head into the final months of the year unfavoured.
Matchups with the Hawks bookend their run home, which includes clashes with six current top-eight sides, all of which coming in consecutive weeks.
To make our top eight alone the Dogs will need to snatch another four victories on top of our predictions of them to beat the Hawks twice and Giants once.
That would spell an astonishing feat for the Whitten Oval club, who will need to upset a majority of Brisbane, Sydney, St Kilda, Melbourne Geelong and Fremantle.
Good luck to them.
12. Port Adelaide
Current Record: 6-7
Run Home: GCS, FRE, GWS, MELB, GEEL, COLL, RICH, ESS, ADEL
Predicted Record: 9-13
Estimated Percentage: 98.4%
Currently sitting with a losing record, the Power are the last club still having their eyes firmly placed on September.
An 0-5 start was recovered, but it may be too little, too late for Ken Hinkley in a year many had tipped Port Adelaiden to at least reach the preliminary finals round.
They'll face five clubs currently outside of the top eight, with our predictions giving them a three-win, two-loss split.
On top of that, defeats to the Demons, Cats and Dockers will quickly put a line through their finals ambitions as the Power head back to the drawing board.
13. Hawthorn
Current Record: 4-9
Run Home: WB, GWS, ADEL, WCE, NM, STK, GCS, RICH, WB
Predicted Record: 7-15
Estimated Percentage: 90.2%
Separating themselves by percentage to snatch 13th, the Hawks are predicted to secure just three more wins to conclude their first campaign under Sam Mitchell.
Many had Hawthorn potentially landing last on the ladder pre-season, and while they flew quite high early into their endeavours, Hawks fans should be happy with where they've landed.
13th is the sweet spot on the ladder, falling into the top spot among the bottom six and earning a few riches for next year's fixture.
It has worked wonders for Carlton, Essendon, the Western Bulldogs, Collingwood and Richmond since 2016, and could see the Hawks shoot up the ladder next season.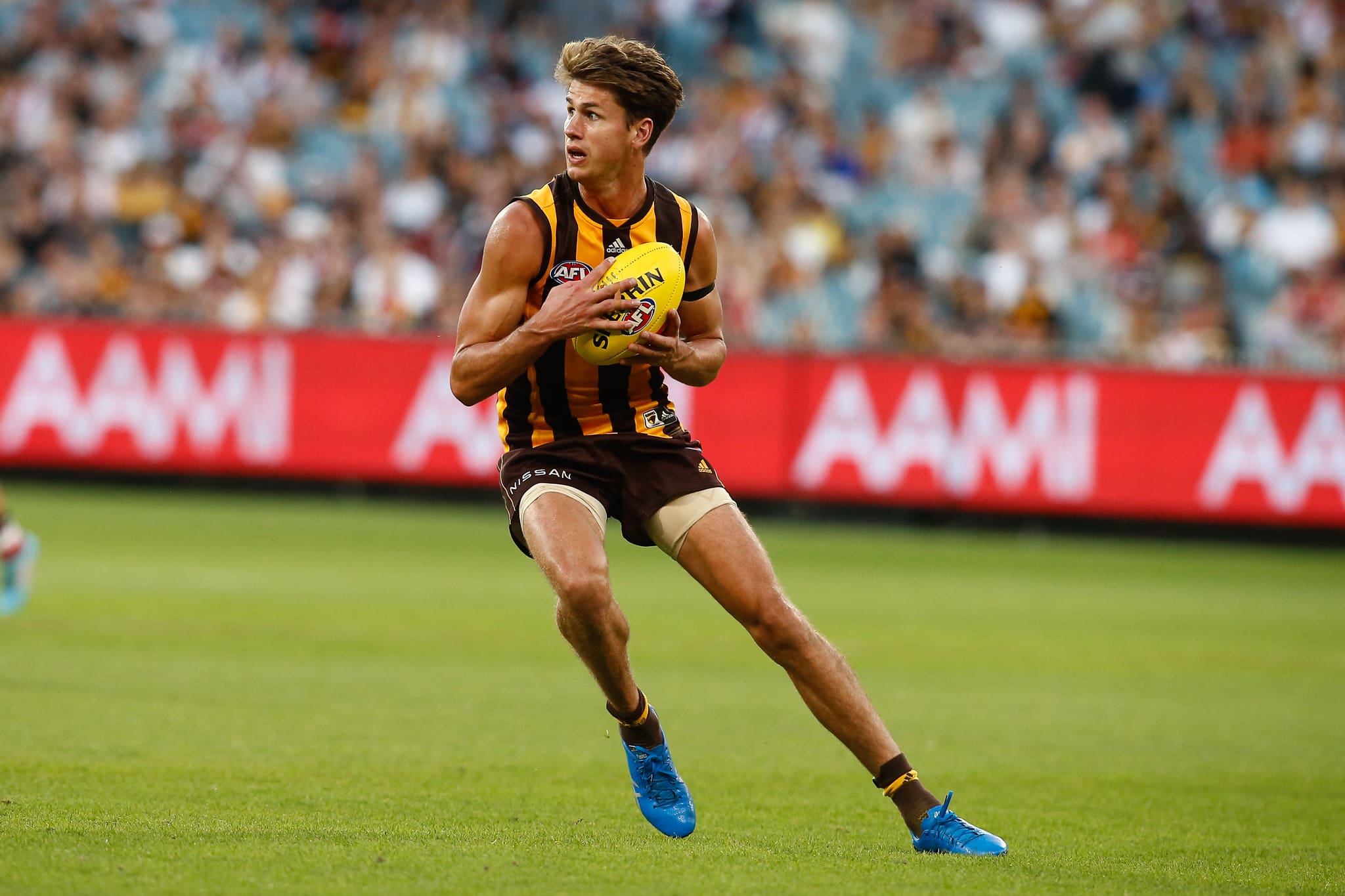 To get there however, they'll need to notch up a win against the Crows, who could be their biggest threat to fall 13th.
Mitchell's side are also expected to collect victories against the Giants, Eagles and Roos, and could cause an upset against the Dogs on one of two occasions.
14. Adelaide
Current Record: 4-9
Run Home: NM, MELB, HAW, COLL, SYD, CARL, WCE, NM, PORT
Predicted Record: 7-15
Estimated Percentage: 82.2%
Trailing the Hawks on are the Crows, who like their brown and gold foes also sit on a 4-9 record heading into the last few turns of this premiership race.
Two incoming encounters with North Melbourne and a trip to Perth to face the Eagles are likely to be the three wins Matthew Nicks can conjure from here on out.
The trio of victories will place them breathing down the neck of the Hawks, but it will be their all-avian clash in Round 17 that may decide who sits where come season's end.
While we have the Hawks edging out Adelaide at Marvel Stadium on July 10, there's certainly no ruling out the Crows from collecting the chocolates and placing themselves a rung higher on the ladder.
15. GWS Giants
Current Record: 4-9
Run Home: COLL, HAW, PORT, BRIS, CARL, SYD, ESS, WB, FRE
Predicted Record: 6-16
Estimated Percentage: 89.1%
A dismal campaign for the New South Wales side is looming to see now substantial progress, at least on paper.
While the Giants aren't ruling themselves out of a transformed second half to the year, with interim coach Mark McVeigh's candidacy on show as he pushes for a senior coaching role, the club may struggle to greatly boost their record beyond their current 4-9 standing.
They face just four sides currently in the top eight, but just two sides that sit below them in Hawthorn and Essendon, who they'll face at GIANTS Stadium in Rounds 16 and 21 respectively.
McVeigh has been handed a depleted side to prove his worth with, and will likely see any record that results in seven wins or more as a successful conclusion to his club's campaign from here.
While unlikely to do so, there's every chance McVeigh could ruffle the feathers of some finals-bound clubs to strengthen his bid and permanently succeed Leon Cameron.
16. Essendon
Current Record: 3-10
Run Home: WCE, SYD, BRIS, GCS, COLL, NM, GWS, PORT, RICH
Predicted Record: 5-17
Estimated Percentage: 82.3%
Chalking five lines in the wins column for the Bombers probably didn't appear in anyone's pre-season crystal ball, with Ben Rutten struggling to keep his side afloat in the top eight after a stellar maiden campaign at Tullamarine last year.
Two wins from their first dozen games left little to inspire Bombers fans across the opening half of the year, and unfortunately across the next nine rounds we're expecting a similar return.
After knocking off the Saints in Round 14, the Bombers could - and should - make it two wins from two against the Eagles before they hit the storm that's on the horizon.
Matchups with top eight sides Sydney, Brisbane and Richmond are to come, as well as battles with potential finalists in the Suns, Magpies and Power.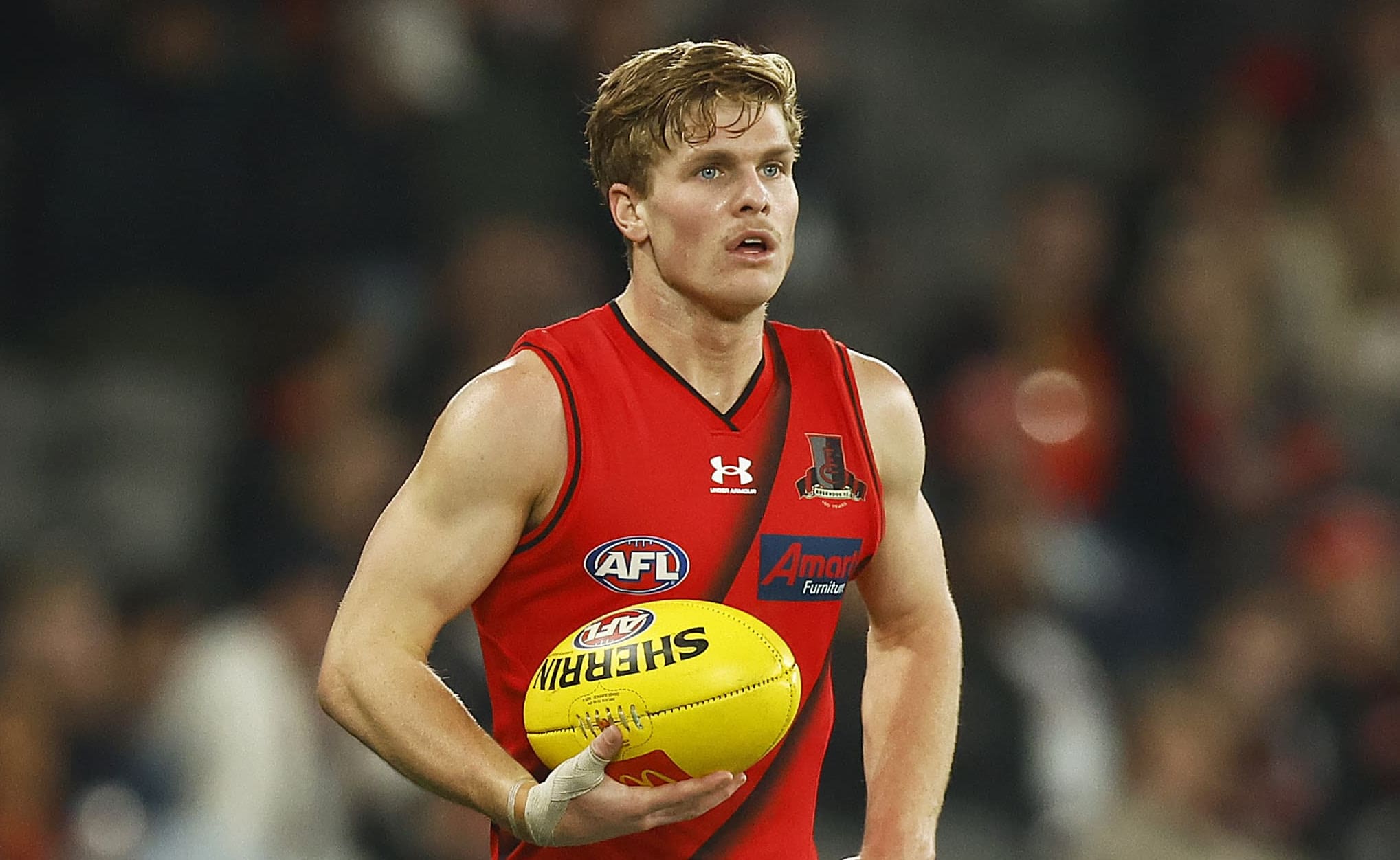 A tussler with North Melbourne should sweeten the Bombers' record, but five wins may be all Rutten will be able to write home about.
17. North Melbourne
Current Record: 1-12
Run Home: ADEL, GEEL, COLL, RICH, HAW, ESS, SYD, ADEL, GCS
Predicted Record: 1-21
Estimated Percentage: 60.7%
Remarkably, with just one win to their win, North Melbourne fail to finish with the wooden spoon.
A Round 2 win over West Coast will be all they can smile about in regards to their record, with a 21-game losing run on the cards for the Arden Street club.
With no second showing to come against the Eagles, the Roos will need to snatch victory from the likes of Adelaide, Hawthorn, Essendon or perhaps the Suns should they manage to double their premiership points tally.
Their run home, like any 1-12 side, is no smooth journey, and we suspect their bumpy ride will continue until the end of the season.
18. West Coast
Current Record: 1-12
Run Home: ESS, RICH, CARL, HAW, STK, GCS, ADEL, FRE, GEEL
Predicted Record: 1-21
Estimated Percentage: 59.1%
If there is a fight for Pick 1, the Eagles have won it. Just.
1.6% is all we have separating West Coast and North Melbourne at season's end, with the Perth powerhouse joining the Roos in only collecting the one win for the season.
A stunning upset over Collingwood will be the only contribution to West Coast's premiership points tally, with upcoming contests against five clubs on the top half of the ladder still to come.
Fixtures with Essendon, Hawthorn and Adelaide are seen as the monthly likely avenues for the Eagles to upset another rival, but we can see it happening.
While it'll be a dark year for Adam Simpson's side, they will turn to the off-season with the first overall selection at the National Draft and begin building for the future.