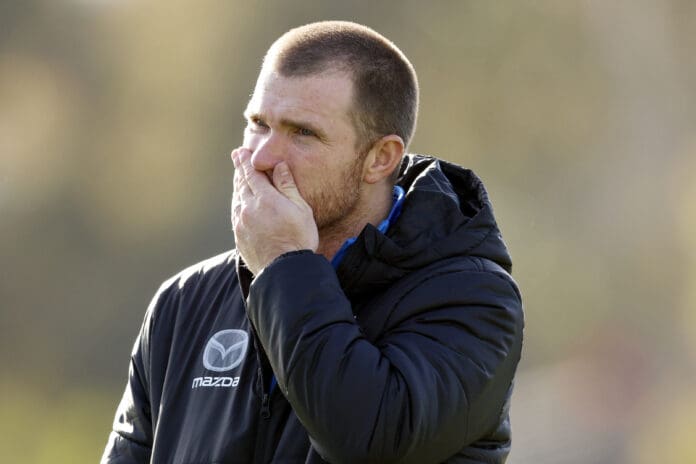 North Melbourne interim coach Leigh Adams will take charge of his first AFL game this weekend as the Kangaroos tussle with Richmond.
Stepping in after the departure of David Noble - who coached just 38 games for the Kangaroos, Adams will be keen to put his own stamp on the club he played 104 games for.
Adams has been in the hot seat for the North Melbourne VFL team since the end of the 2019 season and has served as a development coach for the Kangaroos' senior side.
Former Kangaroo and Adams' current VFL assistant coach Dom Tyson spoke to Zero Hanger about what North Melbourne players can expect from the new man in the hot seat.
"He's got a great feel for the game and has a great ability connect with all players," Tyson said.
"Whether that be the senior guys that drop down from AFL or the guys that come up from local footy.
"He definitely galvanises the group. He's a social type of bloke so I imagine they'll probably put a few functions in that last six weeks to get the club back together."
Tyson said North fans can expect some offensive flair as well as an emphasis on sticking to plans on game day.
"In terms of his footy nous, I think there will be some offensive flair to the game and he'll drum home being strong in the contest as well," Tyson said.
"He's honest. If we execute the game and we were just beaten by a better team he acknowledges it. Whereas if we go away from our roles or how we wanted to play the game he's definitely looking for solutions."
Adams was a no-nonsense kind of player whose career was cut short due to ongoing issues with concussion.
Working as a development coach at the Kangaroos, he has had a hands-on approach with some of the rising stars of Arden Street in recent years and Tyson credited the work Adams had done to the improvement we are starting to see from individuals.
Tyson went on to say that the straightforward attitude Adams took to his footy when playing isn't dissimilar to his coaching philosophy.
"Our reviews are generally really solution based on what we can correct straight away," he Tyson.
"You won't ever spend too long in a meeting room, he'll get to the point. He's more about making sure everyone's out on the track and implementing what we've just been taught.
"He's been massive for guys like Luke Davies-Uniacke and Tom Powell. He spends a lot of time with them and I think they really enjoy working underneath him as well."
After coaching number one draft pick Jason Horne-Francis last week in the VFL, Tyson said Adams and the young star seemed to have a good relationship and commended Horne-Francis' commitment to the cause.
"He was the full package on-field for us and his buy-in and attitude was great," Tyson raved.
"I couldn't fault him at all. He kept us in the game through some individual brilliance at times as well. I've probably never seen a 19-year-old with that complete skill-set. I don't think we'll be seeing him down at VFL level ever again."
Adams takes charge of his first game when North Melbourne hosts Richmond at Marvel Stadium on Saturday afternoon.