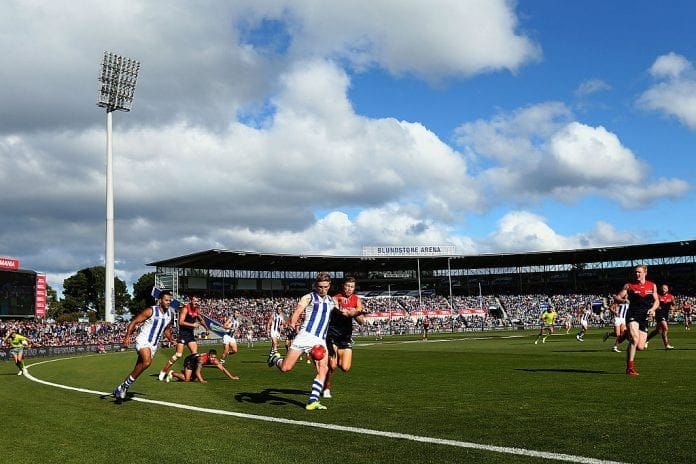 North Melbourne will be taking four home games down to Hobart until the end of the 2021 season.
This initiative will help strengthen the Kangaroos' ties with Tasmania as they look to provide the people of that state with more opportunities to see live AFL games.
North managing director & CEO Carl Dilena said the decision to increase football content down there as well as with their partnership with Spirit of Tasmania made sense to extend.
"We love playing in Hobart and have a fantastic record at Blundstone Arena," Dilena told the club's website.
"We'd originally agreed to explore the possibility of another game with Spirit of Tasmania as part of our existing games contract. We've now worked with Spirit of Tasmania to bring this arrangement to fruition.
"The support we receive from Tasmanian football lovers has always been exceptional and we look forward to bringing more elite football to Tasmania and continuing our investment in talent pathways and community programs."
North seem to had made Blundstone Arena their 'home away from home' in recent years after enjoying some success when taking games down to Hobart.
Dilena stated the club is excited to build upon their on and off-field presence in the coming years.
"On-field performance was also a major driver in this decision and with a record at Blundstone Arena of 14 wins and just 4 losses, it's hard to argue a fourth game won't significantly contribute to our finals and flag aspirations," Dilena said.
"We have today added another Tasmanian to our list in former Gold Coast Sun, Aaron Hall.  Like Ben Brown, Aaron hails from Hobart. If things go to plan in the upcoming Draft, we hope to add more Tasmanian talent to our side."
The North Melbourne Tasmanian Kangaroos AFLW team will coincide with the fourth AFL game as the ladies will run out for their first time in the 2019 season.
Dilena also said he hopes the people of Tasmania get behind both the women and men's teams.
"Our women's side will play two games in Tasmania from next year and we really hope people across the state get behind the team, which will include a number of Tasmanian players," Dilena said.
"Our long-term strategy is about growing not only in Melbourne, but also in Wyndham to the west of Melbourne and in Tasmania, by delivering elite football content, player development academies and meaningful community programs."
"We have already invested heavily in Tasmania with our Next Generation Academy, Huddle community programs and employment of staff and coaches to develop talent pathways.  We look forward to building on that investment."