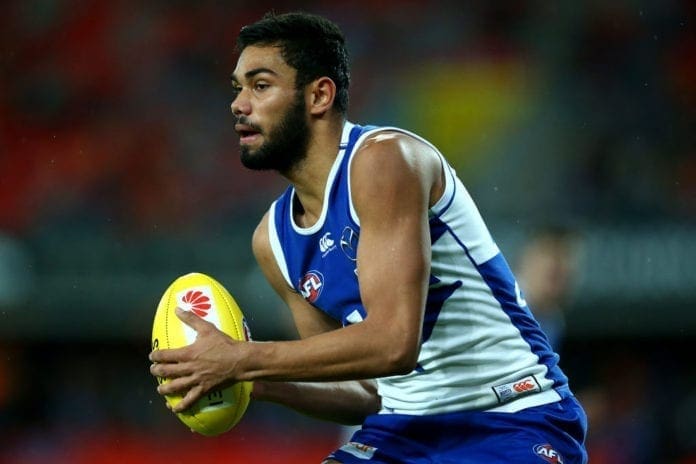 The AFL Integrity Unit have reportedly been made aware of further allegations relating to North Melbourne player Tarryn Thomas and his behaviour towards women.
The 22-year-old faced a number of disturbing accusations made by multiple women in February in relation to his behaviour, including being alleged to have sent threatening text messages and harassment.
Thomas stepped away from his duties with the Kangaroos last month and would return to the club later that month.
"I've learnt a lot about myself over the past few weeks," Thomas said in a club statement last month.
"I'm working hard to improve my behaviour and language towards women and the programs I'm completing have really helped me.
"The club and my teammates have continued to support me and I hope to repay them, the club and our fans on my return."
According to SEN, Thomas is facing fresh allegations of further threatening text messages. It is not yet known if these messages were sent prior to his leave of absence earlier this year.
North Melbourne released a statement in the wake of the new reports, confirming Thomas wouldn't be training at the club on Thursday.
"North Melbourne is aware of media reports regarding Tarryn Thomas," the club statement read.
"Thomas has been participating in a respect and responsibility education program that deals with accountability, remorse and behaviour change following allegations of inappropriate behaviour towards women.
"As has been communicated previously, North Melbourne and Thomas will co-operate fully in relation to any further allegation or investigation.
"Thomas will not attend training on Thursday while the club gathers more information."
Thomas was charged with one count of threatening to distribute an intimate image by Victoria Police in January. That case is still pending.
Thomas joined North Melbourne through the 2018 National Draft and has played 57 games for the club.
He has continued training with the AFL squad since returning to the club in late February and has undergone educational programs to aid his behaviour.