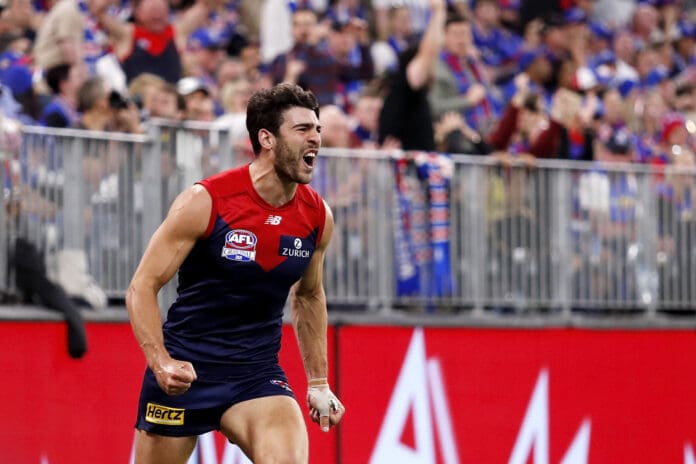 Christian Petracca won the 2021 Norm Smith Medal after he collected a record-equalling 39 disposals to go along with two goals.
Petracca was critical in getting the Demons back into the game in the third quarter with his dribbling goal from the boundary line a highlight of his performance.
He also managed to boot the first goal of the game from 50 metres out off a step.
His 10 disposals and 5 contested possessions in the third quarter helped Melbourne wrestle control back and skip away with a terrific win.
It will come as no shock that Petracca polled perfect votes from the Norm Smith Medal voting panel. 
Bailey Fritsch booted six goals to secure two votes from all five judges. Fritsch capped off a terrific season where he has become Melbourne's most dangerous forward.
Caleb Daniel was the only Bulldog to pole votes. The crafty halfback had 37 disposals for the game after collecting 26 in the first half.
Opposing halfback Christian Salem snuck in for a vote after he had 27 disposals at an incredible 96% efficiency.
Clayton Oliver had 33 disposals and a goal which saw him pole the one vote from journalists Callum Twomey, Tania Armstrong and chair of the panel Luke Hodge.
Luke Hodge (Chair) – C Petracca, B Fritsch, C Oliver.
Harry Taylor – C Petracca, B Fitsch, C Salem.
Tania Armstrong – C Petracca, B Fritsch, C Oliver.
Andrew Krakouer – C Petracca, B Fritsch, C Daniel.
Callum Twomey – C Petracca, B Fritsch, C Oliver.