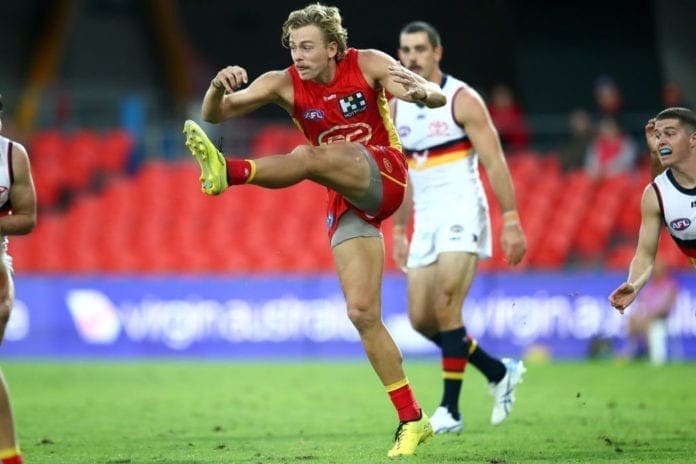 North Melbourne coach David Noble and Gold Coast General Manager of Football Wayne Campbell have shared their thoughts over Hugh Greenwood's controversial switch to the Roos following his delisting from the Suns last week.
Greenwood was removed from Gold Coast's list on Wednesday with the club making it clear that he was to be re-drafted in order to aid their list management strategy, however the plan soon spontaneously backfired.
In what was arguably the most cunning poach of a player in the history of the game, North offered Greenwood a two-year deal that he accepted only hours after declaring his commitment to Stuart Dew's side.
Hugh Greenwood sets the record straight after being delisted under a "temporary measure". pic.twitter.com/yekZfJMSXD

— Footy on Nine (@FootyonNine) November 11, 2021
The move has left the footy world stunned, with clubs now set to be extra cautious from here on in following Monday's heist.
With many itching to find out what exactly changed Greenwood's mind after his apparent pledging of allegiance to Gold Coast, the 29-year-old explained his exit via another tweet.
"Less than 24 hours after [his first tweet], North saw an opportunity to give us a call," Greenwood explained.
— Hugh Greenwood (@HGreenwood3) November 15, 2021
"Both parties agreed on a deal that we felt comfortable enough ticked the many boxes required for us to consider and ultimately move our young family to Melbourne.
"What I hope people can understand is that 24 hours can be a very long time in footy."
Interestingly, Greenwood's new coach David Noble said on 3AW that it was his wife who alerted him of the midfielder's availability last week.
"But it wasn't until Friday (when it happened). I read the news and I didn't have any lead-in before that," Noble said.
"I was just about boarding the plane and my wife sent me a text saying, 'You should jump onto AFL.com.au'. I can't take all the credit. She was very sleuth in her observations."
This was far from the first time that Noble and Greenwood have conversed, with the former being the Crows' head of football when the 29-year-old was poached from the University of Mexico in 2015 after playing basketball in the US.
Noble exclaimed that it was this previous relationship that was integral in convincing Greenwood to make the move back down south.
"People may not know that Brisbane were pretty close to getting him when he went to the Gold Coast," he added.
"I'd spoken to him there as well, so I think it only happens as quick as it did because I've got such a strong relationship with Hugh and I know him so well, I know his character, I know what he brings."
On the other side of the fence, Campbell confirmed the club were hoodwinked, however strangely put it down to North exploiting the system.
"We didn't intend for this to happen and I'm not excusing it...North Melbourne have found a loophole," Campbell said on Sportsday. 
Punters were quick to point out the fact that it in fact wasn't a loophole, instead a comical error in judgement by the Suns backroom staff.
How is it a loophole? You delisted him while in a contract? First of all it's an embarrassment the @afl even allow that to happen, but secondly the fact you did, thinking no other team would pick him up highlights how amateur your club really is.

— Dayne (@DayneCroader141) November 15, 2021
With Greenwood's departure, the Suns now have a hole in their best 22 which will need to be filled by Round 1 next season, either by a fringe player or from the draft.
The Suns only hold pick No. 3 in this year's national draft, with the club clearly wanting a top-quality prospect over a collection of talents.
For North, the switch only further bolsters their midfield stocks and with the prodigious Jason Horne-Francis set to sign on with the club come draft night, things are looking pretty rosy down at Arden Street heading into 2022.