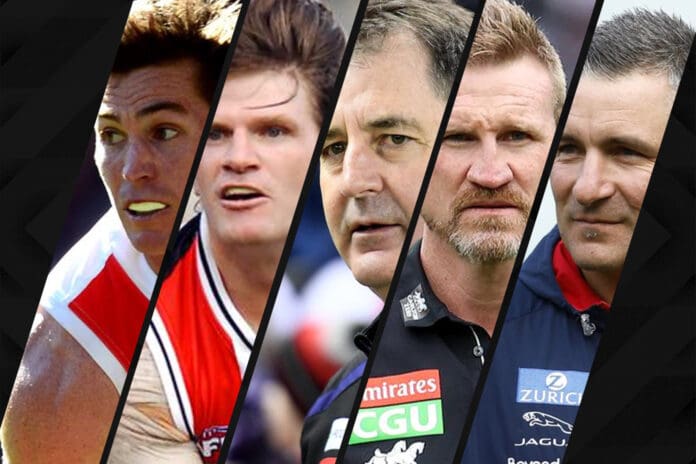 As the cold light of day breaks on yet another St Kilda submission for the most dysfunctional organisation in the history of sport, fans are rightly wondering, what next? Having sacked coach Brett Ratten within four months of extending his contract, the club is reeling.
The Saints started the season well, securing eight wins prior to the bye rounds. From there however, they fell apart, putting up several insipid performances and missing finals.
After yet another irrelevant season, the club missed out on top free agency target Jordan De Goey, before doing little of note in the remainder of the trade period.
A mediocre list has only welcomed free agent Zaine Cordy, whilst taking just one first-round pick to the national draft. The circumstances at St Kilda are dire, to say the least.
Yet, more fuel was thrown on the dumpster fire last night when AFL Media's Cal Twomey broke the news that the club was set to sack Ratten, less than 100 days after re-signing him.
Following an external review of the club's operations across every facet, changes were always going to be made. Several new faces have joined the club's football department, however, the sacking of Ratten has still shocked the football world.
A decision "as brutal as they come" in an industry where brutal calls are commonplace, Ratten is widely spoken about as one of footy's genuinely good people. That will be of little comfort to him following the club's shock decision.
With all of that in mind, we take a look at who might be brave enough to take on the most daunting task in the AFL.
1. Ross Lyon
The clear front-runner at this point. A sensational return to St Kilda for Ross Lyon could be a very real possibility. Despite President Andrew Bassett and CEO Simon Leathlean both denying the club had spoken to any candidates, there is growing speculation Lyon will be the club's man.
Lyon needs no introduction, having coached in the AFL for over a decade, taking both St Kilda and Fremantle to grand finals. With a career-winning percentage of just over 56%, his finals record is what would appeal to the Saints most.
Perhaps the biggest hint came as soon as Bassett had finished reading his statement, when the news of Ratten's sacking broke late last night, directly asked both President and CEO if they had "spoken to Ross Lyon".
RELATED: Former St Kilda coach Ross Lyon ready to answer call on top job
Despite the denials, Bassett potentially let slip that a coach was already in waiting before Lethlean quickly jumped in to clarify that no one had yet been spoken to.
As a successful former coach of both two perennial dissapointments, Lyon would bring much-needed experience and high standards to a playing list that all too often picks and chooses when to show up and have a crack.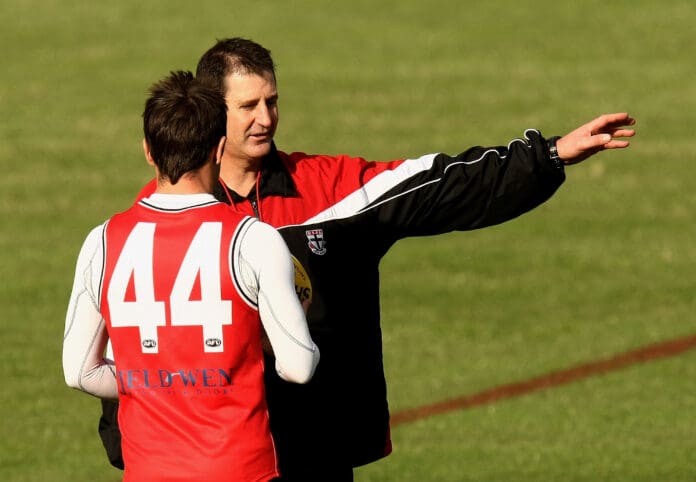 MELBOURNE, AUSTRALIA - APRIL 29:
Ross Lyon
the coach of the Saints speaks to Stephen Milne during a
St Kilda Saints
AFL
training session at Linen House Oval on April 29, 2008 in
Melbourne
, Australia. (Photo by Quinn Rooney/Getty Images)