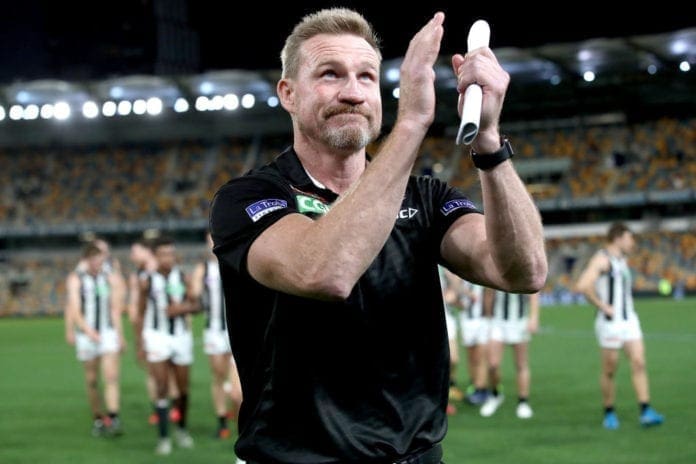 Collingwood coach Nathan Buckley has said that he is prepared to walk away from his role if the club felt like they wanted to go in a a new direction.
To say that the Magpies have had a tumultuous off-season would be an understatement – from the trade exodus to the findings of last month's 'Do Better' report.
Buckley enters his 10th season in charge of the Pies and is out of contract at the end of this season, having signed a two-year extension at the end of 2019.
The Magpies coach told AFL Media that he has had conversations with chief executive Mark Anderson and the new footy boss Graham Wright about his coaching tenure.
Did Nathan Buckley get told 'make a statement or lose your job'? #CancelCulture

— Molly 🌞Go get some sun 🌞 (@mymymollie) March 3, 2021
"Those conversations take place consistently and it's a really easy one because whatever's best for the football club will occur," he said.
"Our performances this year, no doubt are going to have a say on what is best for the club going forward."
Buckley has said that despite no hesitation to step down if the club does go a different direction, he still has a lot to offer as Collingwood coach.
"I don't feel like I have to be the senior coach going forward if that's the best thing for the club," he said.
"I feel that I can still impact and help the club move towards contending consistently and winning.
"If the club felt it was better to go in another direction the I would understand that… It's not something that we'll be addressing until later in the year."
Asked if he would step away if he felt like he wasn't getting enough out of the group, Buckley responded: "Yeah… the club has to come first."
Buckley also spoke of Collingwood's aspirations for this year, stating that the club is still vying to win finals.
AFL Collingwood coach Nathan Buckley has broken his silence about systemic racism at the club, saying it serves as a wake-up call. #9News pic.twitter.com/9m8sZhBe8m

— 9News Australia (@9NewsAUS) March 3, 2021
"We know that we lost some players without really replacing experience as such. We brought in a really solid batch of young kids and they've trained up really well," he said.
"We haven't lowered our expectations, we believe that we should be a team that wins games consistently, that qualifies well for finals and contends when we get to September.
"That expectation hasn't shifted and hasn't changed, and we still believe our best football is going to contend against the best teams."