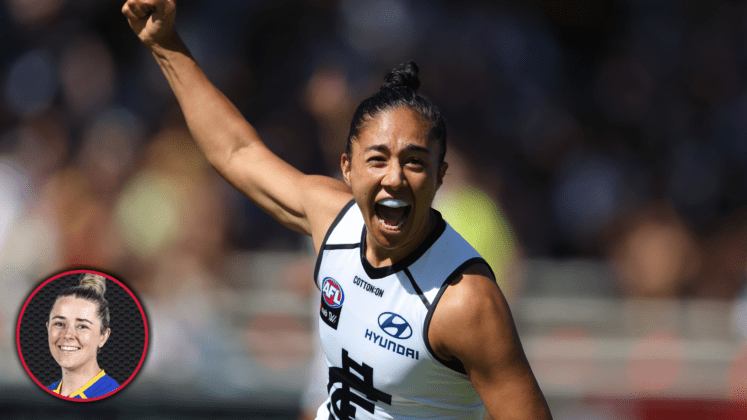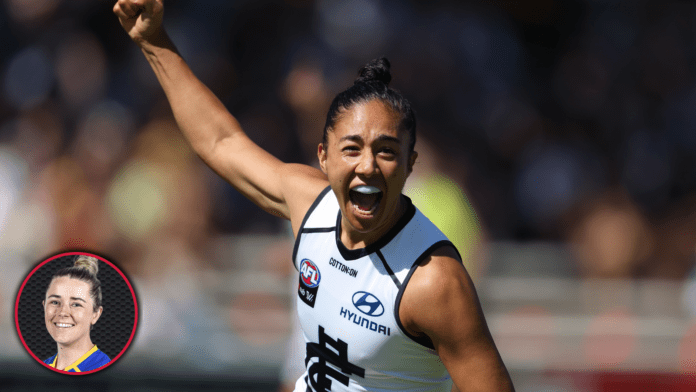 Darcy Vescio is one of the best-known names in the AFLW, and also one of the most-loved players among our community. A game-changer both on and off the field, continually standing up for what they believe in and a true visionary for the future of woman's football.
A focal point in Carlton's forward line since the beginning, its hard to not get excited when they have the ball. Sometimes I don't think even 'Darc' knows what they are doing next - twisting, turning, and slapping it on the non-preferred and scoring goals, or setting up teammates.
On the weekend, Darcy was the first player to notch up 50 AFLW goals - and boy did their teammates, and the crowd, love it. What makes this milestone even more impressive is the company close behind them in the race to 50:
Darcy Vescio: 50 goals in 47 games
Erin Phillips: 46 goals in 42 games
Tayla Harris: 44 goals in 45 games
Katie Brennan 42 goals in 34 games
That's an impressive list of forwards, and it seems Darcy's ability to stay out on the park each week has been an important part of being the first player to reach the milestone.
At only 28 years of age, the question now is: will Darcy be the first to 100 goals?
First #AFLW player to kick
10 goals - Darcy Vescio
20 goals - Jessica Wuetschner
30 goals - Erin Phillips
40 goals - Darcy Vescio
50 goals - DARCY VESCIO

@carltonfc_w @aflwomens #AFLWGiantsBlues

— Swamp (@sirswampthing) February 27, 2022
With the competition evolving, seasons becoming longer and finals becoming a factor, it's an interesting conversation as to who will notch up the next goalkicking milestone - will it be someone currently in the top five?
Given she is 'Superwoman,' I shouldn't count out Erin Phillips, but odds are retirement may come before reaching that milestone.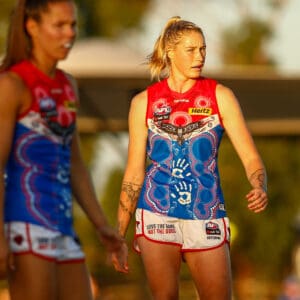 Age is in favour of Tayla Harris among the top five, who is having her best season yet and has seemingly found the perfect fit at Melbourne. At 24, if she were to continue her career at a successful club would she succeed in that? Quite possibly.
The most consistent forward in the league of this year, having kicked at least one goal in every game, and averaging more goals per game than anyone else on the list is 29-year-old Katie Brennan. She could well be the first to 100 if she continues to be so consistent in hitting the scoreboard.
Or will it be someone else entirely? It'll only take a couple of high-scoring seasons for some of the other big goal-kickers in the league to catch up to those in the race.
Now in its sixth year, the AFLW is starting to see many players reaching new milestones and, for an organisation in its early years, it makes it all that more exciting - no matter how big or small, we love to celebrate these and the women breaking new ground and creating new heights.
Only last round we saw Ebony Marinoff become the first player to reach 1000 disposals - I didn't even know if this was considered a milestone but, hey, any reason to celebrate our women I am all for it.
Perhaps the biggest milestone to date, this weekend three players are in-line to become the first AFLW players to reach 50 games.
In the men's competition, mathematically, a player could reach 50 games within two seasons and very realistically three. But for these mainstays, it has taken SIX SEASONS - playing in multiple finals and even grand finals to reach 50 games.
Ally Anderson, Emily Bates (both Brisbane) and Ebony Marinoff (Adelaide) have defied many odds and obstacles to play every possible game for their clubs since the start of the competition. I look forward to the clubs, community and players celebrating these incredible women this weekend.
Speaking of celebrating - Darcy, congratulations on edging yourself into another piece of history and continuing to inspire everyone around you.