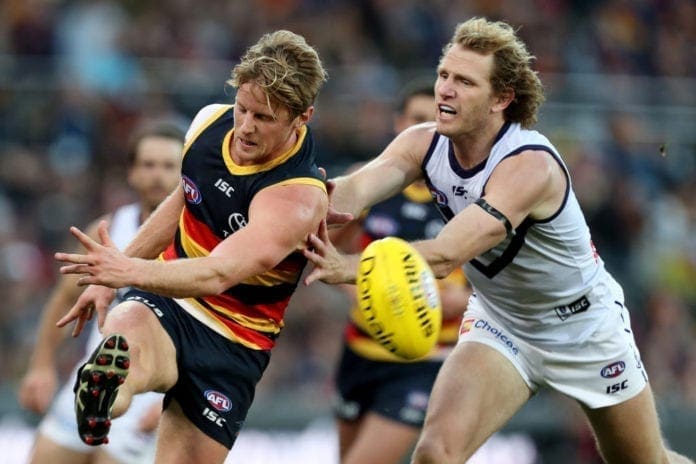 The Crows came out in 2021 on fire, winning three of their first four matches. That included a big Round 1 upset over 2020 grand finalist Geelong, Taylor Walker leading the young group in kicking 17 majors in the first three rounds.
After finding themselves in fifth place on the ladder after Round 4, the Crows lost seven of their next eight matches, including five in a row.
By the end of the season, Adelaide managed to win seven matches, finishing in 15th place.
While that result was disappointing to some, it still reflects the current demographic of their list. The Crows are still in a rebuild as they continue to transition from their 2017 grand final team.
Off-field, there was plenty of ups and downs. That included some negative attention surrounding Taylor Walker, while also managing to beat out cross-town rival Port Adelaide for Jordan Dawson's signature.
Going into 2022, the Crows have the youngest list based on average age and the lowest average of games played.
As Adelaide continues to the next stage of its rebuild, we look into five burning questions facing the Crows in 2022.
What will Taylor Walker's role be in 2022?
Towards the end of the 2021 season, Walker found himself in the spotlight. The news came out about racially abusive comments that he made during a SANFL game, with the veteran forward fined $20,000 for his comments and suspended for six matches.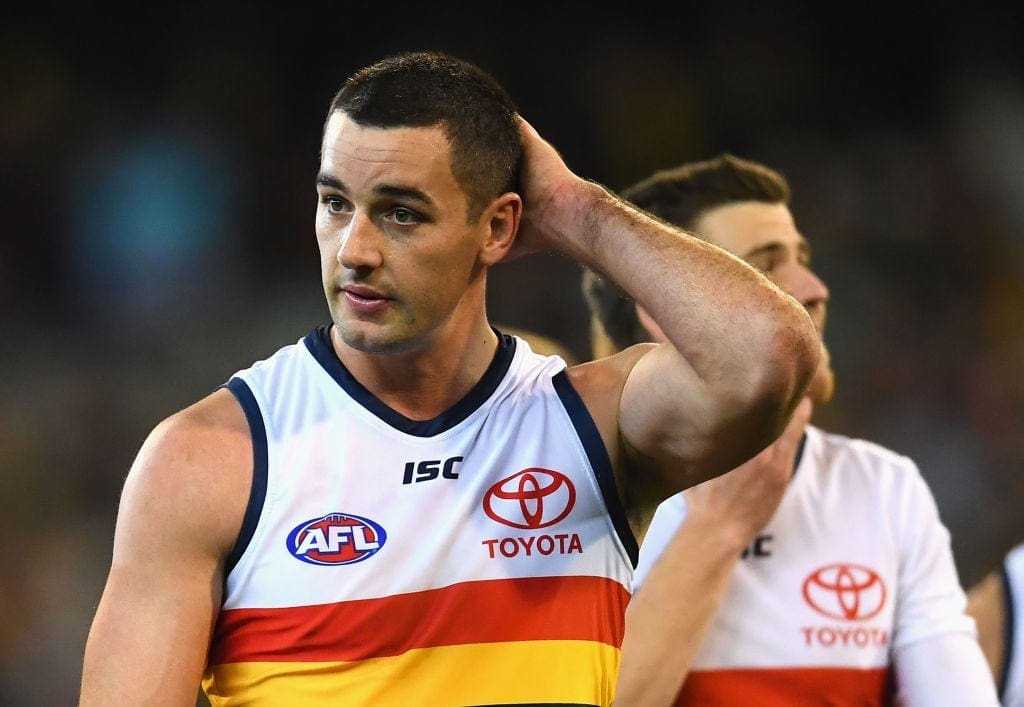 Walker subsequently made a public apology, with the victim of the abuse, Robbie Young, also present on the video.
While initially there were questions surrounding his future at the club, the issues have reportingly been resolved. Current Crows players are believed to have accepted his apology, and the list manager has confirmed his position on the team for 2022.
Having already missed three matches at the end of last season, the earliest that Walker could return is in Round 4.
From a playing perspective, it is easy to see Walker's importance to the club. Last season was a bounce-back season, kicking 2.8 goals per game. He kicked a major in all but one game he played in.
Given his form and reputation, he is a valuable asset for the young Crows forward line. Walker will likely take the opposition's best defender each week, making life easier for Riley Thilthorpe, Elliott Himmelberg and Darcy Fogarty. All three are still developing forwards and benefit from the attention that Walker provides.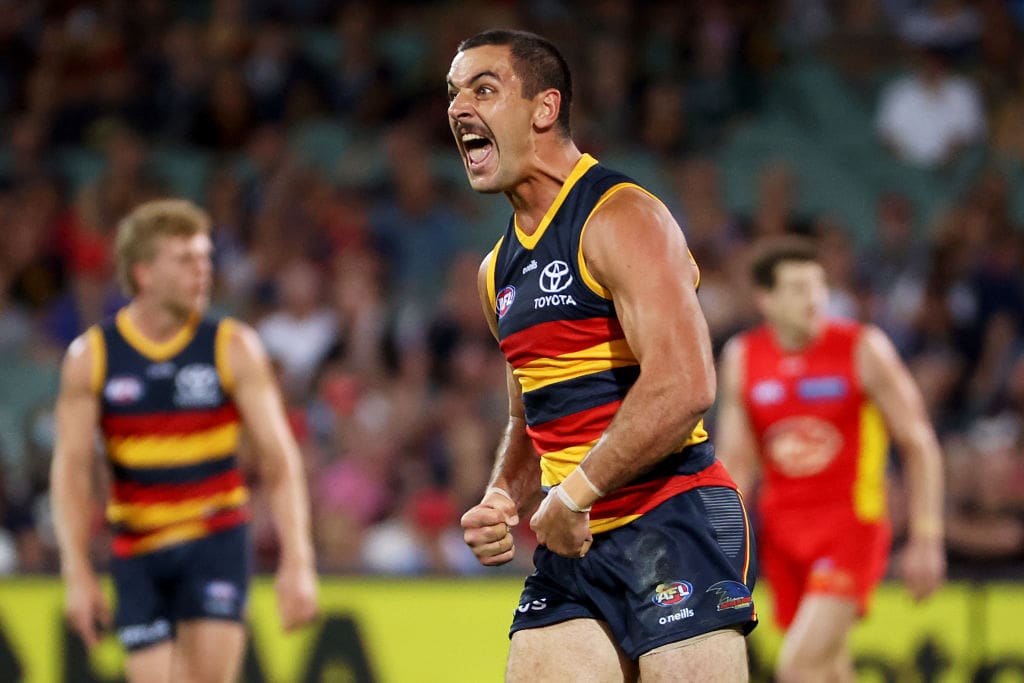 It is no coincidence that Adelaide's best football for the last season coincided with Walker's best performances. His 20 goals in the first four rounds helped the Crows begin the season playing at a higher level than many anticipated.
If the Crows were focussing on winning and playing their best 22, then there is no doubt that a healthy Taylor Walker will play a big role in the upcoming season.
On the off-field side of things, Walker has attempted to make amends since his racist comments were made public.
The incident has once again raised larger issues about racism in sport and how more needs to be done in the future. There have been positive steps towards systemic issues surrounding race in the country. Comments like this demonstrate how much more needs to be done.
Last year, two of the biggest off-field stories in the AFL were the 'Do Better' report and Walker's comments. Both of these addressed some of the issues still found in sport.
It leaves the Crows in a difficult situation. Walker has been an excellent player and leader for the club. He captained the team to their most successful season since the 90s. He has also made some terrible comments that are not acceptable. The club appears to be finding a balance of supporting Walker and all those affected by his comments.
Walker had already taken a step back in leadership, relinquishing the captaincy in 2019. He is likely to take a further step back from that perspective, working on continuing to improve as a player, teammate and person.
The big decision will come in the off-season when Adelaide will need to make a decision on Walker's future.
On the field, Walker will suit up for the Crows in the 2022 season. While he might not play straight away, his presence and impact on the ground will see him suit up for the Crows this season. The incident, however, will stay with Walker for the remainder of his career. It will forever be linked to Walker's legacy. For many, that makes him one of the more polarising players in the league.
Is Riley Thilthorpe primed for a big leap?
Over the course of his first season, Thilthorpe was able to show flashes of the player he can become.
In his first game of the season, the Hawks had no answers for him. He ended the match with five goals, which was almost enough to lead his club to victory.
Despite that, he had to wait until Round 13 for a Rising Star nomination. In another showcase of his potential, he finished with sixteen touches and three majors, with hiis last being a match-winning goal.
RILEY THRILLTHORPE SNAPS THE MATCH WINNER 🤯😭🔥#weflyasone #AFLSaintsCrows pic.twitter.com/AZ5NG0sUfT

— Adelaide Crows (@Adelaide_FC) June 12, 2021
The remainder of the season emulated that of the team, with a range of inconsistent performances. At 19 years of age, however, his talent and potential are already surpassed many of his peers.
While it often takes talls longer to develop in the league, Thilthorpe is no ordinary player. When playing at his best, he has shown to be one of the more promising bigs in the competition. Being able to replicate that on a more regular basis is something that he has already begun to work on.
He finished 2021 averaging 10.9 disposals, 1.3 goals, 3.1 marks and 2.3 one-percenters.
Comparing those stats to the five best tall forwards listed in as best forwards since 2000, Thilthorpe's first season was quite respectable.
Lance Franklin - 2005: 10.7 disposals, one goal, 3.8 marks, 1.6 one-percenters.
Matthew Lloyd - 1995 and 1996: 10 disposals, 1.6 goals, 4.2 marks
Nick Riewoldt - 2001: 9.5 disposals, 0.3 goals, 4.3 marks, 0.3 one-percenters
Jack Riewoldt - 2007: 6.6 disposals, 0.9 goals, 3.1 marks, 1.75 one-percenters
Jonathan Brown - 2000: 9.5 disposals, 0.4 goals, 3.6 marks, 1.1 one-percenters
While there is still plenty of room for growth, his first-year performance holds up against some of the best forwards the competition has seen.
In the early stages of the off-season, Thilthorpe has been working on improving physically. While he starred in the SANFL the season before being drafted, the AFL is even more demanding.
"I just want to be a bit faster and a bit more powerful with my running," Thilthorpe told Crows Media.
"That's my main one, just getting bigger and stronger and a little bit more powerful."
With improved speed and strength, he will be able to find himself in even more contests throughout the match. He has shown that he can be a dangerous and damaging player with the ball early into his career.
Another reason he could be ready for a leap is the absence of big forward Tex Walker. With uncertainty surrounding his future, it is only a matter of time before Thilthorpe becomes the Crow's number one option.
The role will be forced upon him in the opening three rounds, likely being the main option before Tex returns. It will end up being a test of the improvements and growth that his first full offseason has provided. If he thrives in that situation, it could make the Walker decision more challenging.
How does the Crows' midfield take shape?
After the signing of Jordan Dawson, it was reported that he would be seeing significant midfield opportunities. While on the surface he would seem like a lock, the Crows have multiple players vying for midfield minutes.
Dawson had an impressive year for the Swans, finishing third in the club's best and fairest count. In a career-best year for the 24-year-old, he finished with 22.3 touches, 3.0 tackles, 4.9 rebound 50s and 4.2 one-percenters.
Playing on the wing and in defence, he provides the Crows with some flexibility. An excellent ball user, he is a player that the Crows want to have the ball on a regular basis.
Adelaide are interested in playing him more in the midfield than when he was at the Swans, but looking down the list, that concept might not be possible. Due to his versatility to play on the wing and down back, he could be one of the midfield casualties of a packed Crows midfield.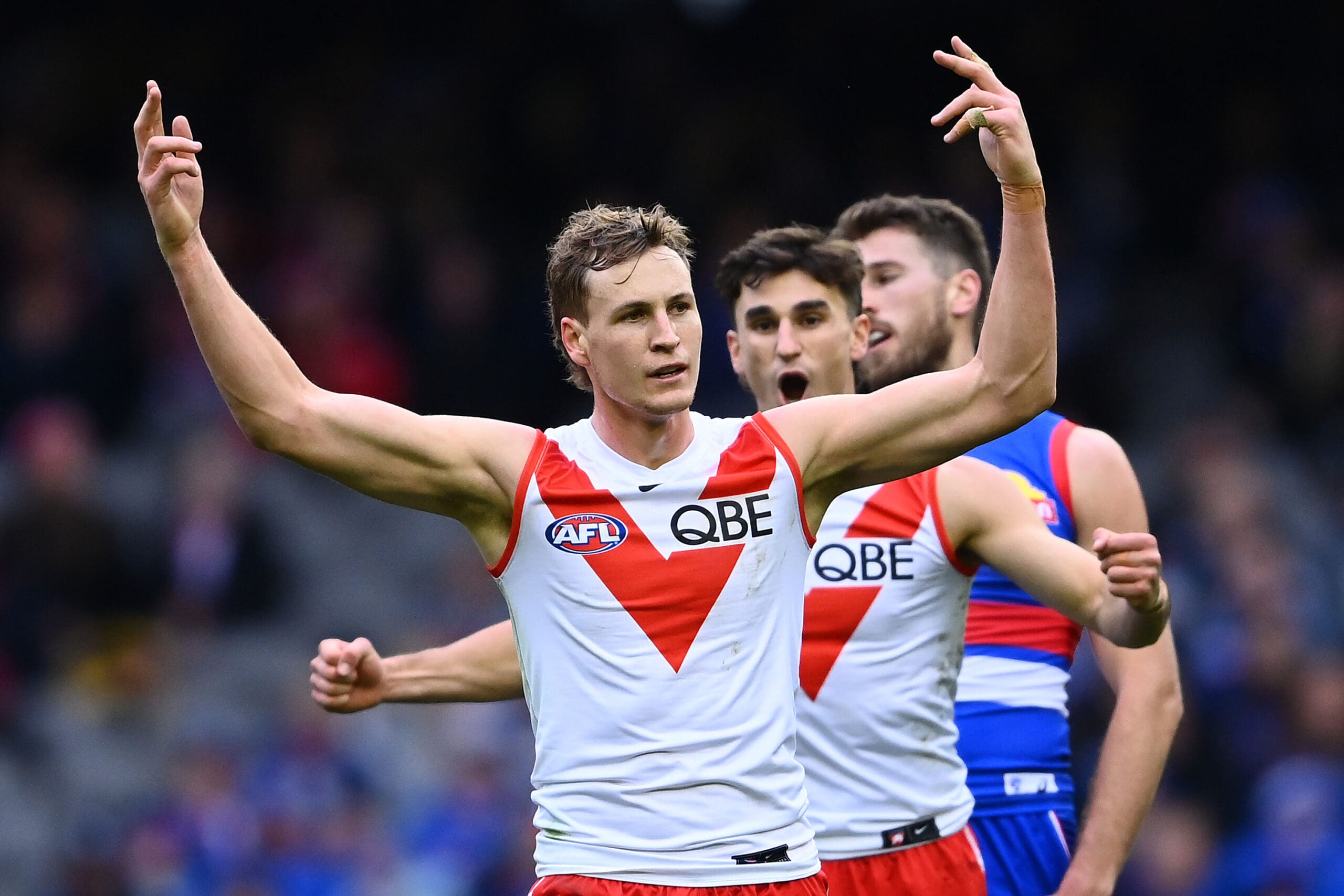 Rory Laird managed to turn himself into a prolific ball-winner last season. Having spent the majority of his career in defence, Laird was a revelation in 2021. He was able to up his averages across the board, including 32 disposals, six tackles and 6.8 clearances per game.
Laird was also awarded the Malcolm Blight Medal as the club's best and fairest. After making himself one of the club's most important and best-performing midfielders, it is unlikely to see him take a step back in 2022.
Rory Sloane was confirmed as the Crows' skipper again for 2022 and had a bounce-back season last year. He was able to get his numbers back up to his career average after a down 2020.
Sloane finished with 22.3 touches, 4.8 tackles, 5.3 clearances and 3.7 inside 50s. As the captain, he is likely to play every game that he is healthy. He has also shown less positional versatility than many of his teammates. Expect Sloane to play predominately in the midfield this season.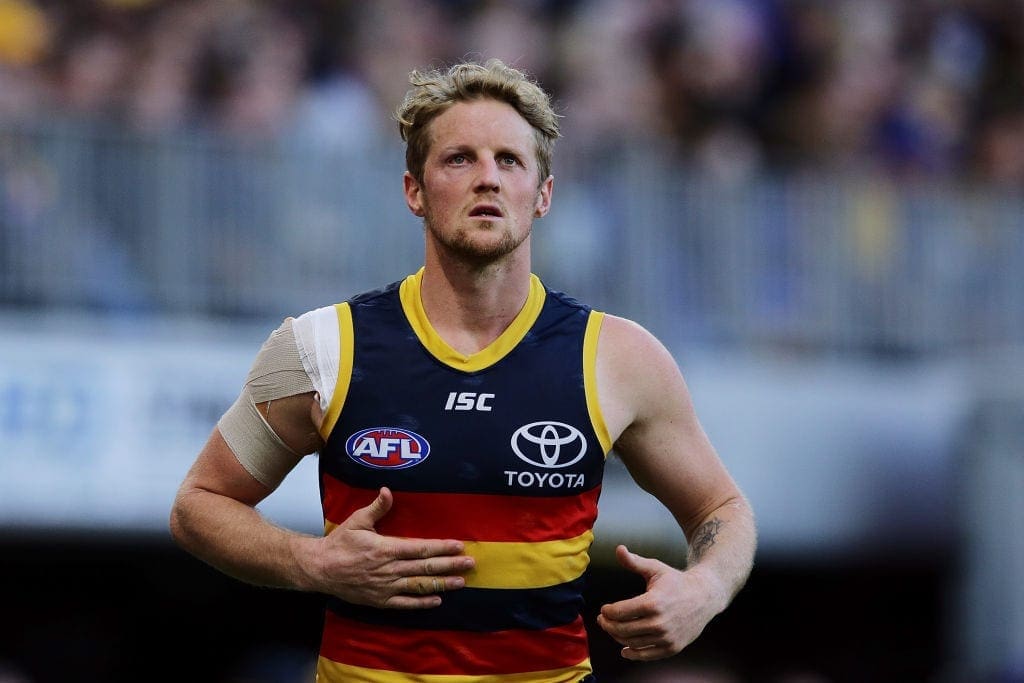 Ben Keays is another Adelaide midfielder that took a leap in 2021. Given more opportunity, he was able to nearly double his averages throughout the past season. Before last year his career-best averages were 16.56 disposals, 4.1 tackles, three inside 50s and 2.9 clearances.
He finished last season with 28.1, 6.1, 5.4 and 5.6 respectively. He capped off a career-best season with a second-place finish in the Crow's best and fairest count.
After signing a new contract extension in the off-season, Adelaide wouldn't have inked the deal if he wasn't an important member of the midfield going forward.
Jackson Hately was brought into the club through the 2020 preseason draft. He left the Giants after being starved for opportunities in his first two seasons. Due to injuries and form, he only managed three matches throughout the past season.
It was just over twelve months that the Crows were able to convince him to leave the Giants. Given a lack of opportunity was the main motivating factor for leaving his previous club, Hately will be looking to break into the midfield mix. Given a full pre-season, Hatley will be looking to feature more in his side 2022 campaign.
Paul Seedsman elevated his game to another level last season, turning himself into one of the Crow's more important players. Settling into the wing and midfield, he ended up having the best season of his career.
Not only did he finish third in the club best and fairest, but he also finished the season averaging 26.1 disposals, 2.3 tackles, 5.7 inside 50s, and 2.8 rebound 50s. Even throughout the season, he was improving, finishing the year better than how he started. Likely taking up one of the wing positions, Seedman will have a midfield position locked for next season.
Matt Crouch and is coming back from injury and prior to his absence was a lock for the Crows' midfield. Injuries have plagued the All-Australian throughout the past year, but when healthy he is still a high-level midfielder.
Crouch will be expected to push for midfield selection and will improve the depth and quality of the Crows engine room.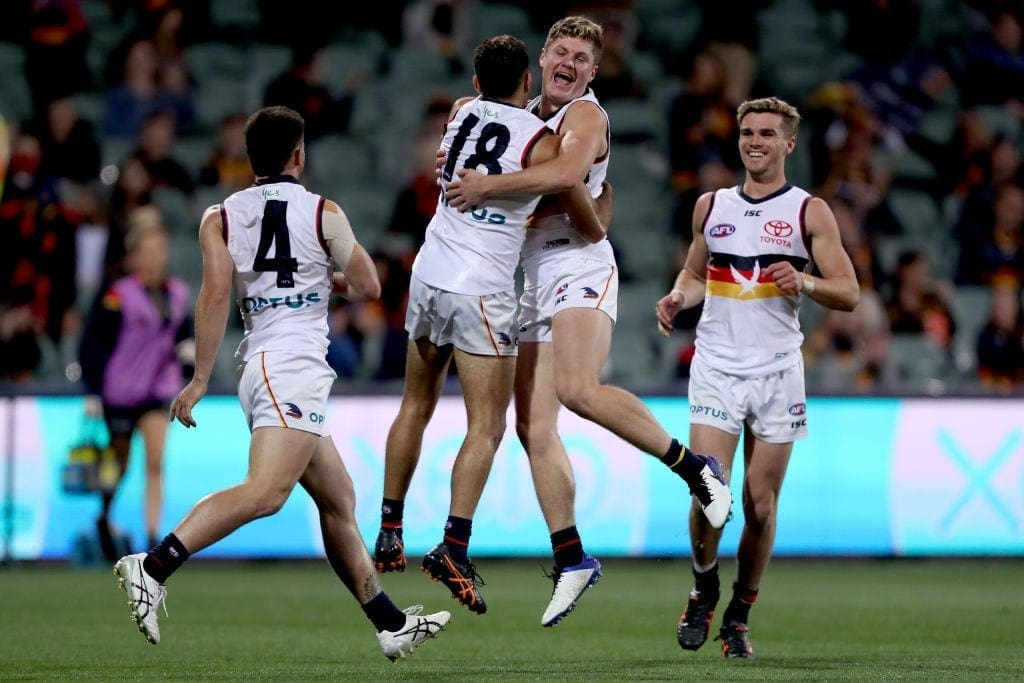 Adelaide also have a range of young talented prospects who could all see time in the midfield throughout the next season. Josh Rachele, Lachlan Sholl, Harry Schoenberg, Sam Berry, Chayce Jones and Jake Soligo are some of the promising players that will be pushing for midfield minutes.
Having a look over their list, the Crows have a few important decisions to make. While depth is a positive problem to have, it will still create a headache for Matthew Nicks and his coaching team. Given a clean run of health, there will be a few unlucky players either starting out of position or watching from the sidelines.
Given how everyone played in 2022 Laird, Sloane, Keays, Seedsman and Dawson are the likely starting midfield/wing group. But injuries, form and the pre-season will play an important part in who suits up in the middle in round one.
What does a successful 2022 campaign look like?
Adelaide enters the 2022 season as the youngest team with the least amount of AFL experience. Due to that, it could be expected that the Crows are still rebuilding in the upcoming season.
They also only have four players over 30 in Sloane, Walker, Seedsmen and Brodie Smith. The remainder of their playing group is under 26, with Rory Laird being the one exception at 28.
The age profile of the group shows that most of their players are yet to hit their prime, and have plenty of high-level football left. Due to this, it can be difficult to assess what path Adelaide will pursue in the upcoming season.
Wins over Melbourne and Geelong last year showed the league some of the talents that are already on the list. With another pre-season, the majority of players are only going to improve by the start of next season. They still don't have the list to be a genuine finals threat, they should be able to be competitive most weeks.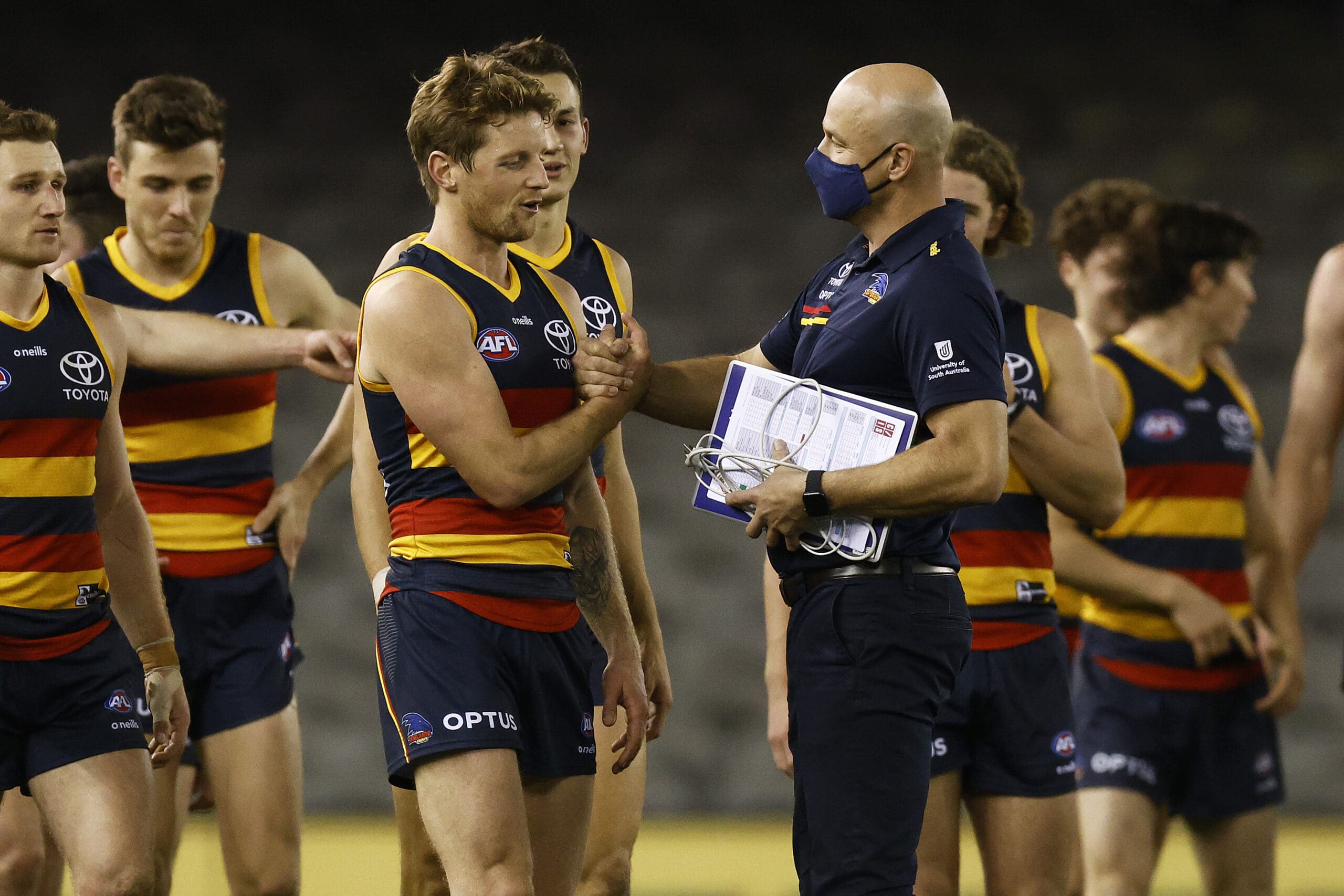 Is it more advantageous for the Crows to be a bottoming team? or one that is middle of the pack?
While a lower ladder finish will result in a higher draft selection, is that what the Crows want? Adelaide has 20 listed players who are 21 years or younger. Obtaining more youth, no matter how talented, isn't necessarily one of their top priorities. If they continue to add young talent, then they could find themselves in a similar situation to the Suns and Giants.
Finances and opportunities result in players leaving the club before they start playing their best football.
Their recruitment of players such as Jordan Dawson is a step in the right direction. They traded in one of their assets for a ready-made player. At 24 years old, he is able to contribute to winning right now, while still developing and playing when the rest of the list is ready to push up the ladder.
With the contracts of Jack Lukosius and Izak Rankine set to expire at season's end, they may see the Suns pair as a similar fit to Jordan Dawson. The main benefit of that higher selection could be to satisfy the Suns in a trade for both young players.
The more likely approach for the Crows is the continual growth and development of their core. Adelaide finished on the bottom of the ladder in 2020 but ended the year with some momentum. They won three of their final four matches. The following season they were able to carry on that momentum with a blistering start but fell away throughout the season.
Due to injuries and player movement, the Crows saw many players have career seasons in 2021. Laird, Keays, Seedsman, Schoenberg, Sholl and McHenry are just are a handful of players who improved their play last year.
Adelaide will be looking to equal or improve their win tally in the upcoming season. This year is looking like one of the most competitive seasons in a long time. While wins will be harder to come by, expect Adelaide to remain a threat to any team.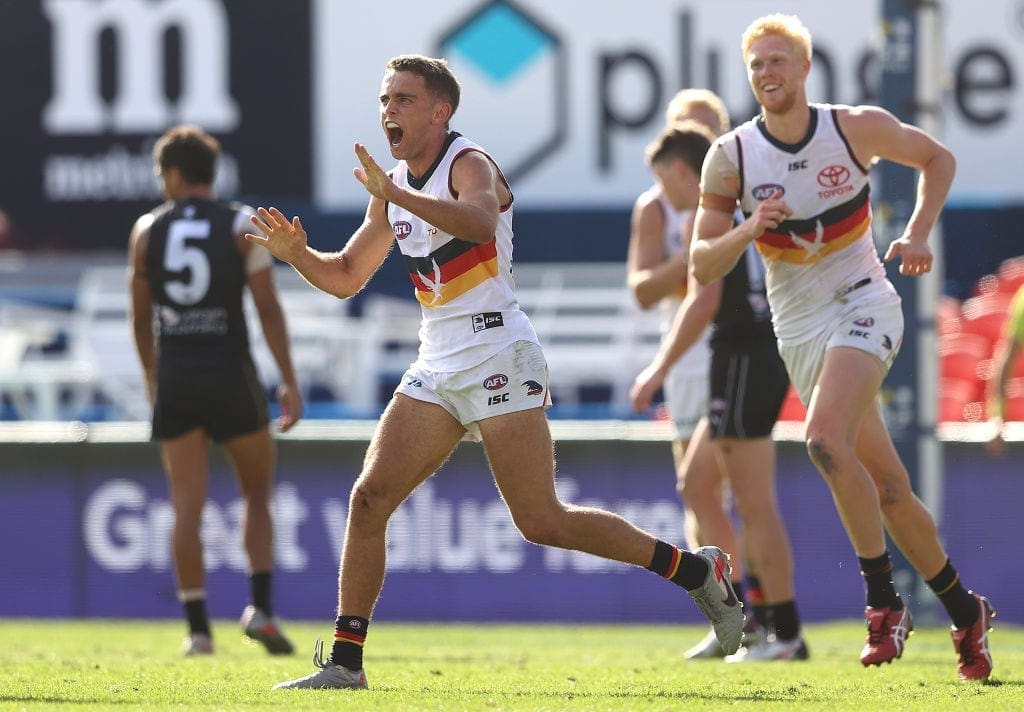 One of their goals will be to try and beat Gold Coast on the ladder. Doing so could be enough to finally persuade one of the Sun's big free agents to make the move back to Adelaide.
Success in 2022 will be 7-9 wins, moving up a few spots on the ladder and seeing big improvements from their most important young prospects.
Given that continued development, expect 2023 to be the year that the Crows become a serious threat for one of the top eight ladder positions.
Are the Crows able to attract Lukosius and/or Rankine?
After managing to convince Jordan Dawson to play for the Crows in the 2021 trade period, could lightning strike twice for the Crows?
While there have been no official reports about the pair leaving the Suns, rumours have been surrounding the exciting duo for years.
Both Lukosius and Rankine are South Australian locals selected in the top three of the draft. Many clubs have had players leave due to the go-home factor. Famously, Patrick Dangerfield left the Crows on the brink of success to return back to his home near Geelong.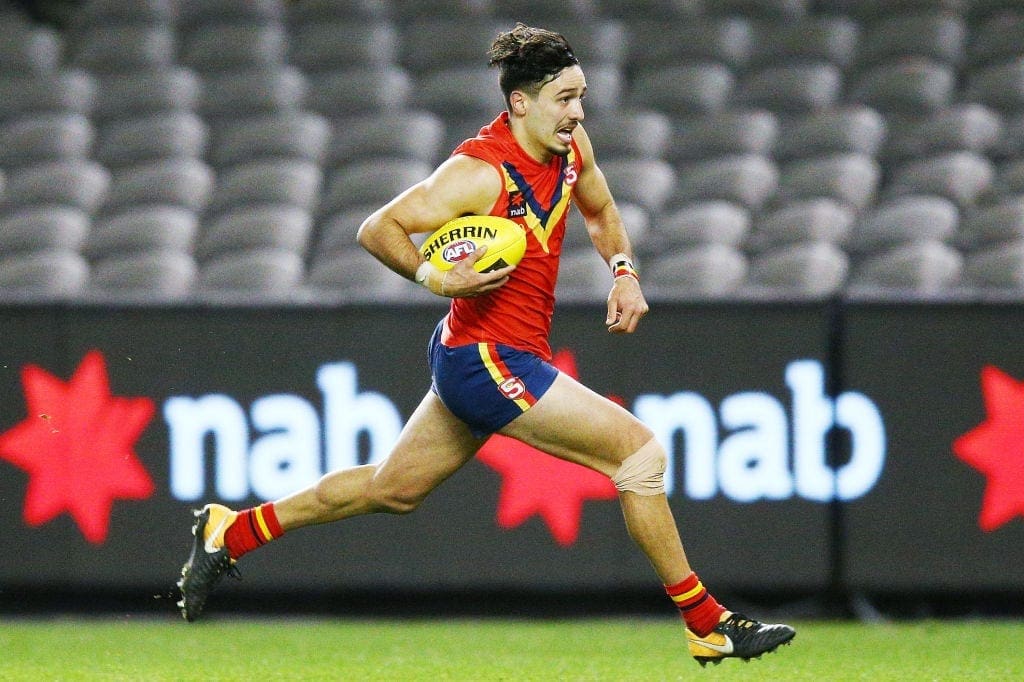 After continuing to underperform, the allure of staying on the Gold Coast could be starting to fade for the South Australian duo. 2022 gives the Crows another chance to show they are closer to contention, despite being a younger list.
With Lukosius and Rankine, the Crows would be able to sure up either side of the ground with some ready-made talent. All while recruiting players who fit their age profile and will be in their prime while the club should be playing in the finals.
One of the biggest roadblocks facing the Crows is the asking price. While both players had inconsistent 2021 campaigns, they are still high-upside players who still have plenty of high-level football ahead of them.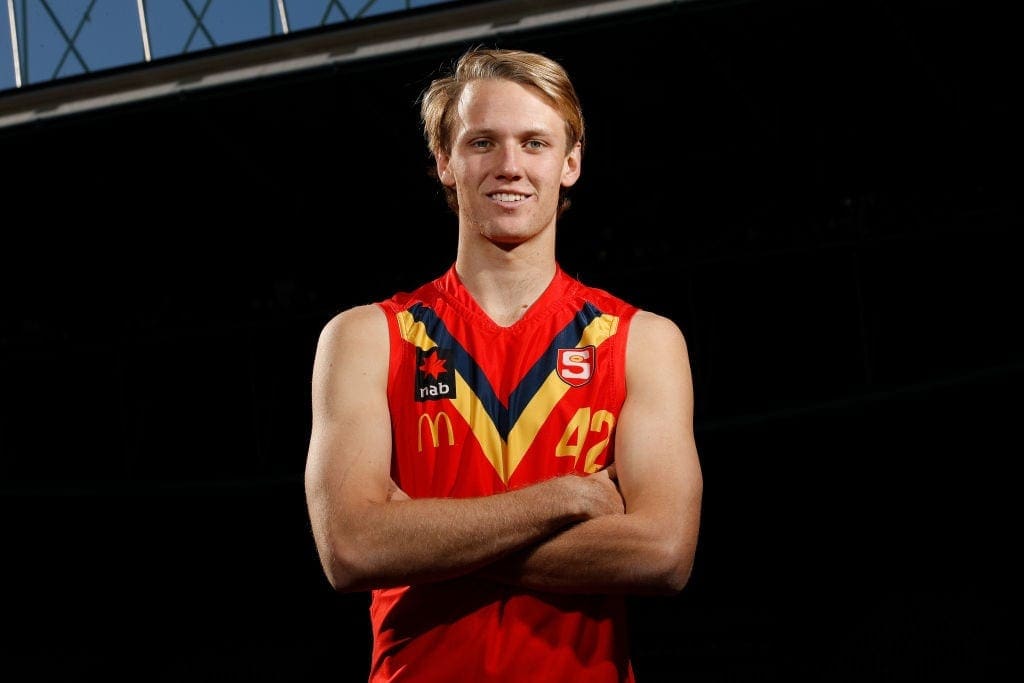 While Port Adelaide is an attractive destination, the Crows have already established an ability to sell their future to incoming players.
They would also be the more desirable destination for the Suns, with the Crows selections in the next two drafts likely to be a higher pick than the Power's.
If the Crows slip down the ladder and finish with a top-three selection, it would likely make them second guess about trading their pick. If they are able to equal or improve on last season, however, expect Adelaide to offer their first-round pick for a chance of one or both of these young guns.