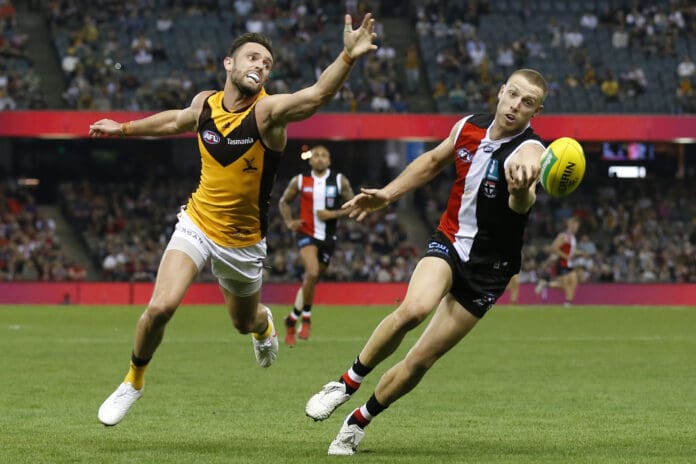 Callum Wilkie shuffles anxiously as he stands in front of the microphone, waiting for the questions to begin.
Ahead of his 50th game this weekend, it feels as though the Saints' No. 44 has been in the system for years. In reality, just 36 months ago, Wilkie was a part-time footballer with North Adelaide in the SANFL, and a full-time accountant.
Plucked from obscurity in the 2019 AFL Rookie Draft, the versatile defender hasn't missed a beat, becoming an important cog in the St Kilda backline. So important, in fact, that he hasn't missed a game since his unlikely debut in the opening round of the 2019 season.
Able to play on both tall or small forwards, Wilkie has proven himself to be one of the most underrated defenders in the competition, rarely beaten in any matchup, and ranked as 'elite' (by Champion Data) in the following categories in 2021:
one percenters (5.1 per game)
spoils (3.1)
contested one-on-ones (2.4)
contested marks (1)
disposal efficiency (90.1%)
When you add in an 'above average' ranking for intercept marks (2 per game) and intercept possessions (6.5), effective kicks (10.8) and handball-to-kick ratio (2.9) you have an unconventional - but very effective - prototype of the accomplished defender, efficient with ball in hand, but one also incredibly effective defensively and difficult to score against.
RELATED: The most underrated players in the AFL
It wasn't always destined to be that way, though, missing out on a list spot at the 2014 AFL Draft despite selection for South Australia in the Under 18 National Championships, and an invitation to the State Draft Combine.
Wilkie spoke to reporters on Monday about his unlikely journey to the AFL.
"My draft year, when I got drafted, I wasn't 100% focussed on footy, I was sort of enjoying footy for what it was, which is a little bit of an escape from work, and then enjoying playing with my mates," he said
It was another couple of years before he'd get a second chance, a podium finish in North Adelaide's 2017 Best & Fairest, followed by winning the award outright in 2018 - the Roosters' first SANFL premiership in two years - catapulting the then-22 year old back into draft calculations.
"They probably shaped me in terms of who I am as a person and a footballer, so yeah I owe a huge credit to them.
"I knew once - if - I got into the system, that I'd be giving 100% of my effort into footy, rather than when I was playing State Leagues... so I knew that I still had so much more to give, I wasn't just going to be, I guess, a mature-age player that just comes in and fills a role."
It was the recruiting team at St Kilda who came knocking with the third selection in the rookie draft, following the health problems faced by intercept defender, Dylan Roberton, in 2018.
"He played a particularly good game against the Adelaide Crows SANFL side early in the (2018) season that made us take notice," recalled the Saints' state recruiting manager, Chris Toce.
"He was extremely consistent, his ability to to read the play and mark the ball off the opposition impressed us, but he could also defend one-on-on," says Toce, a summary which could well have been used to describe Wilkie's senior AFL performances.
When Roberton's irregular heartbeat issue resurfaced during the 2019 pre-season, Wilkie was thrust into a starting role, and he's never looked back.
"I probably am a bit of a role player but I had so much more potential [even then], because I came in unfit, a little bit fat, even though it was skinny fat, yeah, not strong, and so much potential in footy."
"He wasn't the world's best athlete, but we liked his competitiveness and footy IQ, and we were pretty sure if he got a chance he would take it," reiterated Toce, when asked by Zero Hanger.
As a newly-minted member of the St Kilda leadership group in 2021, younger guys are now leaning on the almost half-centurion, for advice.
"Yeah they do, which I guess is funny in a way, that I've just reached my 50 games and to be considered a leader down there, but I guess that's sort of the personality I am, it's probably what I'm good at in footy, being able to help others in seeing the game, so being able to help those young guys like 'Coff' (Nick Coffield), Hunter (Clark), all them, yeah they sort of look to me abit, me and Dougal (Howard) try to be the wise-heads and help others down there."
Cal Wilkie very vocal in group laps...@zerohanger pic.twitter.com/BVPXZEBWzc

— n 1 c k (@nicksplitter) May 10, 2021
And on Tom Highmore, the 'Cal Wilkie clone' as described by coach, Brett Ratten.
"Yeah he keeps bringing that up. I keep saying he's not like me at all, but he doesn't mind it. Very similar story to mine, and he's so eager to learn, always asks questions," Wilkie said.
With the Saints tasting victory in consecutive weeks for the first time this season following a strong four-quarter effort against Hawthorn, and a solid, if unspectacular, late-game surge to roll over the Gold Coast Suns, Wilkie says the message this week is on consistency.
"We've been up and down... we saw in the games we got blown away that the effort just wasn't there... we know if we just bring that consistency and commitment to the effort side, the other things will come.
"We sort of went away from the brand of football we wanted to play from last year... we brought that against Hawthorn, you know, patches on the weekend, but probably not a great four-quarter effort but we still got the job done. So yeah, just sort of building week to week, and find that continuity between the group."
The Saints are starting to get some defensive bodies back from an injury-ravaged pre-season, with co-captain Jarryn Geary, breakout small defender Ben Paton and recent free agent acquisition out of retirement James Frawley all going down within weeks of each other with medium to long-term issues.
Skipper on his way back @zerohanger pic.twitter.com/gx5gzTc6V3

— n 1 c k (@nicksplitter) May 10, 2021
With the high-octane Geelong offence on the horizon, Wilkie spoke about how St Kilda's defensive stocks currently sit.
"Chip (Frawley) played VFL last week, obviously had the bye (this week), but yeah, he'll train this week and put his best hand up for selection. Obviously 'Ratts' and staff will see how he goes, but he should be right to play.
"Tommy's (Tom Highmore) knocking on the door hard to get back in the team, and yeah, that puts pressure on myself and pressure on everyone else, which leads to better performances.
"Great performance, they're in red hot form... We'll do our homework and see what we need to do to take away their strengths."

"These are the games you want to play in. Big crowd, Friday night.. pressure situation."

— n 1 c k (@nicksplitter) May 10, 2021
"That's what you want in a good team, you want pressure coming from within and from down below, so they've been performing very strongly."
In the meantime, Wilkie freely admits his rise at the Saints has taken even himself by suprise, when asked by Zero Hanger if he's now comfortable at the AFL level.
"Oh, I wouldn't say I've made it. I bet you there's a fair amount of people out there in the footy world who have no idea who I am still... I'd like to keep it that way," he chuckled.
And then, as effective as his one-one-one contests, it's back to the team.
"[I] Probably didn't think this (50 games) was going to happen so quick, so it's nice to obviously get these little personal accolades but the focus is obviously going to be on Geelong, who are in red-hot form.
"They're going to be hard to match up on, but we'll do the homework and see what we need to do to take away their strengths."
Ahead of his 50th consecutive game since his 2019 debut this weekend, Wilkie will once again be a critical component to the Saints' back half structure.
As Toce remembers, "We never thought he would play 50 games straight... obviously if you pick someone you think they are going to be good enough, but if we knew he was going to be this good, we wouldn't have waited to the rookie draft to pick him!
"The credit is all Cal's."
With a place in the top eight on the line, the Saints (4-4) take on Geelong (5-3) on Friday night at Marvel Stadium.