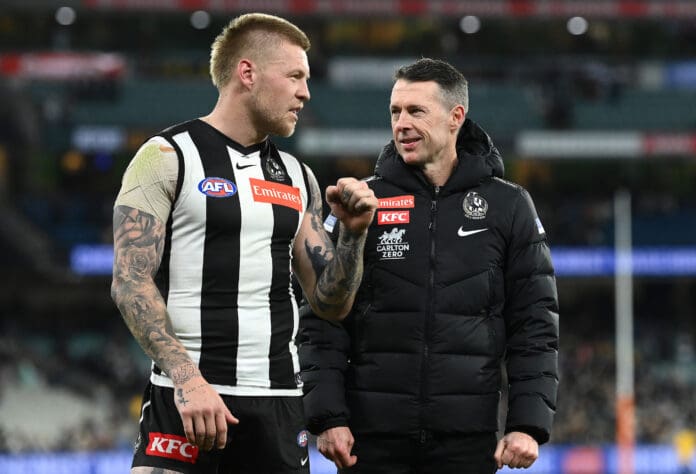 Collingwood coach Craig McRae has offered glistening praise to superstar midfielder Jordan De Goey for not only his preliminary final performance on Friday night, but for the tremendous personal growth he's undergone over the course of the last 12 months.
McRae's Pies, after edging the Demons by seven points two weekends ago, scraped by GWS by a single point at the MCG after a nervewracking conclusion to an enthralling contest, earning a Grand Final berth next weekend.
While glistening performances were had by players on both sides, it was ultimately all about De Goey, who was the best player afield on Friday night.
The 27-year-old was simply untameable at stoppages, asserting his dominant physicality to win clearances and shrug off desperate tackling Giants.
De Goey registered 34 disposals against GWS, putting in a best-on-ground shift as he racked up 17 contested possessions, 13 clearances (five centre clearances), and 463 metres gained to help put his Pies in a position to win the game.
McRae, addressing the media post-match, offered extensive glowing praise to his prolific midfielder, citing his elite preparation during this finals series.
"What a great game from him," McRae started. "I thought he set himself up for the last final (against the Demons) unbelievably well, he trained at a level that I thought 'oh god, he's gonna tear the game apart against Melbourne'. [It] didn't quite come through to that, and then, you know, sometimes you get a little bit despondent with that, but he just went back to work.
"If you come [and] watch our matchplay, he kicked three goals in a quarter (last) Friday night, and then he just trained so well (this week), so that doesn't surprise me, the performance (tonight), a player of his talent training at that level, he set himself unbelievably to play well.
"When he's at full flight he's a weapon, isn't he?"
Asked to reflect on De Goey's Magpies journey since turning his back on rival interest to re-sign at Collingwood last year, as well as off-field issues, McRae cited the midfielder's personal growth.
"We all grow up, don't we?" McRae said.
"I'm 50 today, I'm getting a bit old, he's 26 or something, he's growing. Some take a little bit longer to find who they are, we're really proud of his journey [and] his growth, we all want to keep growing.
"People don't like change. 'Oh you need to change', no one likes to change, but people like to grow, people want to grow, so we'll continue to use that language around our environment; let's just get better.
"Credit to him (De Goey), finding out about himself. And he's a work in progress, he's not finished, but what you're seeing definitely is a guy that's growing up."
De Goey and the Magpies will now put their feet up and watch as the Brisbane Lions and Carlton battle it out at the Gabba for the chance to play them in next Saturday's Grand Final at the MCG.