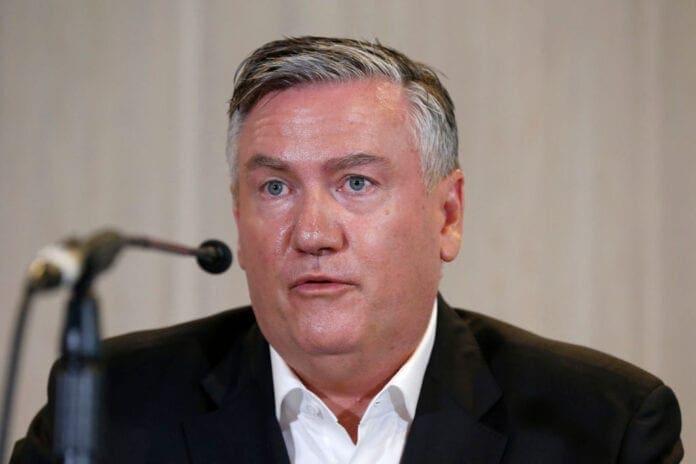 Former Collingwood president Eddie McGuire has urged Collingwood fans to "rally behind" his newly-appointed successor Mark Korda.
Collingwood announced on Wednesday that Korda would take over the reigns at the club after holding down the interim role alongside Peter Murphy following McGuire's resignation in February.
Korda has been a key member of the Magpies' board since being appointed in 2007 and will now become the 13th president in the club's history.
"Collingwood has long held a place in my life and I take on this role with the strong belief that we have in our possession a wonderful legacy, a strength and spirit with which we must seek to do and be better. We have challenges but great people and passion to meet them," Korda said, per the club's website.
"Collingwood has been made by many and it will take many to drive it forward. I thank Peter Murphy for his support, particularly over recent months, and his determination to see Collingwood continue to flourish. We have worked closely and talked daily over the past months and will continue to do so. I welcome Neil to the board.
RELATED: Blues appoint premiership coach to consultancy role 
The board of the Collingwood Football Club is pleased to announce the appointment of Mark Korda as its 13th president 👏

— Collingwood FC (@CollingwoodFC) April 21, 2021
"I also thank and pay tribute to Eddie for a contribution that may be the equal of any in the club's 129 year history. His time was a transformational one that we must honour by creating a new age of prosperity and growth for Collingwood.
"There is a collaborative commitment from the board to serve our club and create real progress that will live on through those who follow."
Korda is understood to have edged out a late running by the fan-favoured Jeff Browne, who holds a close relationship with McGuire.
SEE ALSO: Clubs keeping an eye on Bulldogs speedster 
When speaking on Footy Classified on Wednesday night in reaction to Korda's appointment, McGuire revealed he held some reservations in the build up to Collingwood's decision.
"One of the things that I've really been concerned about in the last couple of months is that some ghosts at Collingwood have re-appeared, who have been have been long-term people who have split the club," he said.
Collingwood needs a fresh start.
Korda ain't it.
EGM here we come,
surely.@7AFL @7NewsMelbourne

— Mark Stevens (@Stevo7AFL) April 21, 2021
"I was really, really worried and that's why I've been very quiet. I don't want to be running a campaign for anybody. I was absolutely worried that we were going to go back to the bad old days.
"Tonight, Mark Korda is the president, rally behind him, get the board right, and go forward."
McGuire's tenure at the Holden Centre was brought to a premature ending after announcing his resignation nine months prior to his initial due date to step aside from his duties.
"It's a steady-as-you-go transition."

Eddie McGuire and the Footy Classified team react to Collingwood's appointment of Mark Korda as President.#9FootyClassified | Watch @channel9 pic.twitter.com/OsorX1jqrO

— Footy on Nine (@FootyonNine) April 21, 2021
The 56-year-old opened up on his original plans to aid a successor throughout the 2021 season before officially ending his time with the club.
"I was going to use this year to (groom a successor)," he said.
"There were people that I had lined up that I would have liked to have brought on at various stages and some of them aren't available because they've got work commitments."