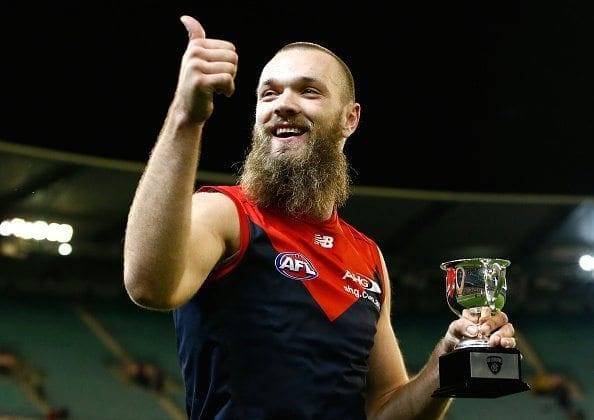 The support for third-year Demon Bailey Fritsch has come from new captain Max Gawn, who voted for Fritsch to win the 2020 Coleman Medal at the AFL's captains day.
All team captains were surveyed and asked to give their season predictions, and while Gawn knew it was against the rules to vote for a player from your own team, he wants to be correct at seasons end.
"It was me. I saw that question and I did see that we weren't allowed to vote from our own team, but I'm not going to not vote for the Coleman Medalist winner," Gawn told SEN's Dwayne's World.
"Throughout training this year he has done some things that are pretty spectacular who does it from very little impact in the actual game. He'll have five touches, five marks, five goals.
"He's kicked easily the most goals for us in this little pre-season bit and he does it on Steven May and then he does it on Neville Jetta so he's a pretty exciting player."
In 2019, Fritsch kicked 20 goals from 22 games in his second year at the club.
Gawn then doubled down when it came to voting for the NAB Rising Star, nominating early draft selection and fellow big man Luke Jackson.
"Did no one else go with Luke Jackson? Wow. Has no one been watching us in pre-season?" Gawn said.
"Jackson could play 18 positions on the ground this year. He is a very versatile player."