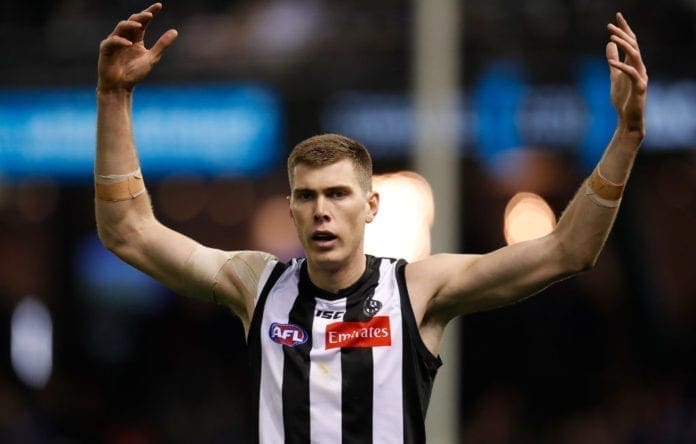 Collingwood big man Mason Cox has detailed talks he had with Fremantle last year prior to signing an extension with the Pies.
Cox, speaking on his podcast The Mason Cox Show, revealed he received a phone call from Dockers coach Justin Longmuir.
While holidaying back in his home country and state, Cox was in attendance at the Austin City Music Festival and drunk, when he got a call from his manager that Freo wanted to talk.
"I get this call from my manager, (he) goes, 'hey Mason, you're about to get a call from Fremantle's head coach in the next 10 minutes'," Cox said.
The 31-year-old says he tried everything to sober up before taking the call, wanting to not ruin his chances.
"I literally shimmy out the back of this chicken wire gate, and I go into this pit, and I take this phone call," he said.
"I'm getting maybe one out of every four words he's saying, and I'm just going 'yep, aha, yep, ok, anything, yep, 100 percent', I'm just trying to get a contract at this point because I'm unemployed.
"So I'm hammered drunk at this point, and I get to a point where I go, 'I'm gonna call you back, give me two minutes, and I don't even know what he said, I just hung up."
The 211cm ruck/forward says he went an extraordinary length to make sure he got this phone call with Longmuir.
"I went on a dead sprint, it was at least a kilometre away, and I get out to this back area and it's where all the stage set-ups are and big trailers and stuff," he said.
"I finally get...two bars at 5G... I call him back sitting on the back of some trailer."
He reveals that the conversation was just that the club might be interested in him if certain things went one way.
"There was a short moment, in my drunken state, I might have sold myself to Fremantle Football Club," Cox said.
As the story goes, Cox signed another contract with Collingwood, having met a clause, and is likely to play in black and white next year.
At the beginning of the year, the Texan was written off by many, but an injury to star ruckman Brodie Grundy has seen him recalled and playing a key role in the Pies premiership push.
Funnily enough, Cox kicked his 100th goal in last week's semi-final win over Fremantle.