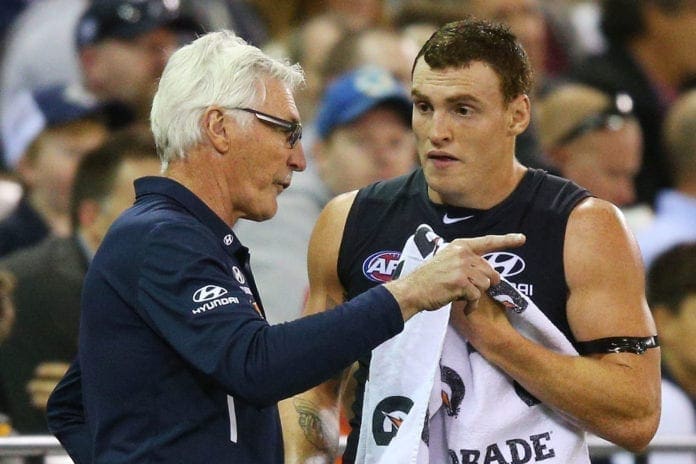 Brisbane midfielder Mitch Robinson believes that former coach Mick Malthouse wouldn't fit into modern day coaching.
Robinson, who played under Malthouse for two seasons during his tenure at Carlton, says he was surprised that the three-time premiership coach was open to a coaching role in one of the vacant positions.
Speaking on his Rip Through it podcast, Robinson spoke how he felt about his footy while being coached by Malthouse, saying that Malthouse was so negative he dreaded going to the club.
"I didn't want to get in the car and go to work because it was just a hard place to go to," Robinson said of his time under Malthouse.
"He made it very tough for me to enjoy the game and to enjoy the environment that I was in at the Carlton footy club, which evidently led to my delisting."
Robinson said that Malthouse could be suited to mentor position to a younger coach, "but, in saying that, in all honesty, I believe he wouldn't fit into today's coaching roles because you have to have levels of communication and when he breaks players down he really struggles to bring them back up. That's what I saw first-hand and through word of mouth.
"He has that tough love, he's an old-school coach, he knows how to give you a spray, but … (in) today's game you've got to have all levels of communication and be able to talk to young players … it's more of a teaching background and I just don't think he has that."
It comes following Malthouse's comments that he would take a call from the Saints, Carlton or North Melbourne – the three clubs with coaching vacancies.
"I am a realist and I am only saying yes because I know it won't happen," Malthouse said.
"That is on the back of 18 months of saying no and now 18 months of realising it's in your DNA.
"I feel like I am coaching (anyway). You could do a lot worse than sit there and take that pressure again … We sit here in the commentary box and think, 'can you add value to a club' and it's all I ask (myself)."