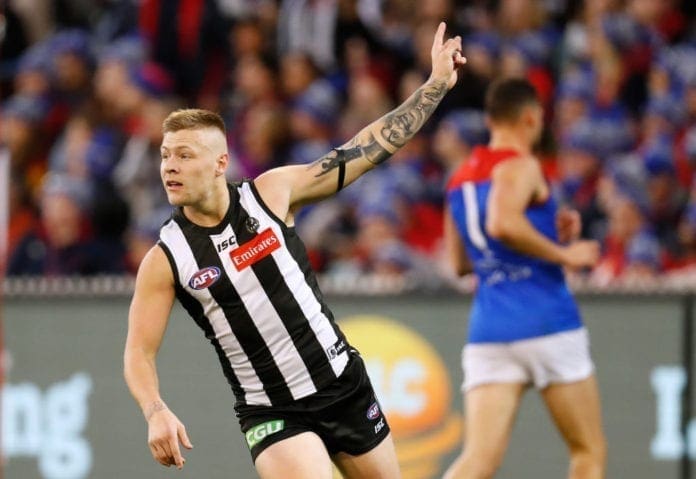 Star Magpie Jordan De Goey has compiled his most consistent season to date. He promises much and the Pies pay him a small fortunate; but is the man ready to take Dusty's mantle? Can his huge upside be fully utilised at last?
The Collingwood Football Club made the call to give De Goey much more midfield time rather than the permanent forward role that he has mostly played previously. The call was made in Round 11, mostly out of necessity more than anything, due to the Magpie's overall form.
He has averaged 28 disposals a game since the change. This has shown critics that De Goey has the tank and the skills to play through the middle on a more regular basis.
De Goey has added greatly to the Pies' ability to win the contested ball battle more regularly. His size at 90+ kilos allows him to break attempted tackles and feed the ball to his outside runners.
This skill has been lacking due to the injury suffered to midfield beast Taylor Adams, which is why the De Goey experiment was implemented. Sceptics didn't think De Goey's fitness could hold up against the league's elite onballers. However, his form in the back-end of the year has diminished those kind of discussions.
De Goey is a proven goal-kicker that can do impact the scoreboard and do things in attack that most can't replicate. The 2018 Grand Final was a great showcase of De Goey's freakish skills - kicking goals from 50 metres out on the run but also finish goals from the boundary.
JORDAN DE GOEY


Collingwood

2021 SEASON AVG

21
Disposals

1.9
Tackles

3
Clearances
He is a big and powerful forward who has transferable midfield traits that should catapult him into the elite player bracket. He does not play enough games in which he has a big impact on the end result. He often fades in and out of games and hasn't shown he can perform across a full season. This is the big question mark.
The potential that De Goey has, along with a unique football skillset that few AFL players possess, gives him such a high ceiling and could turn him into the next Dustin Martin.
Although, he isn't there quite yet obviously.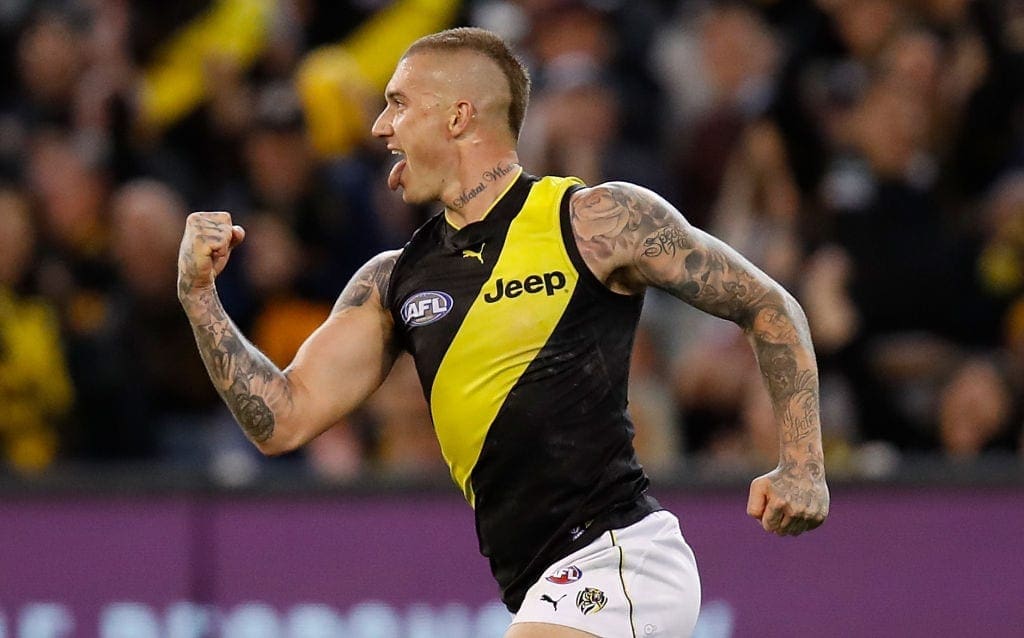 Another pre-season under his belt, which should expand his running capacity to a point where he can get to all relevant contests throughout a whole game should aid this process.
If he can play midfield for 70% of game time and then push forward and make an impact, he has capabilities to kick three goals and gather 25 touches, which not many players can do. That contribution will be significant for the Pies' quest to improve in 2022.
Jordan De Goey's recent form has furthered the discussions around his potential, further suggesting he can get to the heights that the great Dustin Martin has accomplished.