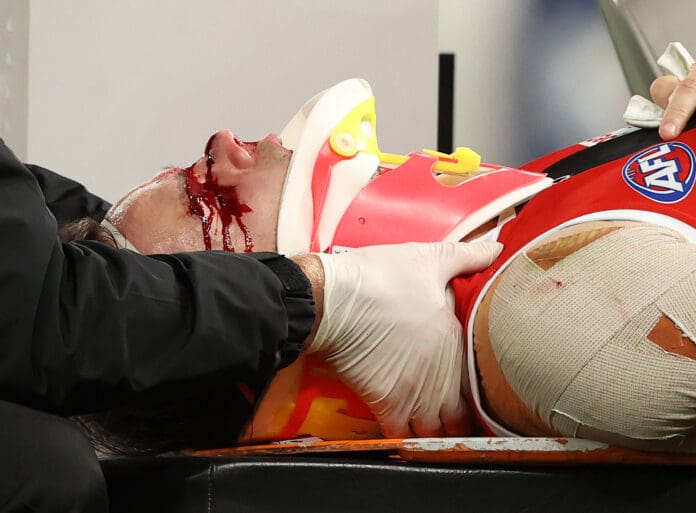 Luckless St Kilda rebounder Hunter Clark is set to spend the next fortnight on the sidelines after suffering a compound fracture to his nose following a 'friendly fire' hit with teammate Dan Butler during their side's 15-point win over Carlton.
After broadcast shots showed the 23-year-old bleeding profusely following the head-on crash, Clark was carted from Marvel Stadium's surface during a crucial juncture of the protracted final term.
Yet, after taking no part during the final seven minutes and change of the enthralling battle between the finals hopefuls, the former first-round draftee further proved his courage by joining the Saints' congregation as they belted out their blues-based theme song post-game.
In his victorious press conference, head coach Brett Ratten paid praise to the tenacious youngster whose exuberance has often left him splayed out across past seasons.
"Hunter's got a broken nose, like a compound fracture sort of come through. It's pretty ugly," Ratten told members of the media.
"He's had a bad run. He's put his head in some wrong spots and been cleaned up.
"It doesn't usually happen (in the game) … but he's brave, tough. He was probably one player you go, 'He's down a little bit' but found a way and then he has that contest, and that was sort of our night I reckon.
"He was trying to do the right thing for the team which is first and foremost."
With the diagnosis confirmed, Ratten's right-hand man, skipper Jack Steele, confirmed that Clark had already gone under the knife on Saturday, with the timeline for his return currently set for Round 19.
"I'd say he is feeling fairly sore at the moment," Steele said on SEN radiowaves.
"I think he's already been in for surgery (on Saturday morning) to get it fixed up."
"We're definitely feeling for 'Hunts' because he has had a few incidents like this, he had his broken jaw last year and he had his AC joint at the start of this season.
"I'm not sure what it looks like (in terms of his unavailability) but I think it will be a couple of weeks at least."
Should Steele's prognosis prove on the money, Clark will miss the Saints' all-important dates against the Dockers and Dogs, with both fixtures scheduled to take place at Marvel Stadium.
Following a collision with Essendon's Darcy Parish during the AAMI Community Series earlier in the year, Clark was left nursing a broken collarbone which delayed the start to his current campaign until Round 14.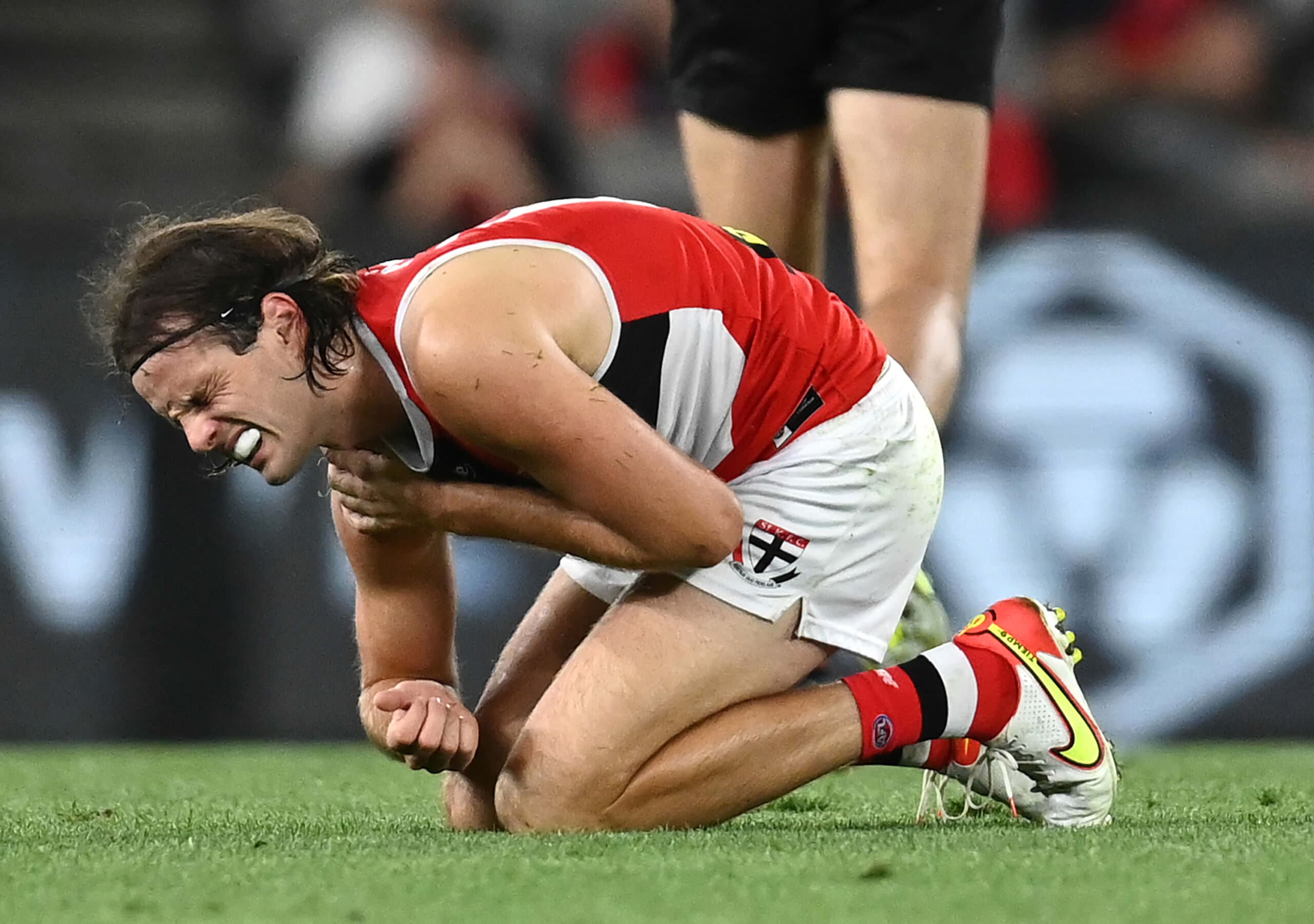 The Dandenong Stingrays product has also been left battered and bruised after clashes with former Crow David McKay and Blues defender Zac Williams across the course of the past 16 months.
This collision with McKay in June of last year left the headbanded defender nursing a broken jaw and dental damage throughout his six-week stint in the stands.
Speaking during his arduous rehabilitation, Clark claimed in October of the same year that he had no designs to change the way he attacked the ball, even if knocks such as those with Parish and Butler were to be ridden.
"It definitely hasn't changed or won't change my approach," Clark told News Corp.
"Once I broke my jaw and I was back training, I almost forgot that I'd had a broken jaw.
"I guess in that circumstance that's good that it's not on my mind or anything."
Still, with his habitual nature of coming off second best in high-speed head-ons, it is yet to be seen whether the blue-chip recruit from the 2017 draft will stay as headstrong going forward.
And with his combined senior football absence now stretching to at least three months across the course of the past two seasons, should these recent trends continue, the highly-touted youngster will only face further strain on his already erratic development.