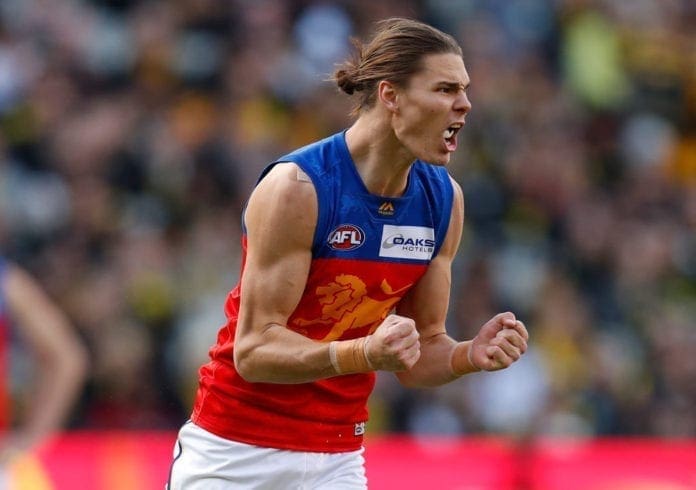 The Lions have expressed their disapproval of recent comments made of Eric Hipwood following the forward's referral to the AFL Tribunal over an incident during Brisbane's clash with the Dogs in Round 16.
During the third quarter, Hipwood appears to push Dogs player Ryan Gardner into umpire Jacob Mollison, leading to the Bulldogs player and official tumbling to the ground after the collision.
The incident led to Hipwood having an opportunity to take an uncontested mark in front of goal and an easy six points for the Lions.
No free-kick was paid during the match but the AFL has since referred Hipwood directly to the Tribunal, putting him in doubt to play in the Lions' upcoming match against Essendon in Round 17.
Brisbane's General Manager of Football Danny Daly explained the club's disapproval over comments made about Hipwood, claiming some commentary doesn't reflect the true personality and character of the 24-year-old.
"It's just a matter of the club and advocate getting to work and putting a case forward to get Eric off," Daly told TAB Radio.
"The one thing I will say is there are a lot of opinions around but one thing about Eric's character is he is a fantastic young man and that is not something he would do intentionally.
"So when I hear people talking about it being intentional I get a bit frustrated because we know what Eric is about."
Daly also went on to argue that the incident is a normal part of the game that occurs regularly, with the inclusion of an umpire getting caught up in the incident an unfortunate accident.
New vision of the Eric Hipwood-umpire contact.

[via: hodgey015/IG] pic.twitter.com/dpuFT3Lj4j

— 7AFL (@7AFL) July 3, 2022
The club remains adamant that the incident was not intentional on Hipwood's part and ensures they will do their best to clear his name.
"Most of the weekend we spent looking into a lot of vision from other games about patterns forwards run to show that this isn't a one off. Players do these patterns and defenders do block them," Daly added.
"I am not surprised it's got no grading. It is one of those incidents that probably hasn't occurred in terms of a player being pushed into an umpire and both going to ground."
Brisbane's 41-point victory over the Dogs leaves them in third place, but are tied in points with second-placed Geelong and fourth-placed Fremantle. The Lions face Essendon at home this week.