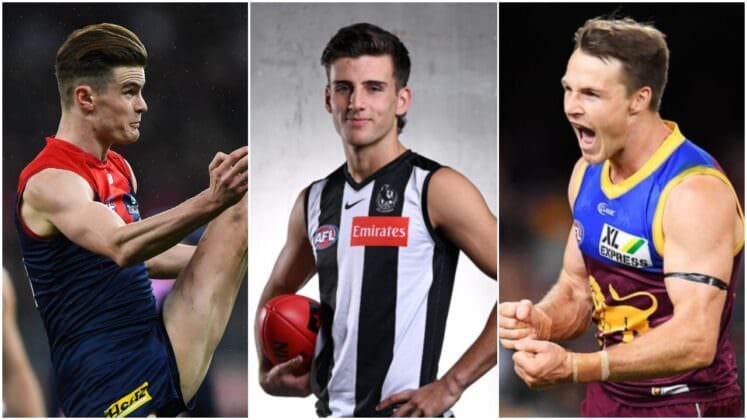 The 2022 AFL season is here, with the Demons and Bulldogs set to ignite the new campaign in a grand final rematch on Wednesday at the MCG.
Both sides will be eager to start their seasons on the right foot, with Simon Goodwin and Luke Beveridge thanking strong opening halves to 2021 for their deep finals pushes.
While Melbourne's premiership defence will be met with plenty of confidence to go back-to-back, the likes of the Bulldogs, Lions, Cats and Power will be vying to ruin successive celebrations for the men in red and blue.
The Demons' title isn't the only piece of silverware set to be heavily contended for, with Port Adelaide star Ollie Wines entering 2022 as the reigning Brownlow Medal winner.
Blue Harry McKay will be hoping to see another strong season result in a place atop the Coleman Medal standings, while a new wave of young guns will compete for the 2022 Rising Star honours.
The Zero Hanger team have listed their predicted premiers, Brownlow medallists, Coleman winners, Rising Stars, All-Australian smokeys, finals finishes and what headlines we may and may not see this year.
Read up on our BIG season predictions for the 2022 AFL season!
Mitch Keating
Premiers: Brisbane Lions
Brownlow: Clayton Oliver
Coleman: Jeremy Cameron
Rising Star: Josh Gibcus
Headline you will see: Dew retains Suns role despite spoon finish
Headline you won't see: Bombers make it back-to-back finals finishes
Smokey All-Australian selection: Shane McAdam
Wooden Spoon: Gold Coast
Top 8: Brisbane Western Bulldogs Melbourne Port Adelaide Richmond Geelong Sydney Carlton
Ed Carmine
Premiers: Melbourne
Brownlow: Marcus Bontempelli
Coleman: Joe Daniher
Rising Star: Nick Daicos
Headline you will see: Tasmania wins 19th AFL licence
Headline you won't see: Clarkson provides clear answer on future
Smokey All Australian selection: Shai Bolton
Wooden Spoon: Hawthorn
Top 8: Melbourne, Brisbane, Western Bulldogs, Richmond, Geelong, Port Adelaide, Sydney, Carlton
Jack Fitzpatrick
Premiers: Brisbane
Brownlow: Marcus Bontempelli
Coleman: Lance Franklin
Rising Star: Jason Horne-Francis
Headline you will see: Coach Clarko: Alastair Clarkson takes on new challenge
Headline you won't see: SoFi Stadium to the MCG: Snoop Dogg, Eminem to perform at AFL Grand Final
Smokey All Australian selection: Cam Rayner
Wooden Spoon: Hawthorn
Top 8: Brisbane, Richmond, Melbourne, Port Adelaide, Western Bulldogs, Geelong, Sydney, St Kilda
Nick Splitter
Premiers: Port Adelaide
Brownlow: Christian Petracca
Coleman: Joe Daniher
Rising Star: Jason Horne-Francis
Headline you will see: "Rankine, Lukosius join King with extensions up north"
Headline you won't see: "Free from desire: Bulldogs need to find hunger"
Smokey All Australian selection: Callum Wilkie
Wooden Spoon: Gold Coast
Top 8: Port Adelaide, Melbourne, Brisbane, Western Bulldogs, Sydney, Geelong, St Kilda, Essendon
Cameron Grimes
Premiers: Brisbane
Brownlow: Clayton Oliver
Coleman: Bayley Fritsch
Rising Star: Nick Daicos
Headline you will see: Mighty Roar! Lions down Power in Grand Final classic
Headline you won't see: AFL listens to fan feedback, brings back Red Rooster to the G
Smokey All Australian selection: Liam Baker
Wooden Spoon: Adelaide
Top 8: Brisbane, Melbourne, Bulldogs, Port Adelaide, Geelong, Sydney, Essendon, Richmond
Danielle Sorati 
Premiers: Western Bulldogs
Brownlow: Christian Petracca
Coleman: Bayley Fritsch
Rising star: Nick Daicos
Headline you'll see: Max King kicks himself into early Coleman contention
Headline you won't see: Fans thrilled with grand final time slot announcement
Smokey All Australian selection: Noah Anderson
Wooden spoon: Hawthorn
Top 8: Brisbane, Western Bulldogs, Melbourne, Sydney, Port Adelaide, Geelong, Fremantle, GWS
Jake Benoiton 
Premiers: Melbourne
Brownlow: Christian Petracca
Coleman: Bayley Fritsch
Rising Star: Nick Daicos
Headline you will see: Clarko takes over at Alberton
Headline you won't see: Bomber rise continues with finals win
Smokey All Australian selection: George Hewett
Wooden Spoon: Hawthorn
Top 8: Melbourne, Brisbane, Port Adelaide, Western Bulldogs, Sydney, Richmond, Carlton, Geelong
Jess Wuetschner
Premiers: Brisbane
Brownlow: Marcus Bontimpelli
Coleman: Aaron Naughton
Rising Star: Nick Daicos
Headline you will see: Brisbane have won the double, history has been made!!
Headline you won't see: Australia is loving the commentary of Brian Taylor
Smokey All Australian selection: Lincoln McCarthy
Wooden Spoon: West coast
Top 8: Western Bulldogs, Brisbane, Melbourne, Port Adelaide, Sydney, Richmond, Essendon, Fremantle
Niesha Happell
Premiers: Brisbane Lions
Brownlow: Marcus Bontempelli
Coleman: Harry McKay
Rising Star: Jason Horne-Francis
Headline you will see: Lions finally have a successful September
Headline you won't: Bombers break their finals losing streak
Smokey AA: Andrew Brayshaw
Wooden Spoon: Hawthorn
Top 8: Brisbane, Port Adelaide, Melbourne, Western Bulldogs, Sydney, GWS, Richmond, Carlton
Will Guthrie
Premiers: Melbourne
Brownlow: Christian Petracca
Coleman: Bailey Fritsch
Rising Star: Nick Daicos
Headline you will see: Gold Coast locks in Clarko
Headline you won't: Saints prove everyone wrong and win a flag finally
Smokey AA: Jordan Ridley
Wooden Spoon: Gold Coast
Top 8: Melbourne, Brisbane, Port Adelaide, Western Bulldogs, GWS, Geelong, Sydney, Carlton
Michael Georgiou
Premiers: Western Bulldogs
Brownlow: Patrick Cripps
Coleman: Tom Hawkins
Rising Star: Nick Daicos
Headline you'll see: The Cats break hoodoo to win Week 1 of Finals
Headline you won't see: Fans unanimously agree on Toby Greene suspension
Smokey All-Australian Selection: Tarryn Thomas
Wooden Spoon: Hawthorn
Top 8: Bulldogs, Melbourne, Geelong, Richmond, Brisbane, Port Adelaide, GWS, St Kilda
Jack Jovanovski
Premiers: Brisbane Lions
Brownlow: Christian Petracca
Coleman: Aaron Naughton
Rising Star: Nick Daicos
Headline you will see: "Hinkley sacked after Port falter in finals yet again."
Headline you won't see: "AFL forced into fixture madness due to COVID."
Smokey All Australian selection: Zak Butters.
Wooden Spoon: Adelaide Crows.
Top 8: Western Bulldogs, Brisbane, Melbourne, Richmond, Port Adelaide, GWS, Geelong, Fremantle
Sam Harvey
Premiers: Brisbane Lions
Brownlow: Marcus Bontempelli + Clayton Oliver
Coleman: Aaron Naughton
Rising Star: Nick Daicos
Headline you will see: New Dawn: Clarkson rises to the Gold Coast challenge.
Headline you won't see: MCG roof gets the all clear.
Smokey All Australian selection: Zac Bailey
Wooden Spoon: Hawthorn
Top 8: Brisbane Melbourne Western Bulldogs Port Adelaide Richmond Sydney Essendon Carlton