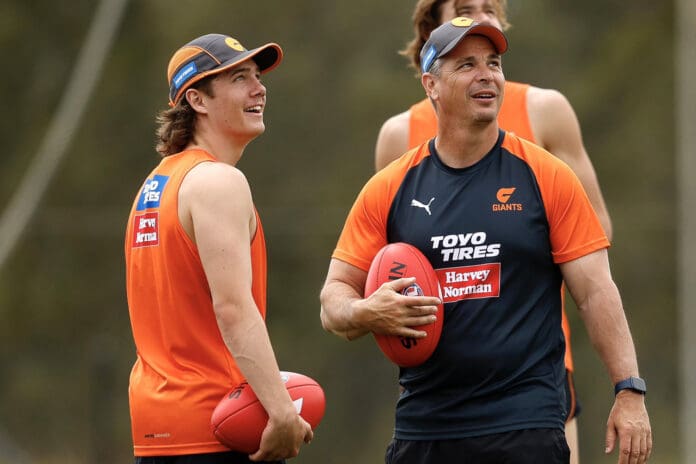 GWS senior coach Adam Kingsley has provided updates on numerous injured Giants, announcing a timeline for the return of a number of his key disciples.
The Giants have been hamstring-hit in recent times, with prominent key defender Sam Taylor, prolific midfielder Josh Kelly, and dangerous forward Brent Daniels all bogged down by the dreaded soft-tissue ailment, while running defender Isaac Cumming (calf) has also been sidelined.
However, according to Kingsley, who fronted the media on Wednesday, Taylor and Daniels are set to rejoin the fray over the course of the next fortnight, if not sooner, while Kelly and Cumming are likely to return to GWS' matchday squad following the club's Round 15 bye.
"I think Sam (Taylor)'s probably the most likely to [return] pre-bye, but he has to get through a full week and a half of training, yet, to put his hand up at selection," began Kingsley.
"Isaac Cumming is joining back, he's most likely post-bye, as [is] Josh (Kelly).
"Brent Daniels, [who suffered a] minor hamstring from the weekend, looks touch-and-go for the Fremantle game, so we're starting to get some of our top players back, which is nice."
Kingsley also touched on the positive aspect of having a number of first-teamers injured, being that the Giants have had their depth tested and have subsequently been afforded the chance to evaluate numerous previously-untried prospects, including second-gamer Josh Fahey, who booted an uplifting goal against Richmond last Sunday after entering the contest as GWS' substitute.
"It's put us in a position where we're getting games into some of the guys who haven't had a lot of exposure to AFL footy," Kingsley continued.
"That's the [positive] about getting injuries, you know, obviously you want your best team out there each and every week but that's not possible for anyone, so, we've been able to put a lot of games into players, [who can] learn on the job, if you want to call it that, [receive] guidance from senior players, both playing and non-playing.
"I'm sure that'll make us a better group towards the back end of the year and beyond."
GWS will travel to Hobart's Blundstone Arena to play North Melbourne this Sunday.