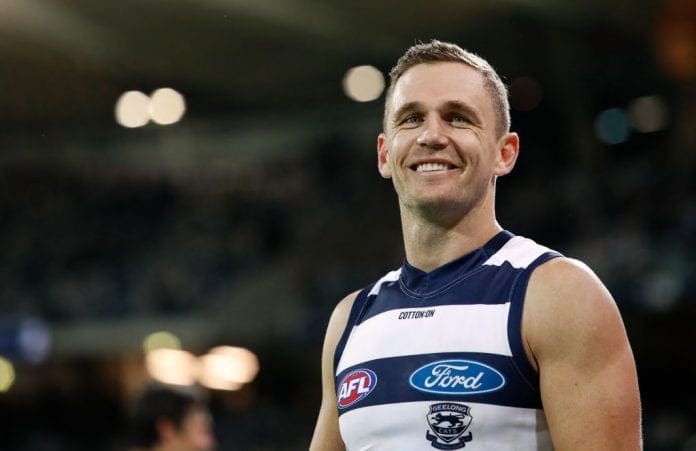 Joel Selwood has opened up on the conjecture that has followed much of his career during an interview with SEN's Dwayne's World, detailing the impact that crowd booing and media coverage has had on his life throughout his 16 years in the game.
The three-time premiership player is no stranger to earning the ire of opposition fans given his tendency to play on the edge, often earning head high free kicks thanks to his game style.
When asked how he copes with booing while on the field, the 33-year-old revealed that he accepts that not all fans will like him, but that it is an "ugly part of sport."
"You can't please everyone," Selwood answered.
"I regularly listen to a few people that I obviously like to and I'm happy to share them with you, a Nathan Buckley or a Nick Riewoldt, those guys that are straight out of the game that call the game and call it for what it is, I think you also get a lot of feedback from them.
"I'm guessing that you (Russell) are talking about the rules and head highs and all that, you get an understanding that they see it differently and they've been living in it for a long time.
"We would just appreciate it if everyone called it that way too."
Selwood added that he believed media coverage influenced fans' perception of him as a player.
"I think the commentators, from what we understand, you get a briefing at the start of the year and I think there's a consistency to probably just have to go with that commentary. I'm not talking about you personally Dwayne, I think across the board there's a number of people," Selwood said.
"If you're in the game a long time you're going to have a lot of people that are not going to like particular ways that you go about footy," he added.
"It's not something that keeps me up at night.
"I fear for my mum and my wife and people around me (on the booing), but not necessarily for myself."
Just 11 games short of hitting the 350 game milestone, Selwood has already solidified his spot as one of the all time greats at Geelong. Dwayne Russell spoke candidly after the interview, echoing Selwood's sentiments.
"He was fairly stern with me, I think, but I know Joel a bit and I think he was stern with me, kind of saying, 'well, you guys in the media could support us ball getters a bit more than you do'," Russell said.
"He, I think, feels that some people in the media want to rev up (the narrative of), 'oh, that's high, oh, he ducked' scenario.
"So it was good to hear him not necessarily try to put me back in my place, but give a perspective from him.
"But to call booing the ugly side of sport was an interesting acceleration of that whole debate.
"To hear Joel Selwood say that it doesn't affect him but it affects his family, and he doesn't really like it for their aspect, it was interesting to hear, it was nice to have a chat with him."