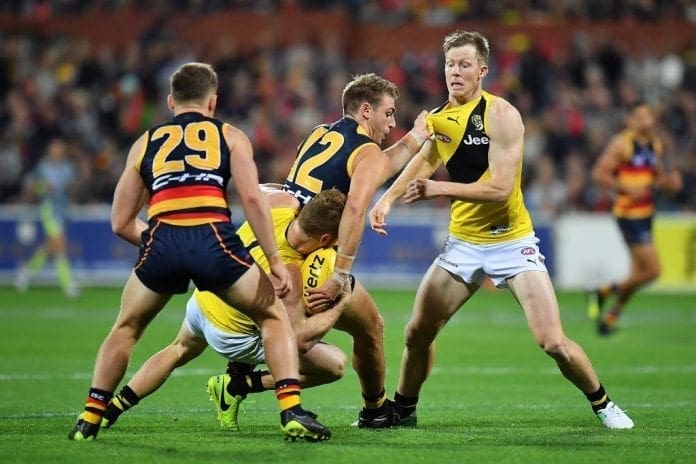 Richmond's Jack Riewoldt had a first hand look at the Crows on Sunday and he thinks they are destined for big things not just this year but beyond.
The Tigers, who were 5-0 after the opening five rounds of the season, were handed a lesson by the Crows, who dealt Riewoldt's side a 76-point hammering.
The two-time Coleman Medalist said he was simply in awe of the free flowing, high-scoring Crows.
He also said the team reminds him of the great sides of recent years, namely the Geelong side who won three premierships in five years from 2007-11 and the Hawthorn team that won three consecutive flags from 2013-15.
"You look at the successful sides over the last decade, they've been together for a while most of the Crows guys." Riewoldt said on Tuesday night on AFL360.
"They've had a few young guys come in, but they are as well-rounded an outfit as certainly I've played against for a while.
"They are coached really well (and) they get their spacing right.
"In terms of their structures they are really compliant to what they need to do.
"They are a super, super side and they deserve to be the premiership favourites."
The 28-year-old said that while he was disappointed with the performance and the heavy loss, it was a great opportunity for the side to learn from the game and improve as the season progresses.
"It was a really good learning curve for some of our younger kids to understand what it's like to travel and play in front of 50,000 screaming Crows fans," Riewoldt said. "(They) learned a bit about themselves."
It doesn't get any easier for Richmond, who play the reigning premiers at Etihad Stadium on Saturday night.
The Crows, who now sit 6-0, face North Melbourne in Hobart on Saturday afternoon.