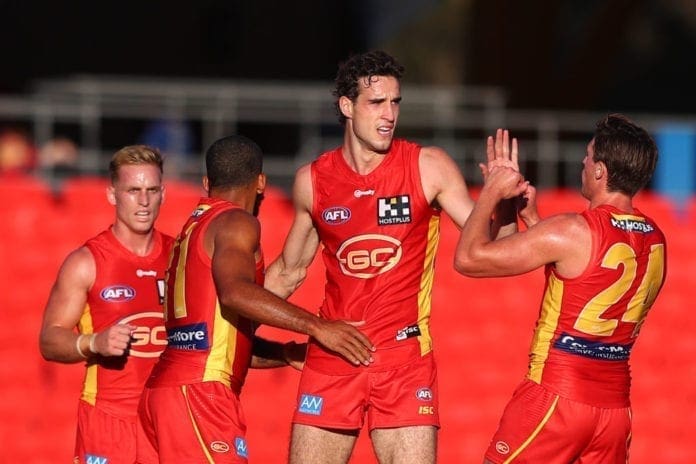 Gold Coast coach Stuart Dew has detailed the thinking behind the club's decision to sub star forward Ben King out of Saturday's game against Port Adelaide.
King was kept to one disposal before being withdrawn from play in the third term, with the Suns spearhead limited to no goals in successive weeks for the first time since Round 7, 2020. King had booted at least one goal in his first 14 games to start the 2023 season prior to last week's loss to Collingwood.
Port Adelaide's rearguard were able to put clamps on King's impact throughout the first two quarters before removing the Suns' six-point half-time lead and piling on nine third-quarter goals to claim a 13th consecutive win.
While many viewed the decision to sub King out as a statement from Dew, the Gold Coast coach revealed post-game the move was purely tactical, with a multitude of factors at play to bring Jy Farrar into the game midway through the third quarter.
"At times our delivery (was down), we had some good looks we just couldn't get it to the advantage side," Dew said after the 33-point defeat.
"A lot of those balls fell short. We've gotta keep working on our entries, but obviously, Port ramped up their pressure as well. There was a little bit more dirty ball going in and they were able to come across and assist.
"We talked about it in the end. We subbed Ben, it wasn't his night and we thought we'll go a bit smaller. We used that as a tactical one to try and get Jy Farrar on, get a bit more speed, because we felt when they got ascendancy it was bouncing out of there pretty quick.
"He actually got his hands on a few early. He was frustrated. He's been presenting really well.
"I don't think he's had many nights like that that where it hasn't been his night. It was a simple message to him: 'Look, we're gonna go a little bit smaller'.
"Levi (Casboult) was looking dangerous and Jack (Lukosius) was working up and down the ground. So it was purely tactical. And again, on a greasy night, we just wanted to change a little bit.
"I was just pretty honest with him around that."
King's goal drought comes as the Suns' VFL side continue to mount selection pressure on their senior forwards, with Chris Burgess and Brodie McLaughlin sitting first and second respectively on the competition's goalkicking leaderboard.
Gold Coast's reserves booted 22 goals in a triple-digit win over Frankston at home on Saturday afternoon, with Burgess (five goals), McLaughlin (two), Sam Day (four) and Mabior Chol (six) all contributing in attack.
Dew is likely to stick with King through his rough patch, while Jack Lukosius and Levi Casboult have stood tall across the course of the season. King and Lukosius have combined for 60 goals in 2023, while Casboult was the Suns' leading man against the Power with his aerial dominance and goalkicking prowess.
The former Carlton forward would kick a quartet of goals to keep his side in the contest, with Dew hailing the veteran key forward.
"He's been great for us since he's come to the footy club," Dew said of Casboult.
"We probably all agree that he was coming to be depth and help us out physically, but he just keeps fronting up. The players love playing with him because he's got a physical presence.
"Again, he stood up for us tonight."
The Suns remain in the top eight hunt despite three losses in four weeks, currently placed four points outside the finals frame with seven wins from 16 games.