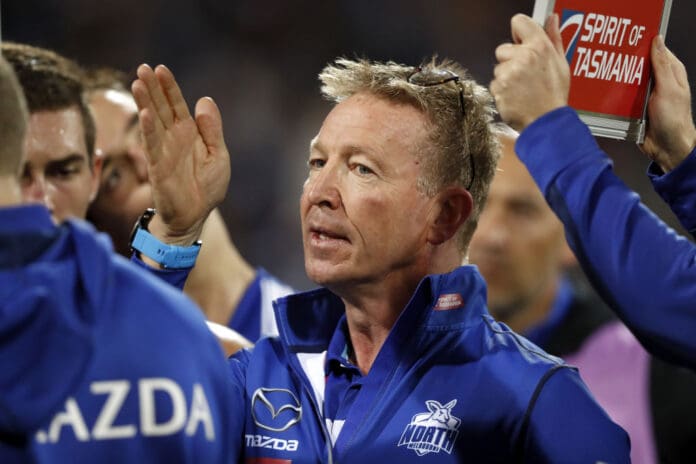 Although he is 'the new kid' on the block located between Arden and Fogarty Streets, North Melbourne coach David Noble explained that he was aware of the importance of Sunday evening's grudge match against old rivals Essendon.
Speaking to the media on Friday morning, the 54-year-old stated that even though this was his first season 'beneath the blue and white', the history of the conflict was not lost on him.
"I know a bit," Noble said.
"I've sort of sat back and understood rivalries.
"I've probably got a clear understanding of the history, it runs really deep. It means a lot to our fans and our members, and it means a lot to us."
Although only in his first year at the club, Noble said he understood the importance of the club's rivalry with Essendon, as well as what it meant to the fans. @zerohanger

— Ed Carmine (@ed_carmine) May 21, 2021
Despite the fact that the importance of this feud has been downplayed by the Bombers over the years, Noble was quick to reiterate his stance.
"I guess that's Essendon's choice. We know where we sit with it. We have a respect for that rivalry and that will be how we approach it," he said.
When asked what that means in practical terms, the Tasmanian shielded his cards from the media throng.
"You'll just have to wait and see on game day."
With the Roos finally getting its first win for 2021 last week against the Hawks in Launceston, Noble declared that his young group had already shifted their focus to their next clash.
"That [the victory over Hawthorn] was nearly a week ago," he said.
"We're just back to training and getting our intensity levels right.
"We said post-game that it is great nourishment for the club, but now it's been a really clear focus over the last few days to get back to the elements that we've been trying to work on."
SEE ALSO: Alex Rance to officially come out of retirement for local club next weekend
While the highs of last week were in his rearview mirror, Noble did pay praise to his defensive and midfield units for fighting and receiving the "nourishment" he felt they deserved.
Noble also celebrated the importance of the hard nosed Ben Cunnington, even going so far as to say that he was on a par with Brownlow medal winning midfielders Patrick Dangerfield and Lachie Neale.
The North coach should know, as he has worked closely with the decorated pair across his time in the game.
In spite of the fact that some pundits had the Kangaroos finishing 2021 with the first winless campaign since Fitzroy in 1964, the former Brisbane general manager of football claimed there was still a hunger for more success this season.
"We want to win every week,"
"I don't know whether we're just getting caught up in just one win – we're not.
"The 20-minutes post-game was terrific, but we're going out in win every week, so if we bring the same level of intensity and grit around the ball, then that's what we're aiming for – to have another win."
Embed from Getty Images
As the Kangaroos are still rooted to the foot of the competition table with their 1-8 record and a meagre percentage of less than 60, the question surrounding a priority pick was once again posed to the club's senior coach.
Although currently languishing in comparison to the other 17-teams in the competition, Noble professed it was premature to speculate on the matter.
"I don't think we will know until we get into the back end of the years as to how fast we escalate," he said.
"The mechanism is there, and I don't disagree with what 'Kingy' [David King] said either. I think we are owning what we are doing and how we are going about it.
"We made some bold decisions with the number of players we've tipped out, but what you are seeing is the elevation of our young talent. It's really exciting."
Noble said the club won't know until the back end of the year whether a priority pick is warranted. @zerohanger

— Ed Carmine (@ed_carmine) May 21, 2021
Noble also downplayed the impact the club's lengthy injury list was having on both their mood and performance.
"I don't think it's impacted us that much, to be honest."
"I think what we work with is what we've got. I think if you make it an issue, it becomes a bit more of an issue.
"I guess what we've looked on is the opportunity that it has created for Phillips [Will], Powell [Tom], Lazzaro [Charlie], Mahony [Jack], Curtis Taylor, it has allowed us to play those guys."
North Melbourne will face off against Essendon in the latest chapter of their storied rivalry on Sunday 4:40pm AEST at Marvel Stadium.