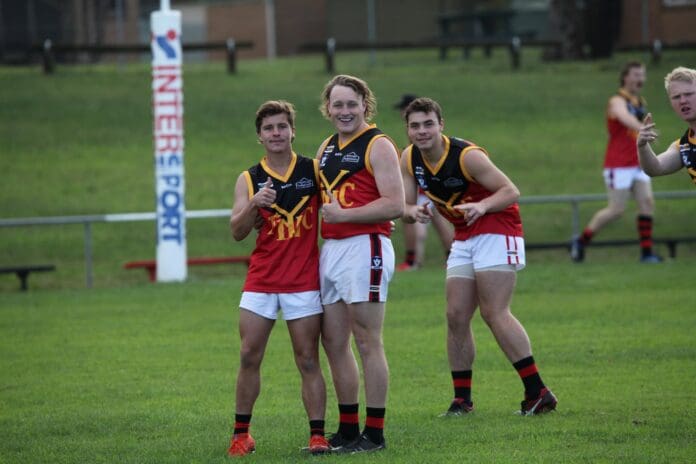 IF you scroll through the 602 players nominated for Wednesday's mid-season draft you may stumble across a youngster playing in the North Gippsland Football Netball League.
That youngster's name? Blake Dyson.
Dyson, 18, has recently made the switch to the red and black of Yallourn Yallourn North, and he's hoping an AFL club takes a chance on him.
In 2020, Dyson and three of his mates decided to declare for the national draft.
Shortly after he declared for the draft, the Traralgon local was thinking of a move to Western Australia, so he spoke with a few WAFL clubs about what it'd take for him to get a spot on their list.
But in a brutal double blow, he wasn't selected in the draft, and then COVID-19 meant he couldn't make the move to Western Australia.
None of his mates got picked either.
But a few weeks ago, another opportunity arose for the youngster.
"I don't think there's enough player movement in the game." #AFL https://t.co/AUWtizpSKR

— Zero Hanger (@zerohanger) May 30, 2021
"I got an email a few weeks ago about the mid-season draft and I thought, I've talked to a couple WAFL clubs so may as well put my name in and see how I go," Dyson said.
"It might be interesting, you never know."
Blake Dyson played his entire junior career at Moe, and in 2018 he was selected as captain for the Gippsland League Under-16's interleague team.
The following year he was named in the Under-18's as a bottom-age player, and, in 2020, the pandemic meant he missed out on the opportunity to represent his league once again.
Although he was flourishing in interleague competition, Dyson never got his chance at the Gippsland Power.
For that, he blames his lack of exposure at Under 14 level.
"In the Under 14s, I was a bit of a back pocket rocket, so I got overlooked because I wasn't one of the big gun midfielders," Dyson said.
"I never really got into the system after that."
Over the off-season, Dyson looked at Moe's senior list, and - realising he probably wouldn't get a game - decided to move to Yallourn Yallourn North.
"I didn't really want to stick around to play reserves if I'm trying to get the most out of my footy."
"So, I made the move, and I haven't really looked back since."
He went to the Bombers with every intention of playing senior footy but things quickly changed.
RELATED: Bombers, Hawks, Lions open up list spots for Mid-Season Draft
His mates - who were playing in the under 18s - were short on numbers, and when the coach asked if he'd like to use a 'down age' pass to allow him to play in the underage competition, he thought "if that'll help out the boys, I'm more than happy to".
But Dyson said the league is now reviewing his suitability as a down age player.
If he gets picked up in today's draft, they won't have to worry about any of that.
In terms of his football, Dyson, who stands at 180cm, likes to compare himself to Mitch Robinson, the Brisbane Lions' hard-nut, who does one percenters that the coaches love.

And it's that approach to footy that'll keep him glued to the tele tomorrow night.
"Yeah, I'll keep it on just in case, I might get picked up first, you never know."
And he's been thinking about the club's that might take a chance on him.
"I probably have the most chance of getting a game with North Melbourne the way they're travelling," Dyson joked.
"But I really like GWS and the culture they've got over there so I reckon they'd probably be the number one spot."
"I support Essendon but the way they're going I don't think I'd be getting a gig either, they're going pretty well."
"You never know..." is the mantra that Dyson is approaching this week's rookie draft with.
Dyson said there's no reason why the good old days of random players coming to training, training well, then earning a spot on a list, can't come back.
"If you did that sort of stuff then, why can't you do it now?"