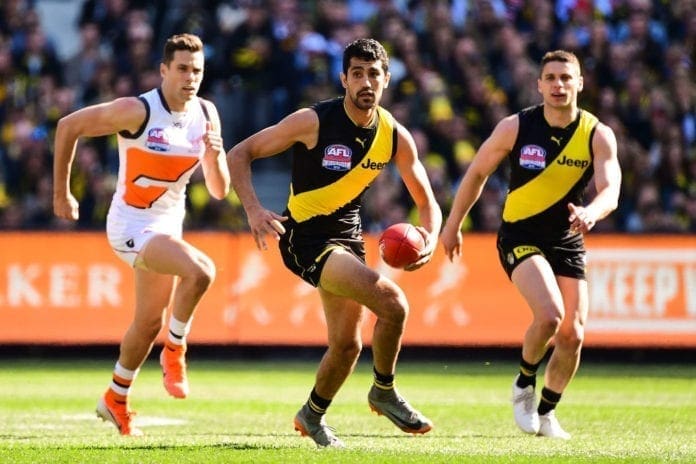 The AFL has released the names of the 602 players nominated for the mid-season draft.
The players come from state and local competitions and include former AFL players Nathan Freeman, Daniel Gorringe and Jarrod Garlett.
The draft will take place in a virtual broadcast live on the AFL's official website and app on Wednesday, June 2 from 6:30pm AEST.
13 clubs have a pick in the draft, including premiers Richmond who placed ruckman Ivan Soldo on the long-term injury list to secure a pick.
Carlton, Collingwood, Gold Coast, Melbourne and North Melbourne all have two selections in the draft, while Adelaide, Essendon, GWS, Hawthorn, Port Adelaide, Richmond, St Kilda and Sydney have one pick each.
In 2019, Richmond selected Marlion Pickett in the inaugural mid-season draft who then made his debut on Grand Final day.
Collingwood also had success in the draft by picking John Nobel, while Essendon selected Will Snelling.
All eyes will be on whether any club takes a punt on former Collingwood and St Kilda player Nathan Freeman.
Freeman played two senior games in the AFL after being drafted by Collingwood with Pick 10 in the 2013 AFL Draft, but has averaged 41 disposals for Frankston in the VFL this year.
Former Collingwood recruiter Matt Rendell urged Richmond earlier in the week to give the 25-year-old a career lifeline.
The full list of players nominated for the draft is listed below courtesy of AFL.com.au.
| | | |
| --- | --- | --- |
| First Name | Surname | Club |
| Tahj | Abberley | Wilston grange gorillas/ brisbane lions vfl |
| Ethan | Acevski | Western Jets |
| Aiden | Adams | Manly Wolves |
| Vincent | Adduci | Box Hill |
| Paul | Ahern | Northern Bullants |
| Ajang | Ajang | East Perth |
| Emmanuel | Ajang | Werribee/  Geelong west giants |
| Hamish | Allan | Sturt FC |
| Matthew | Allen | Glenelg |
| Noah | Allen | Geelong Falcons |
| Frank | Anderson | Swan Districts |
| Spencer | Anderson | Old Melburnians Football Club |
| Daly | Andrews | Williamstown FC |
| Jordan | Andrews | Noble Park |
| Flynn | Appleby | North Melbourne VFL |
| Harrison | Arnold | Brisbane Lions |
| William | Arthurson | Frankston Dolphins |
| Jacob | Atley | Therry Penola OB |
| Joseph | Atley | Essendon |
| Logan | Austin | Rochester |
| Frane | Babic | west adelaide bloods |
| Angus | Baker | Essendon Football Club |
| John | Baker | Western magpies |
| Riley | Baldi | Casey Demons |
| Thomas | Baldwin | Claremont Football Club |
| Jacob | Ballard | Coburg VFL |
| Jackson | Barling | West preston |
| Oscar | Barrow | Geelong Falcons |
| Jake | Bartholomaeus | Sydney Swans VFL |
| Nicholas | Barton | Dalkeith Collegians |
| Ryan | Bastinac | Aspley Hornets |
| Jesse | Battistella | St Kevin's Old Boys |
| Jacob | Bauer | Inner West Magpies/Swans Academy |
| Hugh | Beasley | Box Hill Hawks |
| Ethan | Beer | St Kevin's, old boys |
| Aiden | Begg | Eastern Ranges |
| Joshua | Begley | Frankston |
| Matthew | Belbasis | North Adelaide Football Club |
| Jack | Bell | Casey Demons |
| Jaxon | Bellchambers | South Fremantle Football Club |
| William | Bianco | Woodend-Hesket |
| Oscar | Bird | Perth Football Club |
| Jacob | Blight | Claremont Football Club |
| Kwabena | Boakye | Southport |
| Harvey | Bock | West Adelaide |
| Timothy | Bockman | East Fremantle football club |
| Ezekiel | Bolton | Subiaco Football Club |
| Jye | Bolton | Claremont |
| Andrew | Booth | None |
| Jacob | Booth | Collingwood |
| Kyle | Borg | Melton Bloods Football Club |
| Nathan | Boucher | Coburg Lions |
| Gennaro | Bove | Geelong Falcons |
| Charlie | Bowes | Wilston grange |
| Riley | Bowman | |
| Jackson | Bowne | Bundoora Bulls |
| Jordan | Boyd | Footscray |
| Deacon | Braun | NT Thunder |
| William | Bravo | Dandenong stingrays |
| Hamish | Brayshaw | West Coast Eagles WAFL |
| Dominic | Brew | Werribee Football club |
| Nicholas | Brewer | North Shore Bombers |
| Jack | Briskey | Sherwood magpies |
| Curtis | Brown | North Melbourne VFL |
| Jack | Buller | Claremont |
| Connor | Bulley | Sherwood Magpies and BL VFL |
| Nicholas | Burke | Geelong VFL |
| Lachlan | Burrows | Sturt Football Club |
| Isaiah | Butters | Claremont Tigers |
| Wylie | Buzza | Werribee Football Club |
| Charlie | Byrne | Murray Bushrangers |
| Jack | Byrne | St Kevins Old Boys |
| Tyler | Caffell | Keller-Tammin football club |
| Jackson | Callow | Norwood Football Club |
| Clay | Cameron | Woodville West Torrens Eagles |
| Jackson | Cardillo | Calder Cannons |
| Ned | Carey | Norwood FC |
| Lachlan | Carrigan | Sandringham Dragons |
| Shatna | Cashen-Harris | Wilson grange |
| Benjamin | Cass | Trentham Football Netball Club |
| darcy | Cassar | footscray bulldogs |
| Kade | Chalcraft | Murray Bushrangers / Shepparton United FNC |
| Bailey | Chamberlain | West Adelaide |
| Will | Chandler | Glenelg |
| Joshua | Chatfield | North Ballarat Football Netball Club |
| Darcy | Chirgwin | Weribee |
| Jesse | Clark | Werribee Football Club |
| Noah | Clarke | North Shore Bombers |
| Regan | Clarke | Perth |
| Aaron | Clarke | Coburg |
| Joshua | Clarke | Eastern ranges |
| Josh | Clayton | Wodonga Bulldogs and North Melbourne FC |
| Luke | Cleary | Sandringham Dragons |
| Samuel | Clohesy | St Joeys Geelong |
| Nathan | Colenso | Southport |
| Samuel | Collins | Oakleigh Chargers and Collingwood VFL |
| William | Collins | Swan Districts Football Club |
| Samuel | Conforti | Sandhurst Football Club |
| Liam | Conway | Western Jets |
| William | Coomblas | Sturt Football Club |
| Nathan | Cooper | Werribee Football Club |
| Billy | Cootee | Western Jets |
| Charles | Cormack | Old Scotch Football Club |
| Cooper | Craig-Peters | Redan Football Netball Club |
| Joel | Crocker | Frankston Football Club |
| Ben | Crocker | Carlton VFL |
| Jared | Crosbie | North heildelburg |
| Ashton | Crossley | 60 banksia broadway, burleigh waters |
| Brayden | Crossley | Southport Sharks |
| Saxon | Crozier | Morningside AFC |
| Lachlan | Cullen | Peel Thunder |
| Jordan | Cunico | Box Hill Hawks |
| Edward | Curley | East Fremantle |
| Joshua | D'Intinosante | Coburg |
| Sam | Darley | Leeton Crows |
| Sam | Davidson | West Adelaide Football Club |
| Oliver | Davis | Adelaide Crows SANFL |
| Oscar | Davis | University of Sydney |
| Anthony | Davis | Claremont fc |
| Jacob | Dawson | Southport |
| Liam | Dawson | Aspley Hornets |
| Matthew | Day | Essendon Football Club |
| Benjamin | De Bolfo | Northern Knights football club/Heidelberg football club |
| Charlie | Dean | Williamstown Football Club |
| Kye | Dean | Morphett ville park |
| Kye | Declase | Werribee Football Club |
| Liam | Delahunty | Port Melbourne Football Club |
| Edward | Delany | Carlton VFL |
| Reece | Desira | Avondale heights football club |
| Hamish | Dick | North Melbourne Football Club |
| Lochlan | Dickson | Coburg Football Club |
| Hugh | Dixon | East Fremantle Football Club |
| Sean | Donnelly | None |
| Chance | Doultree | Old Melburnians |
| Patrick | Dowling | Glenelg FC |
| Thomas | Downie | Williamstown |
| Max | Dreher | West Preston lakeside roosters |
| Jack | Driscoll | Albury Tigers |
| Zachary | Dumesny | South Adelaide Football Club |
| Elliot | Dunkin | West Adelaide FC |
| Kyle | Dunkley | Essendon VFL |
| Luke | Dunne | Benalla Saints |
| Sam | Durdin | Glenelg FC |
| Samuel | Durham | Richmond FC VFL |
| Mitchell | Duval | West Adelaide |
| Blake | Dyson | Yallourn/Yallourn North |
| Matt | Eagles | aspley hornets |
| Ethan | East | Central district football club |
| Oliver | Eastland | Claremont fc |
| Nicholas | Ebinger | Williamstown FC |
| Campbell | Edwardes | Keilor |
| Ben | Edwards | Claremont Football Club |
| Benjamin | Edwards | Port Adelaide Football Club SANFL |
| Cameron | Edwards | East Coast Eagles |
| Jackson | Edwards | Glenelg FC |
| Jacob | Edwards | Sandringham Dragons |
| Fraser | Elliot | University Blues |
| Finn | Ellis Castle | Mildura FC |
| Corey | Ellison | Casey Demons |
| Mutaz | Elnour | Northen Bullants |
| Luke | English | East Fremantle football club |
| Caleb | Ernst | Strathfieldsaye |
| Jack | Evans | Bendigo Pioneers & Essendon VFL |
| Billy | Evers | Labrador FC |
| Daniel | Fahey-Sparks | Sturt Football Club |
| Kobe | Farmer | Swan district football club |
| Ronald | Fejo | West Adelaide FC |
| Shane | Fensom | Canning Vale Senior Football Club |
| Karl | Finlay | North Adelaide Football Club |
| Samuel | Fisher | Swan Districts FC |
| Liam | Fitt | South Adelaide football club |
| Brayden | Fleming | Oakleigh Chargers / Collegians |
| Jackson | Flint | Lilydale Football Club |
| Felix | Flockart | Sandringham Dragons |
| Logan | Foley | West Perth |
| Sac | Foot | Casey Demons |
| Jordan | Foote | UNSW Bulldogs |
| William | Fordham | Frankston Football Club |
| Jye | Formosa | Strathfieldsaye |
| Matthew | Forrest | North Mackay Saints |
| Sam | Fowler | Collingwood VFL |
| Nathan | Freeman | Frankston |
| Damon | Freitag | South Adelaide |
| Corey | Fritze | Hallam hawks |
| Samuel | Frost | Queanbeyan Tigers |
| Kale | Gabila | North Shore Bombers |
| Samuel | Gaden | South Adelaide Football Club |
| Noah | Gadsby | Geelong Falcons |
| Kyle | Galloway | Coburg |
| Jordan | Gallucci | Williamstown |
| Jarrod | Garlett | Railways football club |
| Hudson | Garoni | Werribee Football Club |
| Jake | Gasper | Port Melbourne |
| Lachlan | Gawel | Carlton reserves |
| Clayton | Gay | Dandenong stingrays |
| Kobi | George | Doveton |
| Roy | George | Peel thunder |
| Keagan | Geran | Kangaroo Flat |
| Braedyn | Gillard | Coburg |
| Hamish | Gilmore | GIANTS Under 19's Academy & Wagga Tigers |
| Ryan | Gilmore | Southport Sharks |
| Jesse | Glass-McCasker | Footscray Bulldogs |
| Samuel | Glover | Collingwood VFL |
| Lachlan | Godden | Oakleigh Chargers |
| Luca | Goonan | Casey Demons |
| Joshua | Gore | West Adelaide |
| Daniel | Gorringe | Powelltown |
| Finn | Gorringe | East Fremantle |
| Kieran | Gowdie | Clarmont football club |
| Billy | Gowers | Southport Sharks |
| Noah | Gown | Williamstown Football Club |
| Thomas | Graham | Central District |
| Harry | Grant | Central Distracts Football Club |
| Joshua | Green | Tuggeranong Valley Australian Football Club |
| Lachlan | Green | Western Jets |
| Fergus | Greene | Box Hill Hawks |
| Riley | Greene | Southport Sharks VFL | Sherwood Magpies QAFL |
| Brady | Grey | Perth Football Club |
| Noah | Gribble | Geelong Falcons |
| Harrison Grintell | Grintell | Narrandera Eagles, GWS Giants Acedemy |
| Lachlan | Grubb | Central District Football Club |
| Zachary | Guadagnin | West Perth |
| Daniel | Guccione | Carlton VFL |
| Aaron | Gundry | Carlton VFL and Avondale Heights |
| Harrison | Gunther | Glenorchy/ North Melbourne |
| Joshua | Guthrie | Coburg FC |
| Keanu | Haddow | East Fremantle |
| Aiden | Hall | South Fremantle football club |
| Charlie | Ham | Geelong Falcons |
| Matthew | Hamblin | Ganmain Grong Grong Matong football & netball club |
| Matthew | Hammelmann | Aspley Hornets |
| Angus | Hanrahan | Port Melbourne Football Club |
| Matthew | Hanson | Werribee Football Club |
| Haki | Harcourt | south fremantle |
| Chad | Harris | Subiaco lions |
| William | Hartung | North Adelaide Football Club |
| Mason | Hawkins | Gippsland Power |
| Jack | Hayes | Woodville West Torrens |
| Max | Heath | Sandringham Dragons and Xavier College |
| Ryan | Hebron | Sydney Swans VFL |
| Jack | Henderson | Werribee Football Club |
| Liam | Herbert | Geelong Vfl / Leopold Lions |
| Marcus | Herbert | GWV Rebels |
| Jacob | Heron | North Melbourne VFL |
| mitchell | Hibberd | Williamstown |
| Jack | Hickman | Bendigo Pioneers |
| Archie | Hildebrandt | Geelong Falcons |
| Dyson | Hilder | North Adelaide Football Club |
| Jackson | Hille | Sandringham Zebras |
| Samuel | Hindes | South Adelaide football club |
| Jack | Hindle | East Perth Football Club |
| Darby | Hipwell | Sandringham Dragons |
| Cody | Hirst | Carlton VFL |
| Kyle | Hockley | Wollongong Bulldogs |
| Cooper | Hodgson | Frankston Bombers |
| Nicholas | Hodgson | GWV Rebels |
| Thomas | Hofert | Labrador |
| Riley | Holder | Glenelg FC |
| Aiden | Holland | Sturt |
| Harvey | Hooper | Port Melbourne |
| Cooper | Horsnell | Glenelg |
| Joshua | Hotchkin | Port Melbourne |
| Callan | Hough | Castlemaine FNC |
| Nathan | Howard | Coburg Football Club |
| Joshua | Hubbard | East Perth Football Club |
| Ryan | Hudson | West Perth |
| Jaiden | Hunter | Perth |
| Campbell | Hustwaite | Collingwood VFL |
| Nathan | Ireland | Swan Districts |
| Nicholas | Irvine | Tungamah Football Netball Club |
| Solomon | James | South Fremantle football club |
| Lochlan | Jenkins | Caulfield grammarians football club |
| Benjamin | Jepson | Coburg Lions |
| Alex | Johnson | Old Xaverians |
| Ashley | Johnson | Sturt Football Club sanfl |
| Isaac | Johnson | West Adelaide FC |
| Kellen | Johnson | West Perth Football Club |
| Mitchell | Johnson | Southport Sharks |
| Riley | Johnson | Labrador tigers |
| Jack | Johnston | Palm Beach Currumbin Lions |
| Harrison | Jones | North Melbourne VFL |
| Jaxon | Jones Egan | Peel thunder |
| Jesse | Joyce | Southport Sharks |
| Ben | Jungfer | Woodville West Torrens Eagles |
| Hudson | Kaak | Seymour Football Club |
| Adrian | Kalcovski | Box Hill Hawks |
| Marcus | Kane | Eastern Ranges |
| Kenneth | Karpany | West adelaide |
| Nathan | Kay | Rochester |
| Harrison | Keeling | Mooroolbark |
| Tyler | Keitel | West Perth Football Club |
| Flynn | Kellett | Ballarat swans |
| Hugi | Kelly | West Adelaide |
| Joshua | Kemp | Essendon |
| Jacob | Kennerley | Norwood FC |
| Patrick | Kerr | Port Melbourne |
| Bodie | Kitchingman | Peel Thunder |
| Jackson | Knight | Peel Thunder Football Club |
| Riley | Knight | Woodville West Torrens |
| Michael | Knoll | Norwood Football Club |
| Dirk | Koenen | Port Melbourne |
| Liam | Kolar | Northern Knights |
| Joey | Koo Kwet Kim | Dandenong Stingrays |
| Nicholas | Kraemer | South Adelaide |
| Bruno | Laguda | Essendon vfl |
| Brodie | Lake | PEEL THUNDER FOOTBALL CLUB |
| Dylan | Landt | Glenelg |
| Kalin | Lane | Claremont |
| Nelson | Lane | Coburg Football Club |
| Darcy | Lang | Geelong VFL |
| Doulton | Langlands | Perth Football Club |
| Hamish | Latchford | Adelaide football club |
| Aaron | Law | Glen Orden |
| Douglas | Lawrence | Northern Bullants (VFL) and Old Scotch (VAFA) |
| Jayden | Leather | Olinda fnc |
| Kym | Lebois | North Adelaide football club |
| Kym | Lebois | North Adelaide football club |
| Cody | Leggett | East Fremantle Sharks |
| Marcus | Lentini | Coburg lions |
| Jack | Leslie | Williamstown Football Club |
| Oscar | Lewis | Sandringham Zebras |
| Thomas | Lewis | Sturt |
| Jamie | Lewis-Hanafin | St Kilda City |
| Mani | Liddy | Sturt FC |
| James | Little | mazenod old collegions |
| Matthew | Lloyd | West Perth |
| Nigel | Lockyer | North Adelaide & Rovers Fc |
| Goy | Lok | Sandringham Zebras Football Club |
| Kieran | Lovell | West Adelaide Football Club |
| Nicholas | Lowden | Casey Demons |
| Samuel | Lowson | Coburg |
| William | Luhrs | Glenroy fc |
| Bradley | Lynch | Southport Sharks |
| Jamal | Lynch | Melbourne Demons |
| Corey | Lyons | Aspley Hornets |
| Liam | Mackie | Northern Bullants |
| Ewan | Macpherson | Northern Knights & Footscray VFL |
| Harrison | Macreadie | Williamstown Football Club |
| Flynn | Maguire | Vermont Football Club |
| Mitchell | Maguire | West Adelaide |
| Zavier | Maher | Carlton reserves |
| Jack | Maibaum | Coburg lions |
| Joe | Maishman | Werribee FC |
| Cayden | Maki | Box Hill Hawks |
| Michael | Mallard | West Perth |
| Bior | Malual | Werribee football club |
| Shaun | Mannagh | Werribee |
| Ethan James | Mantas | Caroline Springs |
| Michael | Manteit | Southport Sharks |
| Archi | Manton | Werribee VFL |
| Oskar | Manton | Northern bullants |
| Simon | Marchese | Keysborough Football Club |
| Mitchell | Martin | Horsham saints |
| Nicholas | Martin | Subiaco Lions football club |
| Riley | Mason | Calder Cannons |
| Marc | Massarotti | Eastern Ranges |
| Brandon | Matera | Subiaco |
| James | Mathews | Adelaide Crows |
| Joshua | May | Port Melbourne Football Club |
| Jack | Mayo | Subiaco FC |
| Oscar | Mazaraki | N/A |
| Lachlan | McAndrew | Manly Warringah Wolves |
| Mitch | McCarthy | Port Melbourne |
| Patrick | McCartin | Sydney Swans |
| Robert | McComb | Footscray |
| Garrett | McDonagh | Richmond VFL |
| Jed | McEntee | Sturt FC |
| Jake | McGowan | Hampton Park |
| Reuben | McGuire | East Fremantle Football Club |
| Jack | McHale | Sandringham Zebra's VFL |
| Charlie | McKay | Old melbournians |
| Tom | Mckenzie | Coburg |
| Jackson | McLachlan | Geelong VFL |
| Samuel | McLarty | Essendon VFL |
| Brodie | McLaughlin | Frankston Football Club |
| Cameron | McLeod | Murray bushrangers |
| Luke | Meadows | Williamstown Football CLub |
| Lucas | Meline | West Adelaide |
| Mitch | Mellis | Williamstown |
| Jack | Mentha | Frankston dolphins VFL |
| Jye | Menzie | North Hobart football club |
| Kai | Mernik | noble park football club |
| Samuel | Merrick | Beaconsfield |
| Ben | Middleton | Peel thunder |
| Teia | Miles | Williamstown |
| Bryce | Milford | Dandenong Stingrays |
| Keanu | Miller | North Adelaide football club |
| Tyson | Milne | Sandringham zebras |
| Harrison | Minton-Connell | Port Melbourne |
| Alexander | Mirkov | Carlton VFL |
| Ethan | Mooney | Mt Gravatt Vultures, Qld |
| Nathanael | Mooney | Marrar bombers |
| Blake | Morris | Subiaco fc |
| Harry | Morrison | Sydney Swans Reserves |
| Joshua | Mounter | Beaconsfield football club |
| Declan | Mountford | Claremont |
| Edward | Moyle | Oakleigh Chargers and Old Xaverians |
| Jacob | Msando | East Perth Football Club |
| Nathan | Mullenger-McHugh | Coburg FC |
| James | Munro | Casey Demons |
| Hamish | Murphy | North Melbourne Kangaroos |
| Thomas | Murphy | West Adelaide football club |
| Tyler | Murphy | Bannockburn |
| Kobe | Mutch | Woodville West Torrens Eagles Football Club |
| Trent | Mynott | Boxhill hawks football club |
| Geordie | Nagle | De La Salle |
| Joel | Nathan | Richmond |
| Jai | Neal | Dandenong stingrays |
| Henry | Nelligan | Norwood |
| Luke | Nelson | Coburg FC |
| Jai | Newcombe | Box Hill Hawks |
| Daniel | Nielson | Werribee Vfl |
| Jordyn | Niezgodka | Beaconsfield football club |
| Cody | Ninyette | South Fremantle Football Club |
| Harrison | Nolan | Coburg |
| Thomas | North | Carlton VFL |
| Matthew | Nunn | Norwood Football Club |
| Connor | Nutting | Southport sharks |
| Nicholas | O'Kearney | Keilor |
| Liam | O'Brien | PALM BEACH CURRUMBIN |
| Ryan | O'Keefe | Bendigo Pioneers |
| Mitchell | O'Neill | South Adelaide Football Club |
| Ayden | Osborne | Bannockburn Football Club |
| Jeremy | O'Sullivan | Port Melbourne Football Club |
| Joel | Ottavi | Williamstown FC |
| Ben | Overman | Coburg |
| Samuel | Paea | Calder Cannons |
| Sandon | Page | Subiaco FC |
| Thomas | Panuccio | Murray Bushrangers and Euroa Football Netball Club |
| Lachlan | Papley | St Bernards |
| Will | Papley | Gippsland power |
| Callum | Park | Glenelg FC |
| Charlie | Parker | Sturt Football Club |
| Matthew | Parker | South Freamantle football club |
| Patrick | Parnell | Murray Bushrangers |
| James | Parsons | Carlton vfl |
| Luke | Partington | Glenelg Football Club |
| Jake | Patmore | Claremont |
| Jonty | Patrick | Norwood football club |
| Chad | Pearson | South Fremantle Football Club |
| James | Peatling | pennant hills demons |
| Noah | Pegoraro | West Perth Football Club |
| Corey | Pertzel | Romsey football netball club |
| Max | Pescud | GOLD COAST SUNS ACADEMY UNDER 19'S |
| Edward | Phillips | Box Hill Hawks |
| Ethan | Phillips | Port Melbourne |
| Fraser | Phillips | Carlton Reserves |
| Zachary | Phillips | Woodville West Torrens Football Club |
| Ryan | Pickering | Broadbeach Cats / Gold Coast suns acedemy |
| Jarvis | Pina | Peel Thunder |
| Spencer | Platt devlin | West coburg |
| Liam | Podhajski | Northern Bullants |
| Mitchell | Podhajski | Coburg Lions |
| Cameron | Polson | Williamstown FC |
| Callum | Porter | Box Hill Hawks |
| Corey | Preston | Eastern Ranges |
| Sebastian | Quirk | Belconnen Magpies |
| Cody | Raak | Western Jets |
| Michael | Randall | Peel thunder |
| Bailey | Reeves | Gold Coast Suns VFL |
| Blake | Reid | Geelong Falcons |
| Kyle | Reid | Port Melbourne |
| William | Reidy | Swan Districts Football Club |
| Bruce | Reville | Brisbane lions |
| Harrison | Reynolds | Old Brighton |
| Luke | Reynolds | Glenelg FC |
| Terrel | Rigney | North Adelaide Football Club |
| Lachlan | Riley | Sandringham Dragons |
| Mitchell | Riordan | Sandringham FC/Noble Park FC |
| Fletcher | Roberts | Port Melbourne Football Club |
| Nicholas | Robertson | East Perth football club |
| Xavier | Robins | Glenelg FC |
| Seth | Robinson | Calder Cannons |
| Lucas | Rocci | Werribee tigers |
| Bailey | Rogers | Claremont Football Club |
| Tyler | Roos | North Melbourne |
| Pierce | Roseby | North Shore Bombers |
| Jackson | Ross | Sandringham VFL |
| James | Ross | Vermont Eagles |
| Jamieson | Rossiter | Box hill |
| Marco | Rossmann | UNSW ES Bulldogs |
| Brady | Rowles | Essendon VFL |
| Harrison | Rowles | Broadbeach cats |
| Corey | Rundle | West Perth Football Club |
| Joseph | Salmon | Lauderdale football club |
| Bill | Sam | St Albans Saint FC |
| Hayden | Sampson | South Adelaide |
| Oliver | Sanders | Tasmanian Devils |
| Jack | Sarcevic | Bell Park Dragons |
| James | Schischka | Strathfieldsaye |
| Blake | Schlensog | South Fremantle Football Club |
| Haiden | Schloithe | South Fremantle |
| Joshua | Schoenfeld | East Fremantle Sharks FC |
| Kaden | Schreiber | Collingwood VFL |
| Rhys | Seakins | Northern Knights |
| Callum | Searle | Port Melbourne Football Club |
| Anthony | Seaton | Sandringham Zebras |
| Matthew | Shannon | Carlton |
| Cooper | Sharman | Woodville West Torrens |
| Joshua | Shute | Sturt Football Club |
| Matthew | Signorello | Port Melbourne football club |
| Ben | Silvagni | Northern Bullants |
| Max | Simpson | Essendon VFL |
| Jye | Sinderberry | West Adelaide |
| William | Skinner | Sandringham Dragons |
| Cooper | Smith | Sandhurst Football Netball Club |
| Hedley | Smith | Sandringham Football Club |
| James | Smith | Labrador Tigers |
| Lachlan | Smith | Geelong cats VFL |
| Luke | Smith | Geelong VFL |
| Riley | Smith | North Ringwood |
| Rylee | Smith | Nullawil Football Club |
| Alexander | Smout | Gws Giants |
| Taine | Sookee | Lauderdale fc |
| Jacob | South | Subiaco Football Club |
| Ryan | Sparkes | Casey Demons |
| Harley | Sparks | East Perth |
| Max | Spencer | Werribee Tigers |
| Thomas | Spencer | Beaumaris FC |
| Max | Spyvee | Claremont Football Club |
| Lachlan | Squire | West Adelaide |
| Cody | Stackelberg | Collingwood vfl |
| Lachlan | Stapleton | Williamstown |
| Tyson | Stengle | Woodville-West Torrens |
| Cooper | Stephens | Carlton Football Club |
| Joel | Stevens | West Adelaide Football Club |
| Jacob | Stewart | Woodend/Hesket |
| Nathan | Stewart | Euroa football club |
| Ryley | Stoddart | Carlton Reserves |
| Luke | Strnadica | East Fremantle |
| Zachary | Strom | South Fremantle Football Club |
| Harry | Stubbings | Werribee FC |
| Ryan | Sturgess | Coburg FC |
| Lachie | Sullivan | Footscray bulldogs |
| Jasper | Sully | Berwick football club |
| Nicholas | Swain | Park Ridge Pirates |
| Lachlan | Swaney | Carlton VFL |
| Adam | Swierzbiolek | Coburg FC |
| Frank | Szekely | North Adelaide |
| Jake | Tarca | South Adelaide |
| Lachlan | Tardrew | Collingwood |
| Will | Tasker | Brisbane Lions VFL (Mt Gravatt Seniors QAFL) |
| Brynn | Teakle | East Fremantle Football Club |
| Eli | Templeton | Port Melbourne |
| Dylan | Thomas | Oakleigh Chargers |
| Giacomo | Thomas | Calder Cannons |
| Charlie | Thompson | Coburg Football Club |
| Samuel | Thorne | Sydney Swans VFL |
| Tyrone | Thorne | Peel thunder |
| Fraser | Thurlow | southport sharks |
| Jackson | Tikkeros | UNSW ES Bulldogs / Sydney Swans Academy |
| Jack | Toner | Williamstown FC |
| Kobe | Tozer | Aspley Hornets |
| Jarrod | Trahar | Caloundra |
| Xavier | Tranfa | Norwood |
| Anthony | Treacy | Claremont tigers |
| Thomas | Trevaskis | Manly Wolves |
| Toby | Triffett | Morningside |
| Joel | Trudgeon | Northern Knights |
| James | Tsitas | Woodville West Torrens Eagles |
| Samuel | Tucker | Oakleigh Chargers |
| Daniel | Turner | Murray Bushrangers |
| Jesse | Turner | Swan Districts Football Club |
| Fraser | Turner | South Adelaide |
| Jamison | Ugle | Swan Districts |
| Regan | Uwandu | Northern knights |
| Ryan | Valentine | Old Scotch/Oakleigh chargers |
| Reed | van Huisstede | Sydney Swans Reserves & North Shore Bombers |
| Giorgio | Varagiannis | Caulfield grammar/Oakleigh chargers |
| Jean-Luc | Velissaris | Northern Bullants |
| Riley | Vidovich | peel thunder |
| Anthony | Vu | North Sunshine |
| Christopher | Walker | East Fremantle Football Club |
| Lachlan | Walker | Box Hill Hawks |
| Mathew | Walker | North Melbourne VFL |
| Ned | Walter | Sturt Football Club |
| Ethan | Warburton | Murray Bushrangers |
| Isaac | Wareham | Bell Park, Geelong VFL |
| Tylar | Watts | Werribee VFL |
| Lukas | Webb | Southport Sharks |
| Nikolas | Weber | Chiltern Swans |
| Callan | Wellings | Collingwood VFL |
| Bayleigh | Welsh | Dandenong Stingrays |
| Connor | West | West Perth |
| Liam | Whelan | Coburg FC |
| Mitchell | White | Casey Demons |
| Harrison | White | Western jets |
| Harrison | Wigg | North Adelaide football club |
| Eamon | Wilkinson | South Adelaide |
| Reuben | William | Footscray Bulldogs |
| Zane | Williams | Woodville West Torrens |
| Ashton | Williamson | Narre Warren football club |
| Jack | Willis | Surfers Paradise Demons |
| Mackenzie | Willis | Southport Sharks |
| Cooper | Wilson | Manly Warringah wolves/Sydney Swans Academy |
| Nicholas | Winmar | University |
| Sam | Witherden | Geelong Falcons |
| Toby | Wooller | Carlton VFL |
| Karl | Worner | Oakleigh Chargers |
| Michael | Wright | Northampton Football Club |
| Taine | Wright | Sydney Swans Academy |
| Matthew | Young | East Perth |