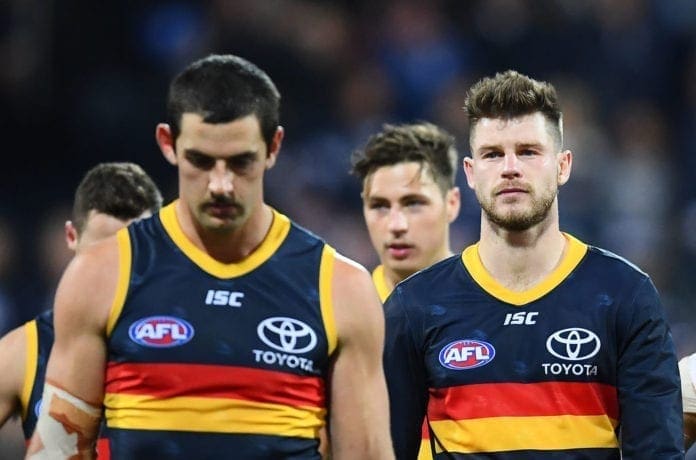 Former Adelaide midfielder Bryce Gibbs has become the third ex-Crows player to shed light on the club's infamous pre-season camp on the Gold Coast in 2018.
Gibbs arrived at West Lakes only months prior to the camp, having moved from Carlton at the end of the 2017 season in a trade deal between the two sides.
The 33-year-old saw the camp as a platform to "fast track relationships" with his new teammates, opting to be part of the more senior group alongside the likes of Eddie Betts and Josh Jenkins, who have also bravely opened up on their traumatic experiences at the camp.
Similar to what his teammates have revealed in the past week, Gibbs noted the opening signs of the camp gave off instant "red flags", having to disclose personal information to a counsellor prior to the camp during an interview process.
Gibbs stated his experiences at the camp were "completely different to what some of the other guys experienced" when speaking on SEN SA on Saturday, however still found the ordeal distressing. 
SEE ALSO: GIBBS' 2020 INTERVIEW ON "DISASTER" CAMP
In a lengthy reflection on his experience, Gibbs said the camp shouldn't have happened, regretting his decision not to speak up at the time when things began to turn sour. 
"We've obviously heard a couple of guys' experiences in pretty raw detail and it has been hard to revisit that and listen to some of your mates express how they were feeling, and that's sort of how it's played out. Everyone experienced this camp differently and my experience was certainly different to the guys that have spoken out already," Gibbs said.
"It started back when when I arrived at the club. It was put to us that they were gonna go on this camp in the new year, and I just arrived at the club and the biggest thing for me was to earn respect from [my] teammates and build relationships as quick as [I] could.
"I saw it as an opportunity to fast track relationships with these guys, these new teammates of mine that I was going to be playing with going forward.
"I jumped at the opportunity to be involved in in the most intense group.
"From there, a couple of things were a little bit strange...
"We were told no information about what we were gonna do. That's how they wanted to go about it. And basically 'you've just got to trust us, you're going to be okay. It's going to be tough, it's going to be challenging, but you'll be okay', which I thought was a little unusual."
Both Betts and Jenkins unveiled disturbing stories of their past to a member of the camp process, personal tales that were thrown back in their face through a ritual at the camp."
Gibbs revealed he was perhaps fortunate in holding back on disclosing some personal details to the counsellor and was thankful for a fortunate upbringing as a child.
"Like others have stated during the week, I also took a call from a counsellor to talk about my childhood and past experiences. And I actually thought this was a bit of a red flag as well," Gibbs said.
"During this interview process, I actually didn't really disclose too much. And then I was pretty lucky enough to have a good upbringing, a really great childhood, which I'm very grateful for.
"I thought it was unusual to be doing that leading into camp.
"Leading into the camp, I remember talking to a lot of the other players about what we could potentially be in for and it actually started to cause a little bit of anxiety.
"From then we ended up on the Gold Coast and that's when things kicked off and a lot of unusual things started to happen.
"Getting rushed down a set of stairs, onto a bus, blindfolded, heavy metal music was playing, there's a guy and a microphone potting players, talking about the grand final, talking about me and leaving leaving my old club, which didn't affect me too much because I mean I didn't have the emotional baggage from the year before in terms of playing in the grand final and losing it.
"I actually found it quite amusing at times knowing that they're trying to rattle us, trying to get under our skin.
"When we were there, a couple of strange rules were put in place. Like when we were walking from place to place we were to walk in a straight line. We weren't allowed to talk to each other. They wouldn't let us shower.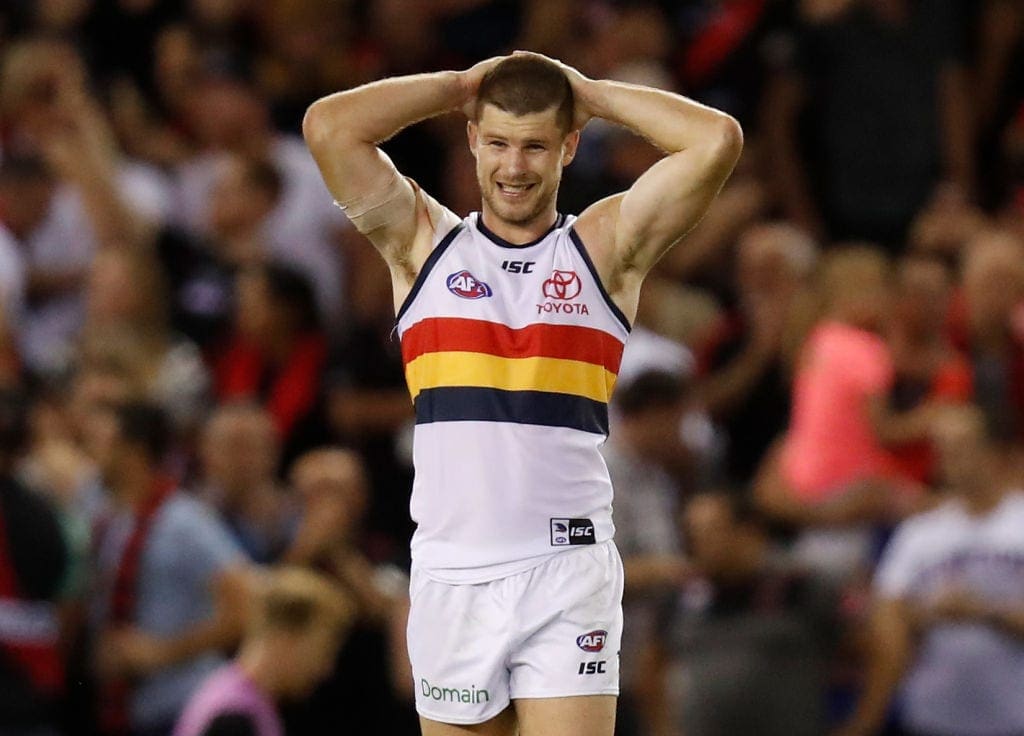 "There are a lot of things that happened that were hard to justify why we needed to do some of these things.
"Then we witnessed what we were going to be put through in group one, I think it's been described as harness ritual.
"It was actually hard to explain what we were witnessing. I remember looking over to a couple of boys and shaking our heads and going 'what are we in for? What are we going to get out of this?'.
"I just kept telling myself, 'it's okay, things are going to be right. I'm here, I'm going to keep an open mind', and again, I kept coming back to this relationship thing. This is going to help me build stronger relationships with these guys moving forward.
"I had my time on the harness and experienced what I experienced and it was completely different to what some of the other guys experienced on the harness and it probably related back to me being pretty reserved in that counsellor's meeting I didn't give too much away and I probably wasn't attacked with some of the stuff that other guys were attacked with.
"That made the experience probably a little bit easier on reflection.
"I could get through that but watching other players go through what they went through. That was pretty tough. I didn't really know what to do. I didn't really know how to justify it, what to make of it.
"A couple of guys spoke up about their concerns and it was sort of negotiated that we'd continue on with what we were doing."
Gibbs said his decision not to take a stand against the camp's process alongside his fellow teammates was something he was disappointed with in hindsight.
"It probably wasn't until later on reflecting on it that it was probably an opportunity to speak up a bit more," he said.
"Obviously, the details of what's happened come out during the week, I won't need to repeat any of that. But probably the most disappointing thing for mine was the post camp in the washup when we were reflecting on it and guys started to speak up and who had issues with what had happened and talking about their experiences.
"When I reflect I feel like I was really disappointed in myself because this is when I started to take a backseat watching guys stand up and say this is not on, we need to address this.
"We need to tell people what happened. They seemed to get shut down pretty quickly.
"For me to see these guys as brave as it was to get up there and try and have their piece, to get shut down.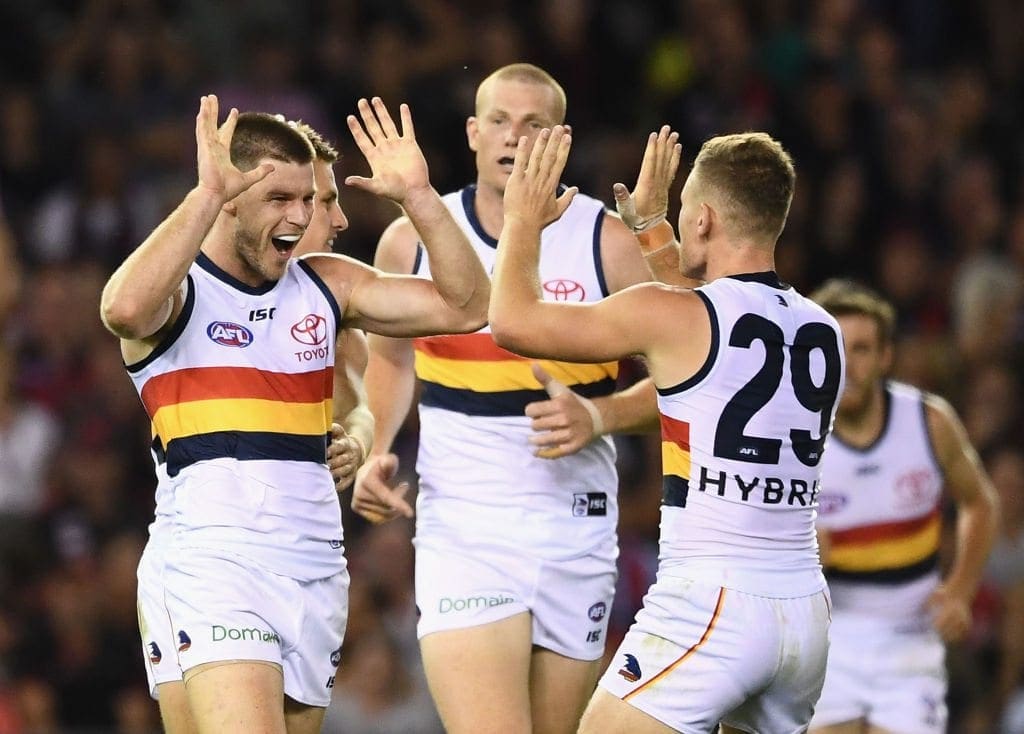 "There was an opportunity there to support some of my mates as they went through a lot harder experience emotionally than I did. So maybe it was easier for me just to sit back and not say anything. But reflecting on those comments or ongoing conversations. When we're trying to flush it out, I do regret not speaking up when I probably should have been a more experienced and senior player of that group.
"It did fracture the playing group. It fractured relationships in the football department. Players lost trust with members in that football department
"We tried to move on, and that's probably why we're speaking about it four years on. If it was handled correctly, and people had taken responsibility and put their hand up and knocked it on the head a lot earlier when it happened, it still would have been hard and people still went through what they went through... but at least it would have been dealt with in the proper manner then and there."
Gibbs played 37 games for Adelaide before announcing his retirement toward the end of the 2020 season.