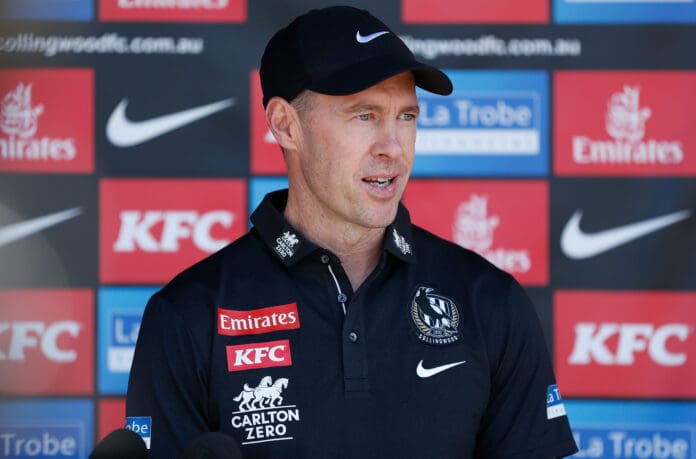 Second-year Collingwood coach Craig McRae has reaffirmed confidence in his late-game tactics, confirming his side will continue to practice late-game scenarios and refusing to attribute luck as the contributing factor to his side's success last season.
McRae's maiden campaign at the AIA Centre helm provided a multitude of heart-in-mouth conclusions to games, as his side ultimately progressed to a preliminary final berth after collecting 16 wins throughout the home and away season.
A new season beckons, but McRae assured the same structures will remain and may even be used "at different times in games" in 2023 in an attempt to generate more wins.
Inquisitioned on his side's performance late in games last year and whether he thought luck played a major part in their success, McRae was categorically confident in the systems he has employed since his arrival at Collingwood, ignoring luck as a factor.
"Time will tell, [won't it]?" McRae began on Wednesday morning.
"I think the reality is we have got a good system and we put a lot of time into it because we are in that situation so often, maybe more than other teams, so we practice those scenarios a lot more than others, so, it did stack up when we needed it.
"We continued that (theme) this pre-season, we didn't shy away from those systems or the set plays if we were behind or in front [with little time remaining in the game].
"We might use a couple of those weapons at different times in games [this season]."
The Magpies won't be greeted with a simple start to the season, scheduled to take on Chris Scott's Cats on Friday night in what poses as arguably the most anticipated match of the weekend.
"Leigh Matthews used to say 'if it bleeds we can kill it'," said McRae jokingly. "I thought it might be a bit early to say that but Chris (Scott) might get a laugh at that.
"I think we're in a position where, like [the Cats] are, we're ready to go. I've been watching them, it's hard to get a gauge on teams this year but I know that when [the umpires] bounce the ball on Friday night, both teams will be ready."
Pertaining to team news, Collingwood forward Jack Ginnivan will be absent as he continues to serve an AFL-imposed suspension, while Geelong's Tom Hawkins is racing against the clock to play because of his recovery from a foot injury.
McRae's Magpies will clash with the reigning premier Cats at the MCG on Friday, March 17 (7:40 PM AEDT).