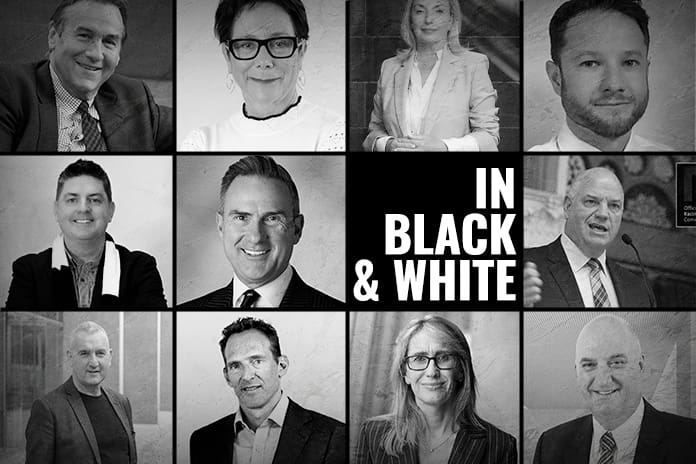 With a rich history that stretches across the bounds of three centuries, there are many constants that come attached to the Collingwood Football Club.
There are their strong shades of black and white, that while simple, are also so powerful and iconic.
There are the champions that have thatched together eras from their every position across the playing field.
And there are also the pains of missed premierships, intermittently broken by the clearing of clouds that have allowed the Magpies to prosper on 15 occasions.
Though the working-class club whose origins were formed a Saverio Rocca spiral from the Yarra River has always seen a stream of love flow in from their people, Collingwood continues to be a regular target for seething hatred from fanatics of different creeds.
While the upholding of history, traditions and the Magpies' name remains as important as adding to their trophy cabinet, a marked level of conservatism has long appeared to be the order of business in the boardroom.
Since English-born politician William Beazley commenced his 20-year reign as the newly formed club's first president in 1892, only a further 15 names have ever held the same office.
Although the numbers equate to each presiding president having an average tenure of eight-and-a-half years pulling the strings, this figure was more than just matched by the recently departed Eddie McGuire.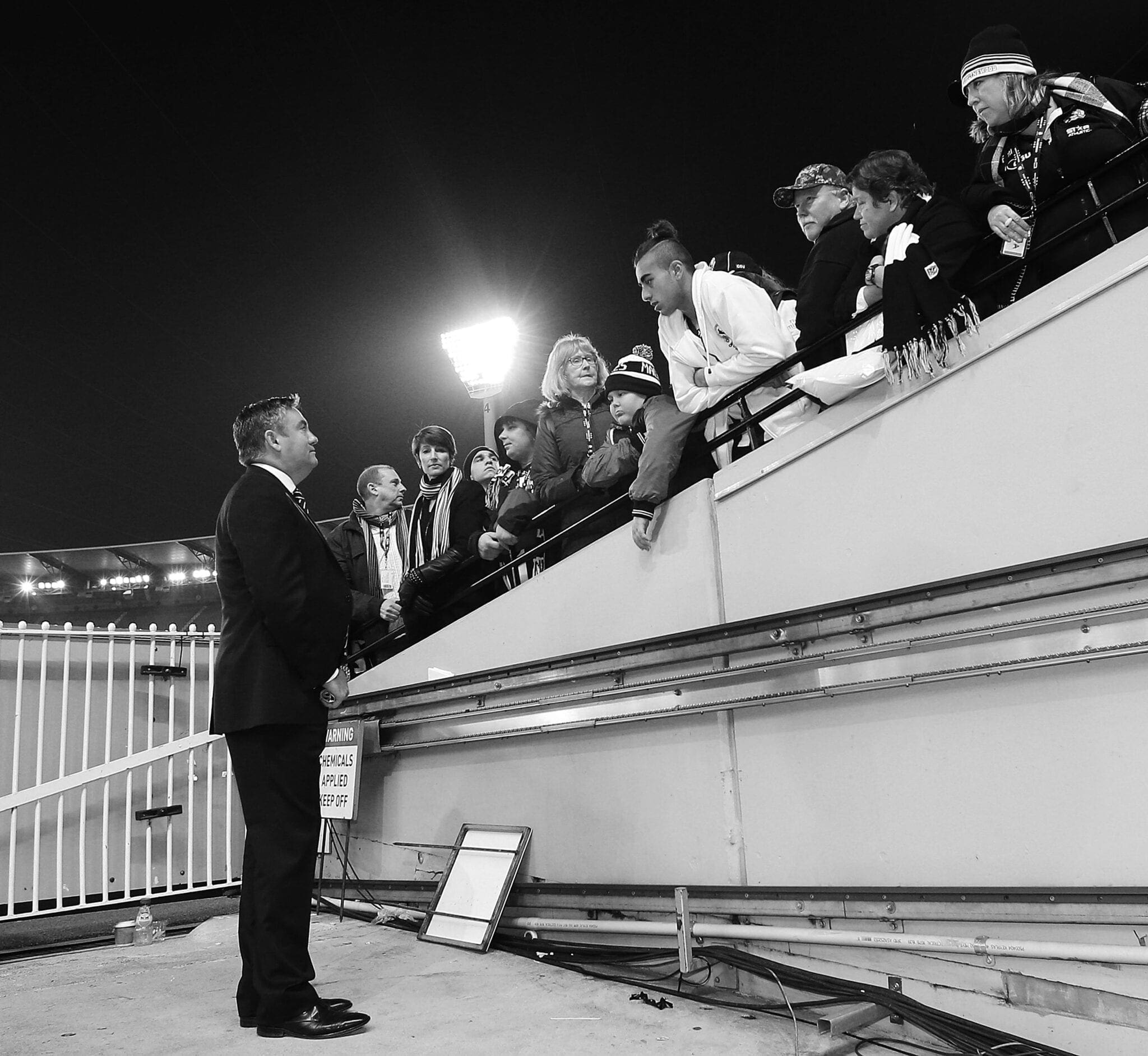 Having been elected to lead his beloved club on October 29, 1998, 'The Boy from 'Broady's term as the king of the nest went unchallenged for over two decades before the winds of change eventually unseated him.
For Collingwood supporters born after Cathy Freeman's gold medal-winning run at the Sydney Olympics, McGuire had been more than just the face of their club, he also made up several other limbs, the fists and the larynx as well.
However, for the first time since the Magpies still called Victoria Park home, these same fans and their flocks will now have a chance to flex their feathered wings.
Given 'Eddie Everywhere's charisma and ability to converse across classes, it stood to reason that his reign went unchecked across a stretch that saw the Pies play in six grand finals.
But with the cracks in the club's walls recently opening to the point that no paper could cover, it was also unsurprising that McGuire's full-stop came when it did.
After a season that saw the Buckley and Harvey-led Pies plummet to a bottom two finish all to a soundtrack of administrative unrest, the many members that were caught between the proverbial rock and hard place have now been provided an ability to push for change.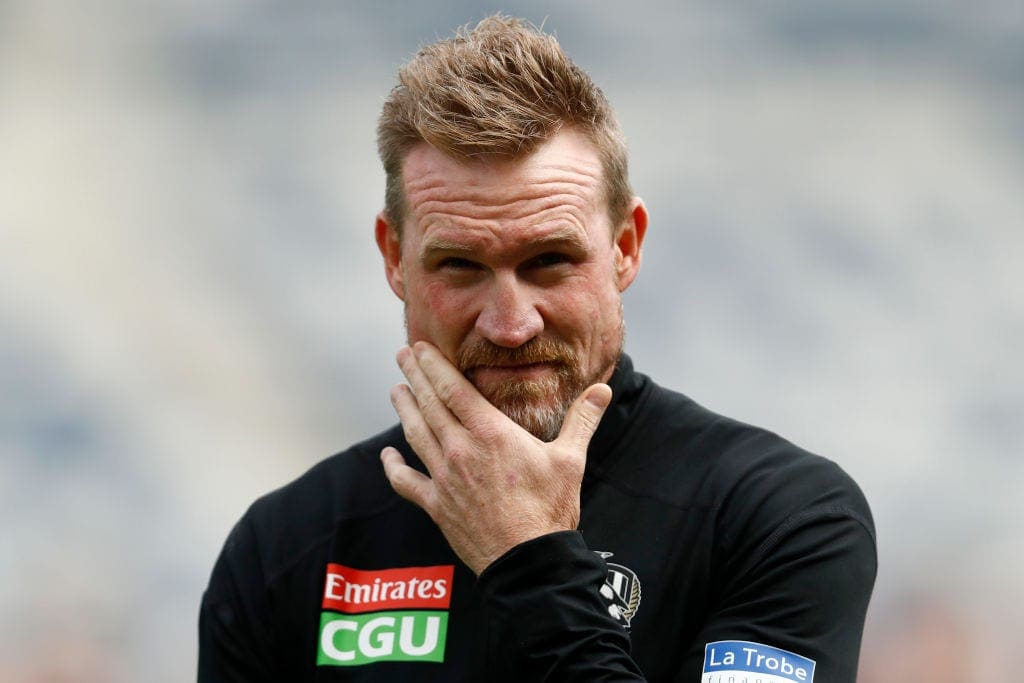 From November 19 until December 10, those who hold Legends, Club 5 or Social Club membership tickets will finally have an opportunity to democratically elect those who sit at the boardroom table.
While Mark Korda is set to relinquish his current role of president in the near future, he and fellow board members Jodie Sizer and Paul Licuria are set to stay on in their powerbroking positions.
But despite these three places being filled, there is still the small matter of finding candidates for the remaining four pews.
Although a pair of current directors - Neil Wilson and Christine Holgate - have nominated for re-election, as well as the AFL's former lawyer in Jeff Browne putting his best foot forward, an array of the other nominees have raised their hands with much lighter fanfare.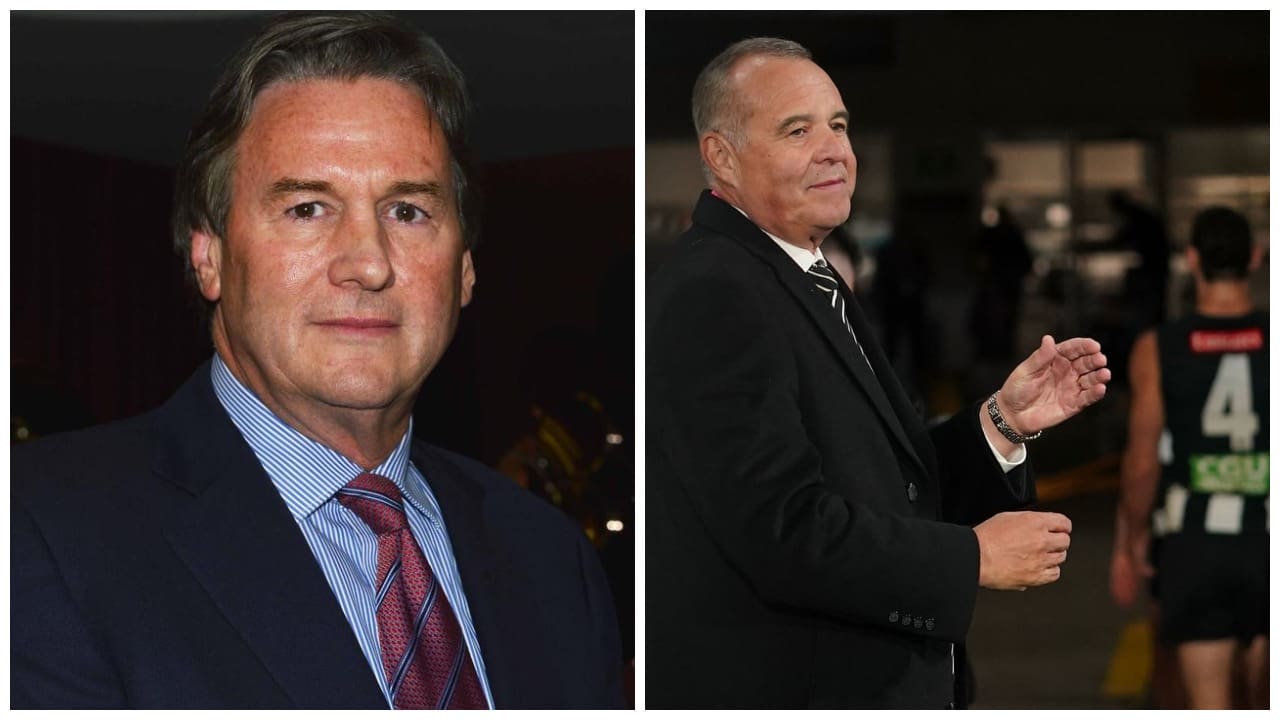 Irrespective of the certainty that many members' ballot papers have already been marked and mailed back, given the polls are set to stay open until six days before the club's AGM on December 16, there is also likely to be a parliament of Magpie backers still sitting on the fence.
With this in mind, we here at Zero Hanger have reached out to each of the 11 candidates on the campaign trail and asked them to pitch their cases.
From the independents to a fancied collective with corporate clout, here are each of the nominee's narratives, in black and white.

The Digital Guru
While each of the candidates vying for seats obviously reserves a large portion of their heart for the Collingwood Football Club, in the case of Sean Callanan, black and white imprints have been in his DNA since the fledgling years of the 20th century.
Although it is true that the tech wiz holds a strong love for the Pies, his passion proceeds him by many a decade given his grandfather, Dave O'Donoghue, pulled on the club's colours 53-times between 1907 and 1911.
Still, should you require real evidence of whether this love has translated through the generations, perhaps you remember Sean shimmying in the aisles as Alan Didak dealt the Saints a death blow during the grand final replay in 2010.
As the founder of his own digital business, Sports Geek, the fervent Pies and Detroit Pistons fan has combined his two loves of marketing and elite athletics in an effort to bring those in the outer closer as close to the boundary line as possible.
If you're anything like me, the mechanics of what Callana does for a living will be as far as a Boeing above your head, but as the man himself told Zero Hanger, his platform for one of four boardroom seats follows his simple business philosophy.
"I want to help Collingwood better connect with their fans and members because I believe they are vital for the success of the club," he explained.
Callanan also pointed to the fact that these means would allow the many millennials with a love for the Magpies greater access to the ticking hands of the organisation.
"We need both a happy, engaged and growing fanbase, and the key for growth is to connect with younger generations that aren't consuming their media via traditional means of TV, radio and print," he continued.
"They're consuming via digital streams almost exclusively, so we need to make sure that the younger demographic is engaged to secure Collingwood's future."
The enthusiastic and insightful candidate also stressed that his expertise was "required at a board level" and that his day job had seen him successfully pitch his stance to suits both near and far.
"At Sports Geek, I'm constantly convincing CEOs and boards on why they should invest in digital and where it pays off as far as fan growth and commercial opportunities are concerned," Callanan expressed.
"What I've seen globally is that when you have a digital focus up the top, it really opens up a lot of opportunities."
And while he believed Collingwood's brand was renowned from Broome to Burnie and from Cook Town to Colac, Callanan raised the identity of an NBA powerhouse as the club's true ceiling.
"Looking at teams like the Golden State Warriors who are very much led by digital innovators up the top and they've been able to build a global fanbase," he stated.
"I think giving digital knowledge and sports technology expertise a seat on the board will give Collingwood a huge advantage in this space."
Having worked with sporting franchises such as the Minnesota Timberwolves and the Washington Football Team in his travels, Callanan has also combined forces with Collingwood on a professional level between 2010 and 2016.
Yet, it is the upbeat goal setter's lack of tethers that he believes stands him in the best stead before the closing of the polls.
"I'm really putting myself out there as an independent voice for members," Callanan proudly touted.
"I think for too long there has been a disconnect between the board and the members. I've been pretty open in my campaign to be available to members and to hear their key issues and concerns."
While expressing he remained open to relaying these views to the club himself, Callanan believed from his canvasing that one qualm stood out above the rest.
"There are big issues like the "Do Better" report and how the club is tackling the implementation and how they are communicating it," he said.
"That's something that I am super passionate about, and I know that it's something Collingwood needs to address and needs to get better at."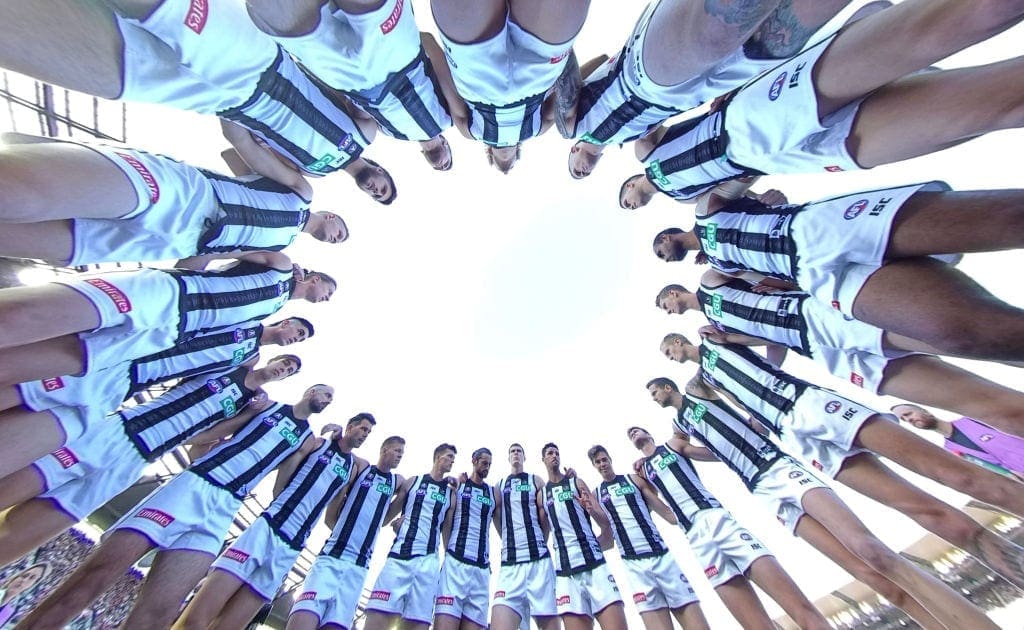 Before signing off with the message that he would be "honoured" with the votes of those who wished to see the likes of Pendlebury, Maynard and Moore turned into Steph, Draymond and Klay, Callanan was emphatic that new tech could also help mend some archaic ills.
"I think digital is a big part of not only communicating change but also seeing whether the club's process to improving on topics like racism is on track," he said.
"Being more transparent and using digital to tell that particular story is really important."
With a thorough understanding of the world at the end of our fingertips, Callanan's credentials show that he is a man for the modern-day, just as his Grandpa Dave was adept at shutting down forwards over a century ago.
Sean Callanan also wished to express that he welcomed questions and thoughts from the Magpies' many members via his website.

The Scientist
Although clean collars and corporate control are de rigueur for many of these board hopefuls, should you read between the lines of their curriculum vitaes, the experiences of each candidate begins to drift towards differing.
While some nominees may have made their names via their own startups and others at the top end of town, to truly see Mark Febbraio at his finest, you'll have to wait until he has his lab coat on.
"I'm a Professor of Cell Biology at Monash University and I'm also the Chief Scientific Officer and Founder of the biotechnology company, Kinomedica," Febbraio told Zero Hanger.
Like his many counterparts fighting for another seat at yet another table, Febbraio too holds directorial experience.
Still, it is the scientist's expertise garnered in a past life that is certain to make him relatable to the players under Craig McRae's guidance.
"My point of difference is that I am also an ex-elite athlete," Febbraio revealed.
"I was an ironman triathlete before I went back to do my PhD and so my background is very much in the area of training services and medicine."
Akin to Callanan, Febbraio's level of expertise is enough to remain well outside of most knowledge bases.
However, the medical researcher also stated that his studies weren't confined solely to amongst the beakers and Bunsen burners.
"In 2010 and 2011 when Collingwood won the grand final and then the following year when we dropped three games and were unlucky to lose the decider, we lost very few games to injury," he said.
"Since then, we are second only to GWS in terms of games lost from our best-22 to injury."
While the irritation of seeing stars spend lengthy stints on the sidelines won't be news to any black and white barracker, Febbraio believes that the loss of keen minds had seen the Magpies left literally hamstrung.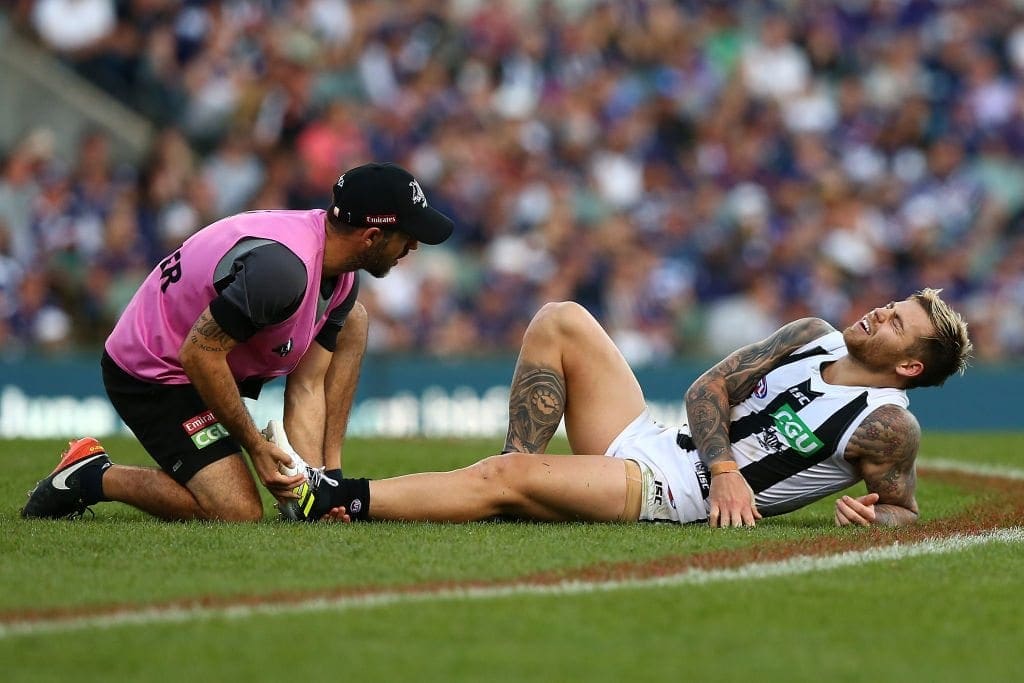 "I feel when David Buttifant [Collingwood's former Sports Science Director] left the club in 2012 that there wasn't great oversight in regard to training services and medical management," he pinpointed.
Whether a position as a director would allow for the independent candidate to get his hands dirty in this department is yet to be seen.
But as a mind that operates to a beat of finding solutions without complaint, should an opportunity in early December arise to call the Holden Centre home, the prayers of Pies fans to see their best side on a weekly basis may finally be answered.

The Investor
For many scattered across the globe, memories of budding romances are usually attached to life partners or those that got away.
But for Barry Carp, the subject of his earliest adoration came in the form of a spectacularly talented SANFL import.
"It's funny, I say to my wife that everyone remembers the moment that they found love and she thinks I'm going to talk about the day I met her, but in fact, it was April 1975 at Victoria Park when I first saw Phil Carmen play for Collingwood," Carp recounted to Zero Hanger through a chuckle.
From his place in the pocket of the Sherrin Stand, a nine-year-old Carp became both enamored and enthused – two traits that he has retained across his rise through Melbourne's corporate sphere.
While an opportunity to compete in white boots like his hero never arose, the length of his career beyond the boundary has far outweighed the four-seasons Carman spent with Collingwood.
"For the last 25-years, I have grown my own investment management business which has provided a pathway for young people to develop themselves as investors and fund managers," he divulged.
"I continue to enjoy this, but I'm also looking at ways to give something back and to contribute to the community, so what better way than with the club I love and am most passionate about."
With time up his sleeve to nominate for a role with his lifelong love, the founder of fund managers River Capital explained that his campaign platform was in sync with anyone that has ever donned a numbered guernsey.
"Everyone wants premierships, and everyone wants on-field success. We've won two premierships in 60-years, so we naturally want to improve," Carp said.
When regarding off-field governance, the Jeff Browne aligned Carp continued with his Route 66 straight outlook.
"We want to be proud of the club that we support. We want the club to have great culture, people, finance, governance and values," he said emphatically.
"This is why the ticket that Jeff has put together allows us to bring together a complementary skillset of people that are going to make an enormous impact."
Given the uber-successful Browne remains the overwhelming favourite to earn the title of Collingwood's 17th President, those by his side must be confident of their own success at the polls.
Still, Carp held the view that it was more than just profile and prestige that could see Browne and his partners create a majority view in the boardroom.
"Jeff has carefully curated a ticket that provides a wonderful balance of skills that are really important in making sure Collingwood becomes the number 1 club in the country," he said with a certainty beyond that of hope.
With his experience in wealth growth positioning him as the prime candidate to steady Collingwood's financial ship, should the salary woes of the recent past eventually dissipate, Carp's impact on his club is sure to exceed even that of his white-booted hero.

The Law Enforcer
While Barry Carp spent his formative years at the Lulie Street end of Victoria Park, his view of the action were more than likely blocked on occasion by a uniformed Sal Perna.
"When I was a young copper, I was stationed at Collingwood for four years and part of that involved working at the football and standing behind the goals," Perna explained to Zero Hanger about his days on the beat.
Although this view from within the boundary fence was certainly an uncommon one, it was likely the last place that the former homicide squad officer had viewed his beloved Pies given the backstreets of the suburb were once his playground.
"I'm a lifelong supporter. I was born and bred in the suburb. I grew up there, worked there, lived there and even got married there," Perna continued.
The law enforcer even honed his skills mere metres from Collingwood's birthplace, the Grace Darling Hotel.
"When we were kids growing up in Brown Street in Collingwood, the first football we had was a rolled-up newspaper that the guy next door showed us how to make using just the pages and some string," Perna recalled of his youth in the now gentrified postcode.
"Even then when we were kicking what we considered to be a football, we were calling out the names of the players, so I've grown up with the club as part of my life and everyone that knows me knows that I love Collingwood."
While the suburb and the club have always been in, and on, Perna's mind, his professional life has been spent upholding standards and protecting the public from another array of angles.
"Following 20-years of law enforcement, I was the Racing Integrity Commissioner until March of this year which meant that I oversaw the three racing codes in regard to factors such as anti-doping and race-fixing," he delineated.

"The role was really about governance to make sure that everybody was doing the right things and for 11-years I investigated complaints and put standards into place."
With this career in blue now behind him, as well as over a decade of making sure punters could back a fair winner, Perna has proven that integrity could well be his middle name.
And while his additional experience with Australia Post and Telstra has him meeting the corporate markers of his contemporaries, it is this ability to keep organisations honest that is, without doubt, Perna's point of difference.
Still, the straight-talking candidate believes he has another weapon in his holster.
"I don't have any affiliation on a personal or social basis with anyone on the board or in senior management, so I can go in there with fresh eyes, and I can operate without fear or favour," Perna stated.
"In my role with the VRC [Victoria Racing Club], I didn't owe anybody anything and they owed me nothing. I didn't know anybody, so I could form my own judgements on what I saw, on what I heard and what I learnt.
"That independence is critical when you're looking at the running of an organisation as big, and as powerful as the Collingwood Football Club."
Before wrapping up his call with Zero Hanger, Perna signed off by channeling a rational version of Jock Riley from the cult classic stage play and film 'The Club'.
"I feel strongly about a culture where other players and other kids see Collingwood as a destination for them," he said of his utopian view for the future.
"If that's how they grow up and how they feel, that's based on the culture and reputation of the club.
"If we can get players saying 'I want to play at Collingwood, that's where I want to be' not only for the perspective of playing home games at the MCG in front of 70,000 people, but also because that's a club that values people and their career development, not just their football development.
"I think the fans need to remember that we've got a responsibility to create that, and this election is a perfect opportunity to exercise that."

The Young Blood
Should you raise the notion of a board of directors, images of pinstriped suits, seniority and resumes that stretch around the block are likely to cross your temporal lobe.
Still, these stereotypes, and potential for stuffiness, have not halted the enthusiasm of Chris Macdonald.
While the fifth-generation barracker of the black and white breed may be the youngest member of this class of candidates, don't let Macdonald's dustless birth certificate lead you to believe he remains green to the world.
As an ambitious, educated and diligent worker, Macdonald told Zero Hanger that he has "worked with cars and people his whole life".
Following the completion of his studies in business both at home and abroad, the 33-year-old commenced his rise through his professional ranks from a rental car branch manager to his current place as an area manager for Hyundai.
And as someone that spends his time amongst common people, the career salesman held the view that his accessibility was his greatest selling point to the masses of members that are currently sizing up each candidate.
"I've nominated as an ordinary member and I see myself as exactly that," Macdonald expressed.
Although some may believe someone who was yet to walk in 1990 still has a way to come before taking on a role of this magnitude, Macdonald claimed that he had been informed otherwise by many voters.
"I've received multiple encouraging calls and texts from people reaching out and they've had their say as well, which I encourage," he elaborated.
"As someone who hasn't been through the process before, and as someone who has never voted in a Collingwood election, I see this as an opportunity to put my foot forward."
Like Callanan had explained in the days before him, the Kyneton Secondary College graduate also believed that for the Magpies to prosper, younger minds would need to be won and their voices raised.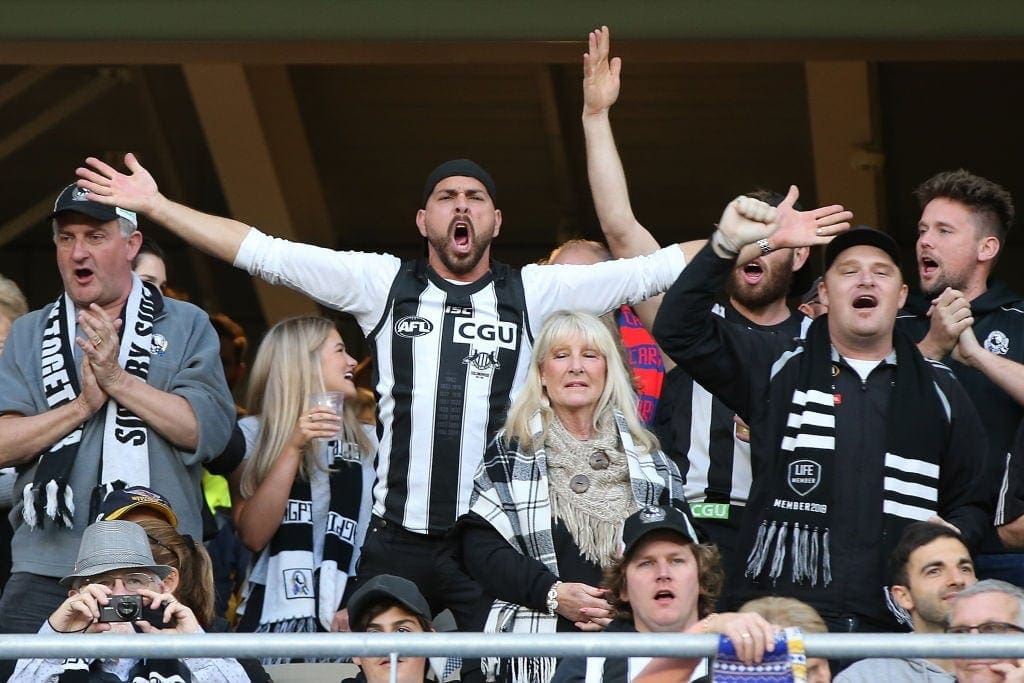 "I'm in my mid-30s, so I think that is resonating with some people, especially our younger fans," Macdonald said.
"I would love to see some more younger members around and running the club. I think this would help connect our great community spirit."
Despite the likelihood that deep-pocketed voters will align their marked ballots with the wishes of those who share their streets, should a severance of the past from the future be your preference, a nod for the man beside you at the drip tray could act as your antidote.


The Prospector
While the vast majority of these prospective directors have created their profile within a stone's throw of the Hoddle grid; Colin Moorhead's name is known for his work below the surface of foreign shores.
"I'm a geologist by trade and I've spent about 30-years in the mining industry," Moorhead told Zero Hanger.
"I've worked in regional Australia looking for copper and gold. I'm also currently the chair of Xanadu Mines which is exploring for copper in Mongolia and Sihayo Gold which is currently searching for gold in Indonesia."
Across the course of his travels, the precious metal prospector has also created a relationship with the father of a fledgling cricket royal.
"I'm also a non-executive director with Coda Minerals which relates to copper in South Australia, as well as with Aeris Resources which is run by Andre Labuschagne - Marnus Labuschagne's dad - and they operate a copper mine in New South Wales and gold mine in Queensland," Moorhead added.
Although there may be a perception that these projects spent searching far, wide and extremely deep for answers could take up each of Moorhead's waking hours, the man at the helm was quick to quash this notion.
"I'm basically semi-retired and I've previously been too busy in my career to be thinking about non-for-profit roles, but it's definitely the time now," he said.
A pivot from the high stakes of deep drilling to the zero-sum AFL world is unlikely to faze Moorhead, so much so that the Harvard-educated rock hound has an unflappable formula for how his ship would sail.
"It's a healthy thing for Collingwood to have a transparent process to elect the board," he claimed.
"If we keep doing what we keep doing, we'll keep getting what we keep getting. It's time for a change.
"I'm not critical of the past, but I do draw a line in the sand and say that it's time to move forward. I think to do that, the club has to have a really solid footy culture and position to ensure the guys and girls on the ground can succeed."
Moorhead also wished to express that this figurative boundary was his and his alone.
"I'm truly independent, so I can't get two-page spreads in The Herald Sun every day," he said with a light laugh.
And while his vita may seem below those that were formed around the club's heartland, the many Magpies that have spread their wings are said to be in Moorhead's corner.
"I'm not well known in Melbourne, but I am very well known in the mining industry," he divulged.
"All of the Collingwood people around the world are encouraging me to apply because they know what I can do."
Having built this profile in some of the globe's aridest conditions, it should come as no surprise that the mineral man's wit is bone dry too, as evidenced when we prompted him for a parting word for the barrackers with voting rights.
"I bring a wealth of board-level skills and if nothing else, at least I can keep the bastards honest and work towards a truly successful club," Moorhead offered through another chuckle.
With silverware still the sole aim for the playing arm of the Collingwood Football Club, voters that have plunged their faith in Moorhead are sure to be hoping that the excavator can oversee the start of another golden generation for the proud club.

The Caregiver
From her schoolyard days to those of the present, Amanda Cameron has never been coy in getting on the move to get the job done.
Since her teenaged years spent travelling back and forth from Heidelberg to see her heroes grace the hallowed turf of Victoria Park, the career caregiver has kept the odometer ticking over as she added pages to her resume.
"I'm a registered nurse by profession and I predominantly work in intensive care," Cameron told Zero Hanger.
"For the last 15-years, I've worked in senior health service executive roles as a leader. I've also spent many years in Gippsland at a number of hospitals in the region, and now I'm the Chief Operating Officer at Barwon Health."
When it comes to her beloved football club, Cameron's credentials are also equally as impressive.
"I've also been a member of The Woodsman coterie group for the last 11-years and a member of the club for 17-seasons," she explained.
Still, while perpetual motion with the aim of aiding the ailing is Cameron's Mo, Collingwood – both the club and the surrounds – are still her centre, with the nurse's residence just a Phil Manassa run along Johnston Street.
As another independent candidate currently canvassing, Cameron was keen to press this point when speaking with us last week.
"I'm seeking to achieve a degree of transparency and good governance, while also providing a view that isn't necessarily from a corporate standpoint," she revealed.
"My aim is to provide a 'member, supporter, someone who loves Collingwood' view."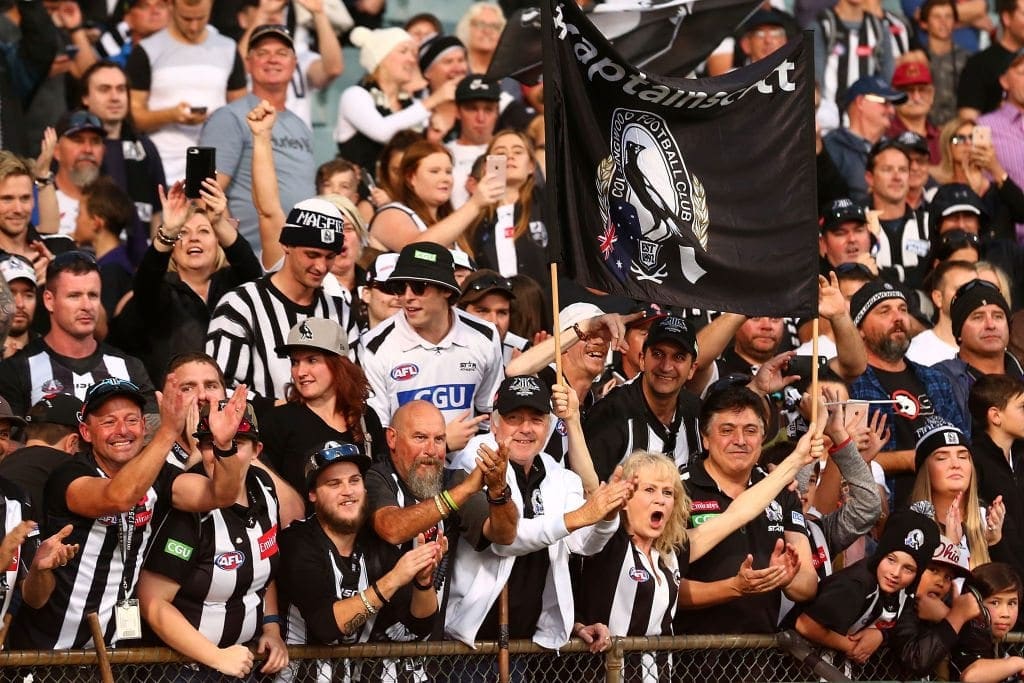 Cameron expounded further by stating that these differences should be seen as strengths rather than come attached with question marks.
"Many of the other nominees come from a very high-flying, corporate backgrounds which, of course, holds many positive attributes," she continued.
"But I think coming from a public health point of view grounded in the values of accountability, integrity, fairness and respect, that brings a different lens to what happens at the club."
The fervent fanatic also remained ardent that it would be the views of those in the outer that would act as her directive rather than those with healthy bottom lines.
"We're fortunate to be in this opportunity and members have 11 candidates for these positions, so it's a great opportunity for them to vote for who they feel could truly represent them at the board table rather than big business instead," Cameron offered in finality.

The Powerbroker
Given his ubiquity on front pages of newspapers for the entirety of last season, you would have a greater chance of winning Tattslotto twice than being at a loss as to who Jeff Browne is.
From the Paris end of Collins street to the smoko rooms scattered across the city's sprawling suburbs, Browne's aspirations for the top role at Collingwood have been seen by all and sundry.
But while the 66-year-old's profile and aims have become common knowledge across the course of his running battle with incumbent President Mark Korda, a pair of questions do remain - who is Jeff Browne and how did he get here?
While a brief under-19s career with the Pies was enough to solidify his relationship with the club, it was only after trading black and white bars for pinstripes that Browne reached, and inevitably breached, the business stratosphere.
Should you attempt to print the full length of Browne's corporate experience, both the ink of an Adriatic's worth of squids and the pulp of half the Daintree would be required.
Between starting his own legal firm, aiding in the Sydney Olympics run, overhauling the Nine network, dispersing data, expanding automotive businesses and harvesting grapes and oranges in Mildura, the former thirds footballer has created a rich legacy in more ways than one.
However, in his change of tack towards the presidency at the most polarising club in the land, Browne explained that he had one more weapon in his arsenal that he believed stood him head and shoulders above his chasing pack.
"In 1985, I was retained exclusively by the VFL, and I remained their only external lawyer for 22-years. I was there to draft the draft rules, the salary cap rules, the racial and religious vilification, the illicit drugs and the respect and responsibility rules," Browne divulged to Zero Hanger.
"I drafted those policies and signed the agreements for the competing clubs. I also went through all of the collective bargaining agreements (CBAs) with the players and conducted all of the media rights negotiations for broadcast rights."
While all of the 11 candidates that are currently on the campaign trail have distinguishing differences that act as their foundation, Browne's harmonious relationship with those at AFL House is sure to see him as the leading nominee for both conservative and aspirational voters.
And while Browne likely sees this as the case himself, he also expressed that the status quo was far from the Magpies' finish line.
"I've done a lot of things that I think can help me in terms of experience and skillset, particularly my knowledge of the AFL, the draft and the salary cap, where we've been a bit jammed recently," he continued.
"I think I can make a good contribution there from a good knowledge base and also with my very good relationships within the AFL industry with other clubs and the league themselves.
"Put simply, Collingwood needs to reassert itself in the AFL ecosystem."
When posed the question about what his goals for the role were, Browne offered a considered response that came complete with a final barb at the collective he is confident of succeeding.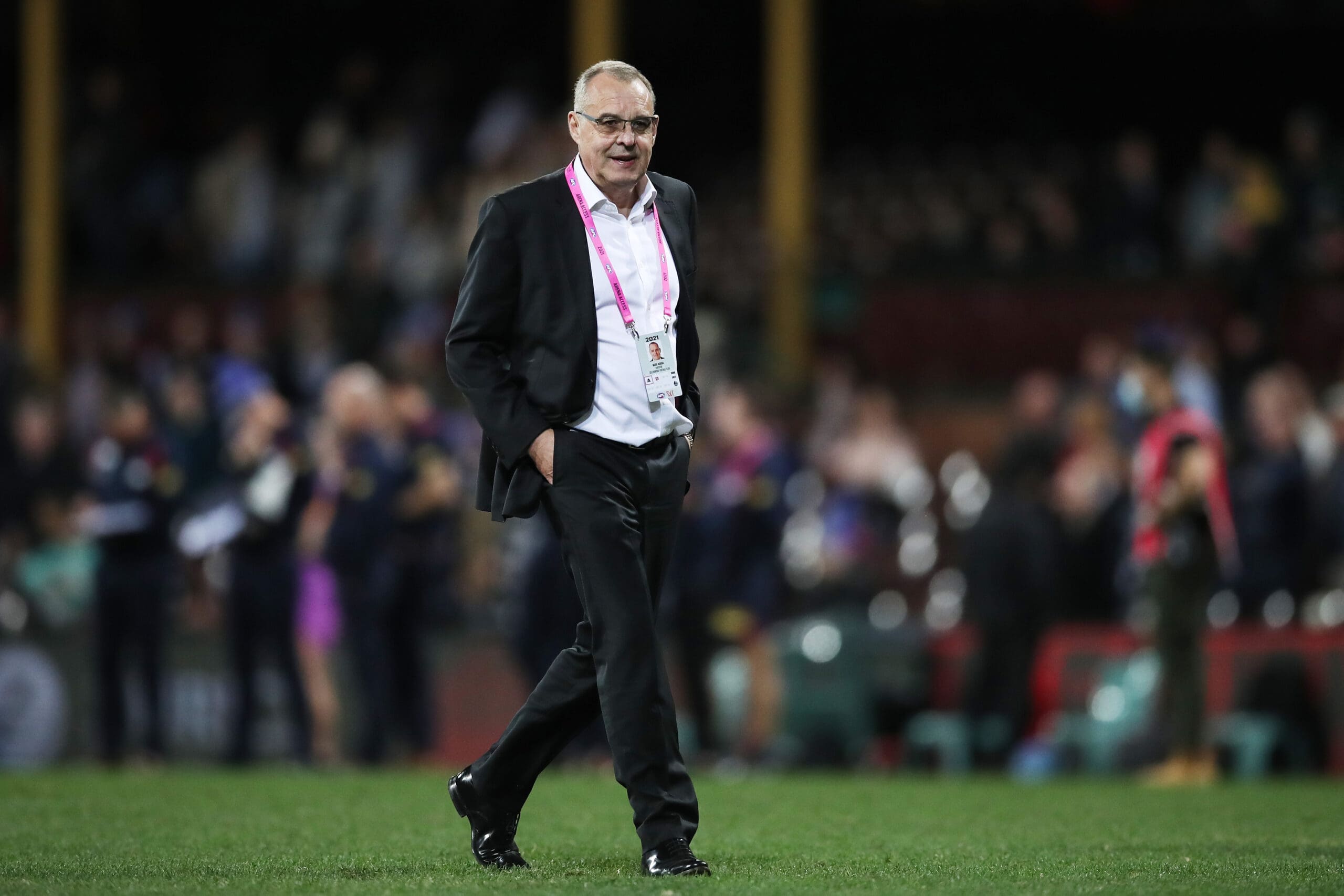 "It's a bit difficult to say until you get into the club and look under the hood, but I think the recent lack of leadership has created a trickling dearth of confidence throughout the club and it's imperative to restore that," he stated.
"We need to make sure we're successful off the field and build good financial reserves, but the club is in sound financial condition, there's no question about that."
Despite this, the top office aspirant was still under no illusions that it was the scoreboard, and not their bottom line, that would tell Collingwood's true tale.
"The thing that will measure anyone's success on the board of any football club is winning football matches," Browne admitted.
"Whether that's men's, women's, netball or our wheelchair team, everyone has got to have a winning culture and the determination to go out there any be the best.
"For our AFL men's team, there's only thing that really matters and that's winning premierships because that is the ultimate test and the ultimate measure of success."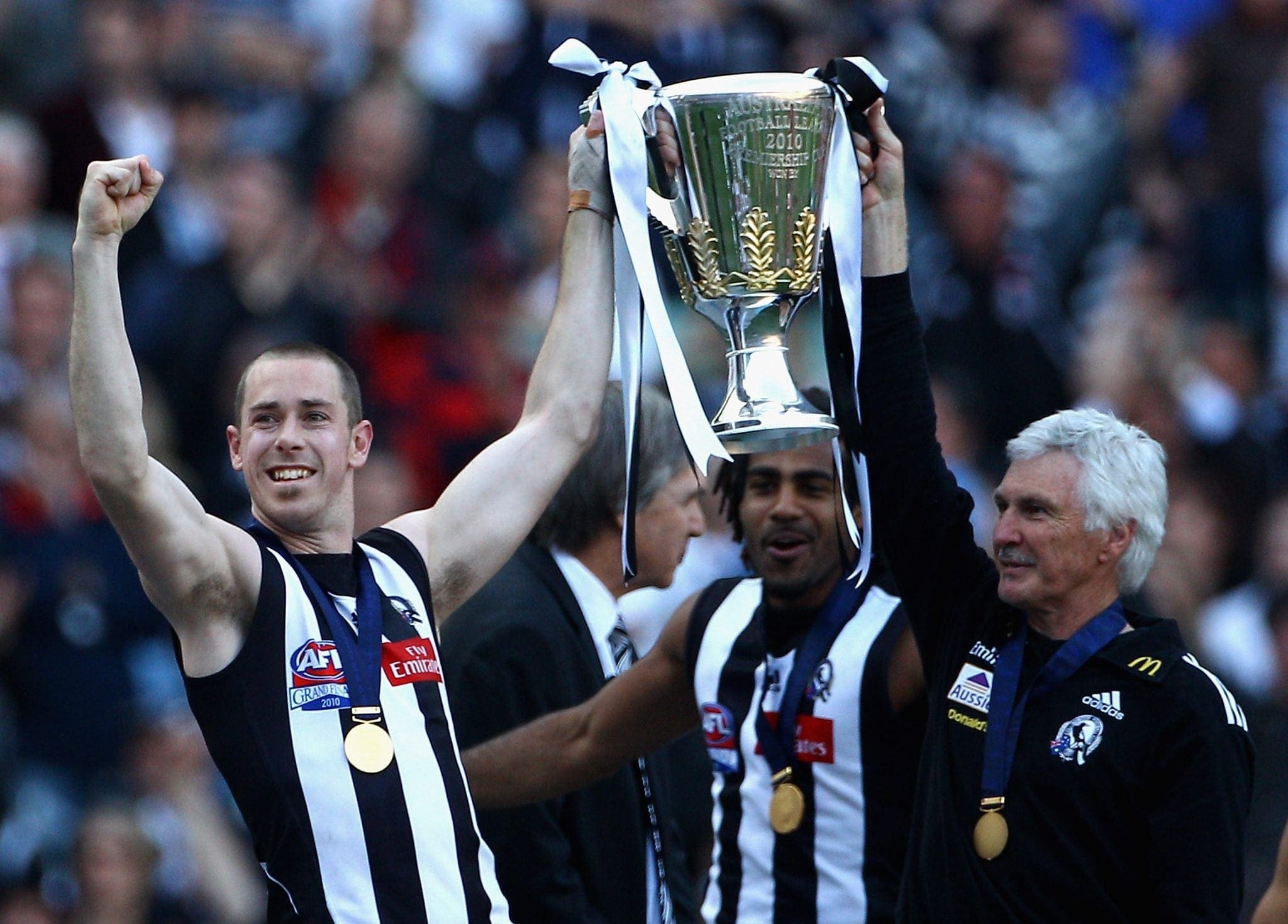 Given a simple seat at the table was never going to suffice his desires, Browne delineated for voters on the fence exactly why it was his name on the ticket and why he was the right person to become Collingwood's 17th President.
"I've found in my roles as chairman of the larger public companies that it's really important for an effective CEO to have a good sounding board in a President or chairman," he recommenced.
"You need to be a good ear and you need to be around to offer your view if asked. You shouldn't interfere, but you should make it your business to make sure you understand what is going on and if there are problems that you observe, then you should raise them.
"It is also imperative for other people to understand that they are said in the best interest of the club, and we should have healthy debate. I don't expect we agree on everything, but at least we will debate things.
"I think we will make better decisions if you have a strong leader at the club who is not only prepared to offer a view but who is also prepared to listen. There's a balance in that and I've learnt how to get that right over a long period of time."
And while the impressive Pies' postulant has collated his own crew to oversee decisions made after December, none of the impressive names that have been hitched to Browne's wagon have arrived their by chance.
Browne sees Barry Carp's executive experience as allowing him to be the "perfect steward for the finance areas around the club", as well as Renee Robert's work with APRA (Australian Prudential Regulation Authority), QBE and the Sydney Swans as providing "a real asset in those leadership, culture and marketing areas."
The ticket touter also claimed that retaining Christine Holgate's corporate credentials and knowledge of the current lay of Collingwood's land was imperative to maintaining continuity at the club
With democratic elections often undertaken to eliminate monopolies, even though Browne is expecting to hold sway on the swooper's board, the powerbroker claimed that conversations with those already in the room had commenced.
"I've spoken to Jodie Sizer and I'm sure we can work very well together, and I've gotten to know Paul Licuria and I really like his contribution," he said.
An even after a year of barbs, blame and back and forth, Browne signed off by revealing he had extended these chats to include his recent sparing partner.
"Mark Korda is the other one [I have spoken to] and it is up to Mark to determine how long he stays," Browne expounded.
"He's said he'll serve out his period on the board until the end of next year, but that really is a matter for him because he is not up for election."
Whether this proclamation has the potential to spill over into one final arm wrestle is yet to be seen, but should the first election of this millennium see white smoke billowing in Browne's favour, one thing is for certain - the shots at Collingwood will be called by him.

The Polymath 
Across the many of nations that make up the continent of Europe, there are countless football clubs that act as beacons for flag-waving and pyrotechnic-wielding masters of choreographed chaos.
For these fanatics colloquially known as 'Ultras', their colours are sacred, their badge is an extension of their hearts and their love for their club comes above all else.
And while their stereotypical unsavouriness is not part of her nature, Renee Roberts' passion for the Collingwood Football Club rivals any of the zealots found on stadium terraces between Lisbon and Lviv.
"Collingwood is more important than life itself," Roberts admitted to Zero Hanger.
Like most members of our sporting nation, the corporate polymath's mind also operates to the bounce of an oval ball once the leaves begin to brown each year.
"It's always been a big part of my life, but now the entire thing revolves around it. During winter, the games go in the calendar and I work my schedule around them," the bespectacled disciple explained.
"Most of the stuff I own is black and white. My car is black and white. I wear black and white every Friday and I've been doing that for years.
Regular visitors to the Roberts home found the vicinity of Victoria Park have also come to take on a decidedly shaded tone.
"I've got Magpies in the backyard that I feed and I've got a sculpture of one that I paid a lot of money for after the 2010 grand final," she continued.
"We used to park the car outside of a gallery and I said 'if we win the grand final, I'm going to buy that thing.
Roberts also revealed that she and her husband had channeled their inner Smith Street hipsters by hopping on trends well before they had hit the mainstream.
"We're player sponsors of Brodie Grundy and we've been sponsoring him since he was 19, so we jumped on before he was as good as he has become."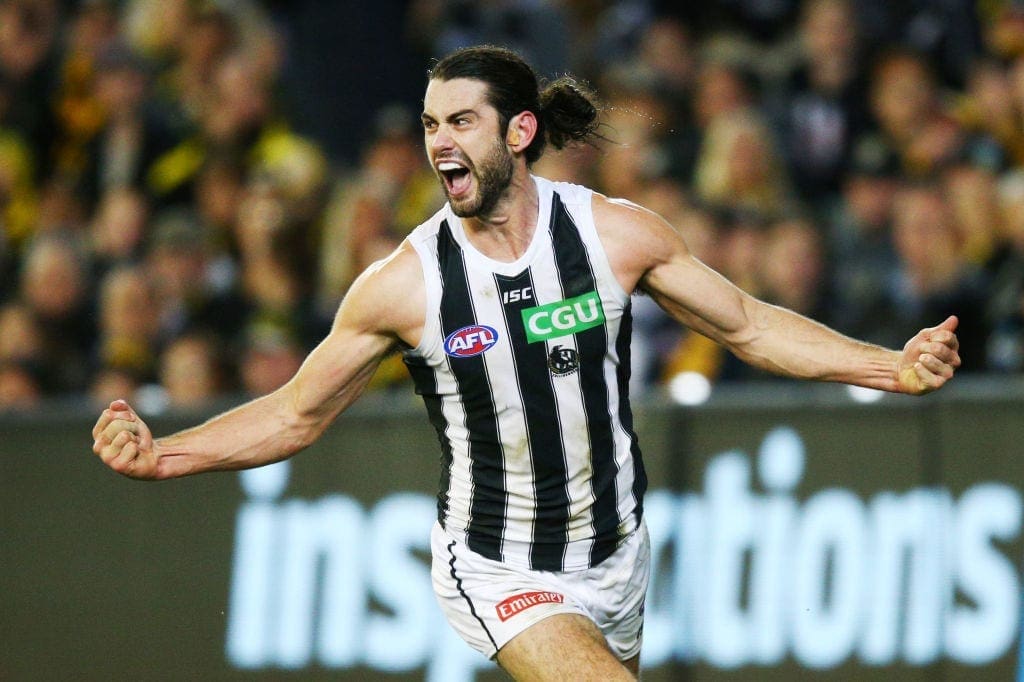 While weekends in her diary are marked for black and white Eucharists, Roberts has remained had her hands full for the past three decades when the clock is ticking during the working week.
Since completing her certified studies in marketing, economics and applied finance, the strategic expert has gone on to work in chief operational positions with both the National Australia Bank and the Bank of New Zealand before a stint with insurance giants QBE.
Though the company's acronym will be familiar to footy fans due to their long-term partnership with the Sydney Swans, even when in consultation with the Bloods, Roberts' passion for the 'Woods never deviated.
In fact, it was her deeds with the Harbour City side that afforded her a chance to strengthen her ties to the Pies.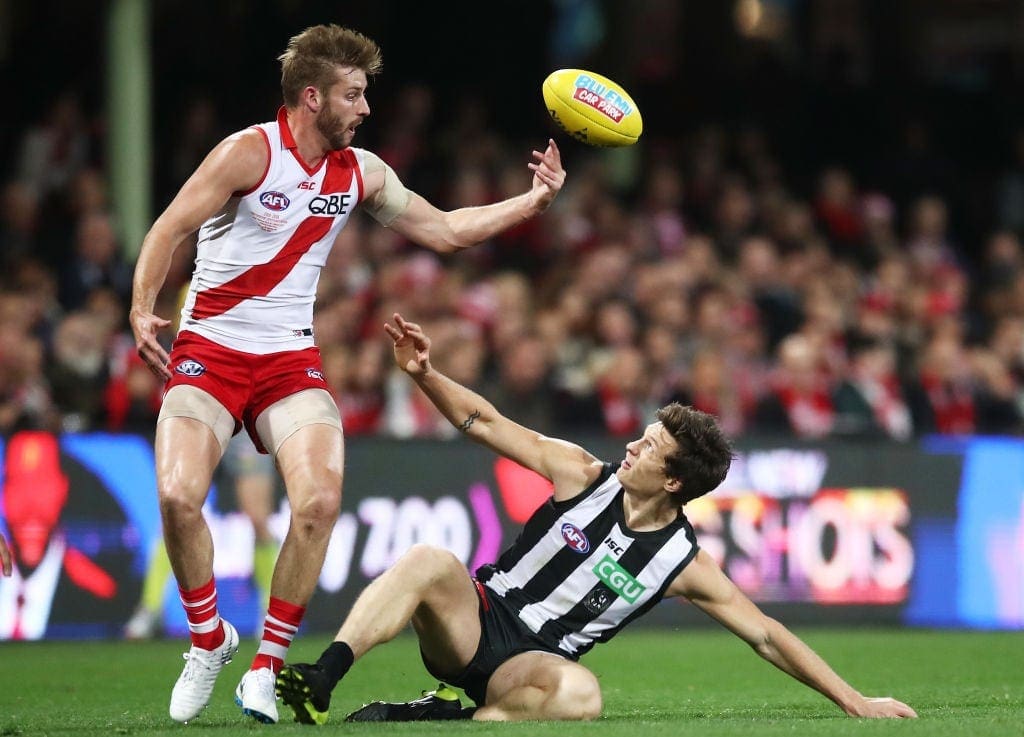 When speaking previously with Jeff Browne, the Presidential hopeful outlined to Zero Hanger that Roberts' honed skillset saw her as the perfect candidate to cover the club's cultural, leadership and marketing areas.
Although the internal plan at the Holden Centre will see current board member Jodie Sizer continue in her role of overseeing the implementation of the "Do Better" report, Roberts suggested her sights would be set closer to the playing field.
"We need to make sure we have the right mechanisms in place to make sure that the football side of the organisation is working the way it should be, as well as having an understanding of which questions to ask if it is not," she delineated.
"I know that we on the board are not the footy experts, but we are certainly experts in understanding whether things are working or not."
With a statement that is sure to ease the pulsating hearts of some panicked members of the Magpies' mass, Roberts claimed that heading several portfolios was well and truly within her wheelhouse.
"I can come into organisations very quickly and go 'oh, there's process problems here' or 'Jeez, there's something not quite right here'," she stated strongly.
"I understand governance and what it means to be on a board, as well as the actual management side of the coin, which is leading people who know what they are doing and letting them get on with it, but then overseeing them, holding them to account and making sure it's working in a way that we expect it be working.
"If you set goals, objectives or targets, you want to be able to track them and make sure the organisation that you're governing is performing that way."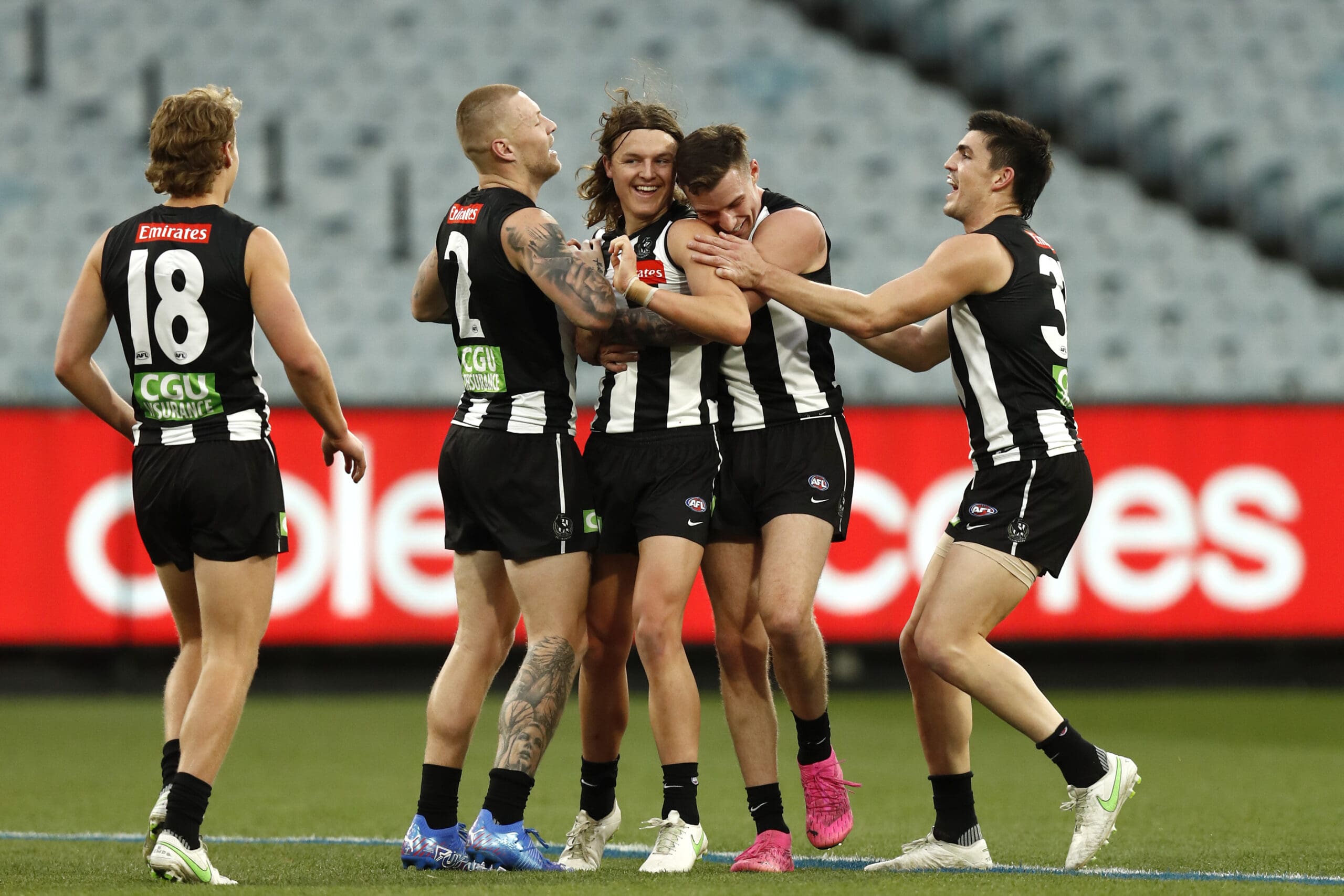 It is plain to see from her travels around the corporate sphere that Roberts is truly adept at pulling the right levers and spinning the correct cogs.
However, with more than a fortnight still to play out before polls close, the woman of many valuable talents had one final message to those that were still to cast their votes.
"Support unity," Roberts said in an open address.
"What myself, Jeff, Barry and Christine are looking to bring is a team that brings good, solid expertise, but also unity. We're not trying to divide the board, we're trying to bring the governance of the board together.
"We don't need a factional board. We need a united team of people who can offer collective interests. We're all interested in the "Do Better" report, we're all interested in the performance of the club and we're all interested in the community aspects. We're not bringing our own, singular, vested interests.
"For me, it's about unification and focusing on the future. We're letting the past go. We just have to get on with it by setting our sights on the future and do better across all aspects of the club."
Despite the fact that off-field turmoil has dominated Collingwood's narrative throughout yet another Covid strained season in 2021, irrespective of preferences at the poles, Roberts' desire to improve via progression is sure to be one that is shared by anyone that routinely prays for a 16th flag.

The Generator 
With her wealth of experience gained from positions between the Holden Centre and several European capitals, claiming that Christine Holgate holds strong leadership credentials would be a stupendous understatement.
Across her career that has spanned a myriad of time zones, the current CEO of Toll Global Express has earned titles such as the 'CEO of the Year', as well as places on the Australian Financial Review's '100 Women of Influence' list and an invitation to the 2014 G20 Summit in Brisbane.
While it may be perceived that a corporate giant of Holgate's standing may have far too much on her plate to worry about the comings and goings of the Collingwood Football Club, the former chief of Australian Post and Blackmores is standing for re-election to the board.
In Holgate's brief statement published by collingwoodfc.com.au, the current chargehand of the nation's trade strategy stated that her wealth of logistical, media, governance, risk and compliance knowledge were the assets that should keep her in her seat.
Holgate also expressed her love for the club's ethos that she discovered after trading London for Melbourne shortly after the turn of the millennium, explaining that the Magpies' 'side by side' mantra was something that rang true immediately.
As previously noted by Jeff Browne, Holgate is the final member of his powerful ticket that he hopes will propel him to the presidency, with the last member of his four-piece seen as crucial to attaching the past with the present.
Christine Holgate was contacted by Zero Hanger but was unable to comment given her current position with the club.

The Fortunate One 
Though some may believe this title is either a barb or just a chance to paraphrase Creedance Clearwater Revival, Neil Wilson's moniker of fortunate has nothing to do with head starts or helping hands but has everything to do with a combination of passions.
As Wilson told Collingwood's voting members in early November, along with his successes in the private sector, the country Victorian has also been afforded a chance to successfully combine his two passions - thoroughbred racing and the Collingwood Football Club.
With his dual positions as the chairman of the Victoria Racing Club and as a board member with the Magpies, Wilson is living out many sports nut's fantasies.
And with the bespectacled businessman raising his hand to continue his stint at the table that began in April of this year, the waking dream isn't dead yet.
Along with his contemporary posts between Flemington and Gosch's Paddock, Wilson has also presided over several start-up tech companies such as CharterX, Nexon, Knosys and Oakton.
Wilson's rise through the ranks from the director to the treasurer to the CEO, and finally, to the chief of the state's thoroughbred racing authority is also sure to see him as a familiar face for every punter found between the member's stand and the mounting yard.
Neil Wilson was contacted by Zero Hanger but was unable to comment given his current position with the club.