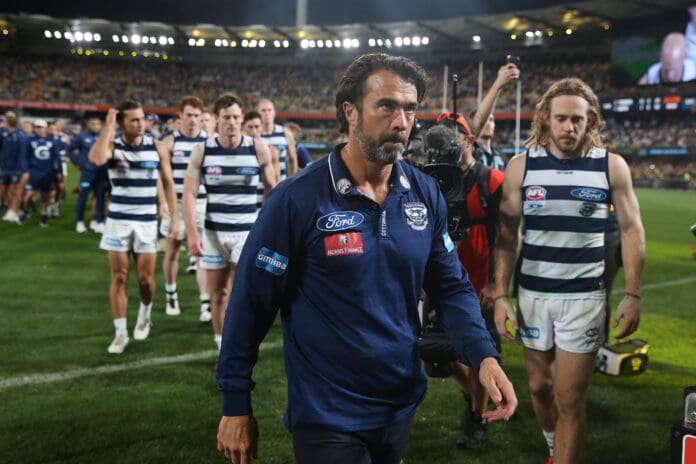 Geelong coach Chris Scott has launched a defiant defence of his club's finals chances after the Cats surrendered an early buffer to fall to Collingwood by eight points at the MCG on Friday night.
The reigning premiers catapulted to an early quarter-time lead after a blistering start to Friday's hot contest, kicking six goals to the Magpies' three en route to a 16-point lead at the first change.
However, the tide began to turn Collingwood's way in the second quarter, as Craig McRae's men applied devastating defensive pressure to their Cat opponents through the second and third stanzas in particular; ultimately proving the catalyst to a barnstorming Friday night victory.
The second half wasn't exactly fruitful viewing for Geelong's decorated coach, though, who was visibly frustrated while conducting his post-game press conference on Friday night.
"There are some things that you can't do against Collingwood that we did that gave them easy goals, and it's just hard work," said Scott on Friday, lamenting his side's perilous errors.
"They're always frustrating nights when you're playing good teams and you feel like you've had enough chances to win the game."
While under no illusions about his side's Friday night performance, Scott remained particularly bullish about Geelong's chances of playing September football, firing back after his club's finals credentials were questioned.
"I think it's a really logical answer to say that we've got two games to go (in the home and away season) and we think we can play well enough to beat any team in the comp when we play our best," continued Scott.
"What would be the other answer? We're just not going well enough, is that what you want to hear? We just don't think we're going well enough so we'll throw the towel in. You tell me what you're after and I'll give it to you.
"I think that we can play well enough to win the last two games and play in the finals, I'm an optimist, so that could be misplaced but not at this stage (do I think we're out of it)."
The two-time flag conductor also shared the latest on forward Gary Rohan, who was substituted out of the loss, and ruckman Rhys Stanley, who exited the contest late.
The high-marking, fast-running Rohan exited Friday's exciting bout in just the second quarter due to a "hip, sort of groin" injury, according to Scott. He claimed Stanley sustained a similar ailment.
"Yeah, he (Stanley) will need to be assessed, he came off late and didn't go back on, so he and Rohan are probably the two (who picked up notable injuries during the game), and I think the only two that we need to keep an eye on," Scott said.
Both the Cats and Pies were forced into activating their tactical subs early in the game, with Collingwood captain Darcy Moore ruled out of the contest by quarter-time due to a worrisome hamstring ailment.
The Cats will regroup before preparing for an all-important Round 23 bout with St Kilda at Marvel Stadium.